Calling all curlies and naturalistas of every curl pattern and texture type! This is your chance to win the best curl defining, hair strand protecting, and scalp nourishing products for winter. Yes! One lucky winner will get to add the contents of our Crazy ❄️Curly ❄️Cool Holiday Gift Guide to her curly cabinet.
Image by Thought Catalog/Unsplash
All right, ladies! Let's get cozy with a mug of hot cocoa, chill in our warmest holiday threads and learn more about the hottest curly hair products of the season. You'll love that each one is specifically formulated to enhance and nourish your curls.
Let's get started with this Pin-worthy infographic for you to save on your wavy, curly, kinky-coily, and natural hairstyles idea boards!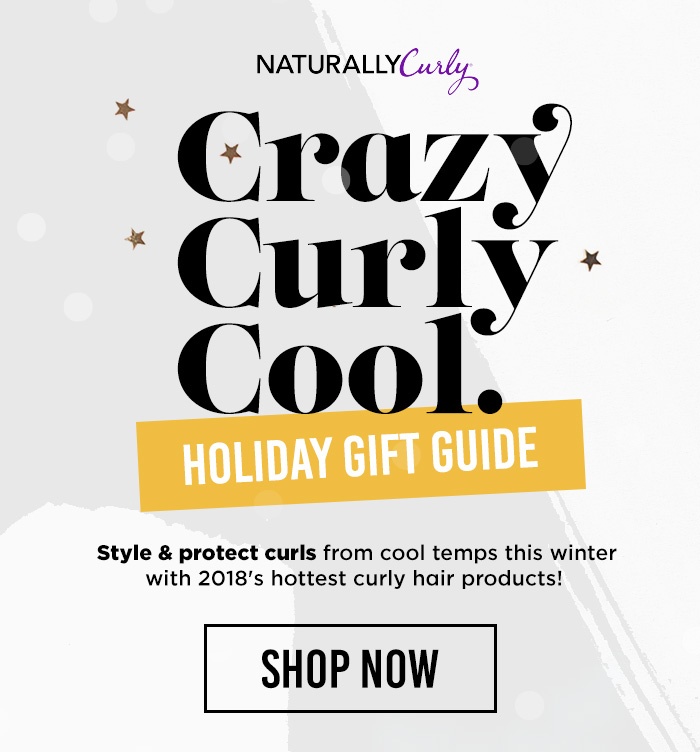 Keep reading to learn how you can win all of these curly hair products!
Jane Carter
There are at least three things every Naturalista needs when she's traveling: a set of travel-sized styling products that can get through the TSA check-before-boarding line that hydrate, elongate, and hold your style without crunching, flaking, or buildup. A must-have for every Type 4, especially 4C and beyond, curly is the Jane Carter Solution Natural & Curly Hair Essential Travel Kit. Formulated with aloe vera, mango & shea butters, rosemary, sage, slippery elm, and much more, this kit will give you stunning wash and go looks.
Buy One, Get One (BOGO): The first 40 people to buy the travel kit will receive a full-size bottle of Jane Carter Solution Curls to Go Coiling All Curls.
Twisted Sista
Protect your hair strands from winter's woeful temperatures with this avocado, coconut, and sweet almond oil infused intensive leave-in conditioner from Twisted Sista. Perfect for Type 2 and 3 curls, the sulfate-, paraben- and mineral oil-free leave-in gives your waves and curls moisture and body while combating frizz through the coldest months of the year. Type 4 naturalistas who need a lightweight daily moisturizer can apply a small amount of the leave-in to seal moisture into braids and twists.
BOGO: The first 50 people to buy the featured product will also receive a full-size bottle of the Twisted Sista Luxurious Clarifying Shampoo (12 oz).
Curly Hair Solutions
Whether you're traveling for the holidays, live in an extremely humid area, kickin' it into high gear at the gym, or walking tall like a boss at work, you need the Curl Keeper® Original Multi-Pack to keep your curls in order. These convenient bottles are perfect for curlies with active lifestyles who won't settle for anything less than gorgeous frizz-free curls. The water-based, silicone-free Original solution controls frizz throughout the day. It's especially great for curls that suffer from dryness because it reactivates with water so your second and third-day styles will look as amazing as they did on day one!
BOGO: Be one of the first 50 curlies to purchase the multi-pack to receive everyone's favorite Curly Hair Solutions H20 Water Bottle for FREE!
Image by Alex Blajan/Unsplash
Curlfection
Are you ready for this easy-to-use, NaturallyCurly Editor's Choice award-winning cleanser that packs a triple punch to curls, waves, and coils? Absolutely, you are! In fact, you've been searching for a curly hair product that does it all, and you've found it with this 3-in-1 cleanser. What does this sulfate-free curly girl favorite do? Well, for starters it detangles your curls. Second, it conditions as it gently cleanses. Third, it smooths frizzy hair and flyaways. What more could you want or need? How about a free gift with purchase?
Gift with Purchase: If you're one of the first 40 people to purchase Curlfection One Step Cream Cleanser, you will get a complimentary unbreakable shower comb!
You can WIN everything in this curly girl holiday gift guide. Keep reading to learn how!
Rizos Curls
After days of brisk weather and cold fronts, your hair will most likely need to be detangled and refreshed. Grab this 2-in-1 curly hair product that's excellent for maintaining your style between wash days. Oh, wait! Your wash day is fast approaching? No need to fear! Use this spray to prep your curls before styling them with ultra-moisturizing Rizos Curls Curl Defining Cream, an excellent styler you can get when you purchase the Refresh & Detangle Spray! You'll love this silicone-, sulfate-, and paraben-free product that's formulated with coconut and olive oils, and Shea butter to seal moisture into your hair strands while reducing frizz and improving the strands' elasticity.
BOGO: Ideal for holiday travel, you'll get a 2-oz. travel size bottle of Rizos Curls Curl Defining Cream and a 2-oz. travel size bottle of Rizos Curls Refresh & Detangle Spray when you purchase a full-size bottle of Refresh & Detangle Spray today (offer while supplies last)!
Kreyol Essence
The merits of Haitian black castor oil has been sung across the world. Isn't it time you treat yourself to this luxurious, sustainably harvested oil known for adding thickness and nourishment to hair strands of all kinds? Yes, that's right! Irrespective of texture types, black castor oil is a miracle worker for every curlista and naturalista, especially when its combined with organic essential oils like Ylang Ylang. That's why you need Haitian Black Castor Oil Scalp Care Conditioner. Whether you simply want to cleanse your curls, or you're looking to add nourishment to them on your length journey, take care of your scalp and strands with this conditioner. Kreyol Essence has also infused its HBCO growth shampoo with starch technology to ensure soft, detangled hair! See the BOGO deal below.
BOGO: Buy this Conditioner and get the Haitian Black Castor Oil Scalp Care Shampoo with NEW starch technology. This holiday season you are destined for softer, thicker, healthy hair that you'll love.
CUSH Cosmetics
If you're ready to treat your curls with an amazing oil for the holidays, you'll be pleased to know that you can do this with ease thanks to CUSH Cosmetics Buriti Hair Lotion. Why Buriti? According to natural hair expert Sabrina Perkins, "This oil soothes dry and damaged hair and can be used in oil blends or as a hot oil treatment. The high presence of beta-carotenes in buriti fruit oil is helpful in healthy hair growth and the oleic acid is great for adding a natural sheen to hair." What's better is that this lightweight lotion protects against split ends and breakage. Perfect for all texture types, this silicone-free hair lotion is exactly what you need for the holiday season.
BOGO: Be one of the first 50 people to receive the Crème de palme lite styling gel when you purchase CUSH Cosmetics Buriti Hair Lotion!
Q-Redew
If you've ever wondered why your deep conditioner has stopped working, or simply never really worked all that well anyway, it's most likely because you haven't been steaming your curls. Don't fret! You simply need the Q-Redew Handheld Hair Steamer in your life! For those of us with low porosity hair strands, we need to add steaming to our deep conditioning-based wash day routine. Steaming hair strands temporarily opens the cuticle and allows the conditioner into the hair shaft, making for thoroughly moisturized and healthy curly hair. Q-Redew is your multi-purpose tool: detangle, stretch, restyle, add moisture, add volume, and more.
BOGO: When you're not using your Q-Redew, put it in its storage bag which you can get for free when you purchase your steamer today!
Image by Thought Catalog/Unsplash
Ready to WIN it all? Details below!
Enter the Giveaway:
To enter use the giveaway email entry below for your chance to WIN! The giveaway closes on Wednesday, January 2, 2019. 
How are you planning to stay cute and curly this holiday season? Tell us in the comments section.
Want all these curly hair products right now? Get your Crazy ❄️Curly ❄️Cool Holiday Gift Guide items today at SHOP NaturallyCurly!
Image by Jonas Svidras/Unsplash
Don't forget to 📌Pin it!
As ever, stay curly!