Maintaing healthy and hydrated hair is important for all hair types, but especially tight-textured coily hair. Type 4 hair is often described as dense, wiry, or kinky-coily. Though coily hair seems robust,it's actually the most fragile hair texture because it has the fewest cuticle layers to protect it from dryness. Its top concerns are maintaining moisture, avoiding tangles and counteracting shrinkage. To help you achieve your ultimate hair goals, thousands of women with glorious coily crowns shared their handsdown best natural hair products all time.
Need a good shampoo that offers heavy duty protection for your color-treated, heat-styled hair, while also infusing balance & moisture? This Jamaican Black Castor Oil and certified organic Shea Butter combination promotes natural growth and reduce shedding.
A fan favorite since its initial launch, this co-wash provides amazing slip, gentle cleansing, and is safe enough for daily use without drying the hair. This cowash promotes growth from a follicular level for thirsty, fragile curls.;
2 / 13
Certified organic Shea Butter, Honey, Manuka and Baobab are blended into restorative formulation to help protect natural hair from environmental influences with this super rich conditioner.
3 / 13
Tgin doesn't stand for Thank God It's Natural for nothing. This Honey Miracle Hair Mask is an instant infusion of the best ingredients for natural hair (jojoba oil, honey, aloe, etc) for instant shinier and softer tresses.
4 / 13
Featured ingredients in this stunner include silk amino acids to penetrate deep into the hair's cortex, aloe vera to smooth the cuticle, and lemongrass to reduce shedding. Plus, leave it to this lightweight leave in conditioner to lock in all of the goodness our hair needs.
5 / 13
A must-have in the NC community for a bomb roller-set or wrap style, this long-time favorite is everything for showcasing soft & smooth hair.
If you're a protective style kind of person, try out the Melanin Twist Elongating Style Cream.  It's super lightweight styling capability makes it a breeze for a non-crunchy twist-out.
6 / 13
Offering UV protection, an Olive Oil infusion, & the comfort in knowing its Alcohol free, the Ecostyler Professional Styling Gel provides superior hold, perfect for slicked back styles and perfectly defined curls.
For those of with hair that is a little drier, a butter can sometimes be just the answer. This botanical infused twisting butter is best applied generously to wet or dry hair.
Another protective style dream, this Mielle Organics styling product is bomb for shiny, super defined hair with no crunch and no flake.
Shape and smooth your delicate edges with Mielle Organics' Rosemary Mint Strengthening Edge Gel.  Biotin, coconut, and babassu seed oil, offers you the hold you need along with the nourishment your hair has been craving.
Hello forever summertime hair with this line from Mielle. Featuring an infusion of avocado, coconut, olive oil, and ginger, this line will deeply moisturize and nourish that incredible care-free wash & go of yours.  
7 / 13
Featuring 17 different ingredients, Alikay Naturals created this unique blend after extensive research and found a blend that penetrates the scalp to get the max amount of nutrients to your follicles.
Experiencing brittle hair that snaps at the lightest touch? This two-step protein treatment combines magnesium and modified proteins which bond into the hair with the application of heat. The result is that breakage is drastically reduced.
For those of us who don't mind heat styling every now & again, this product gets 5 stars for maximum curl protection. Spray it onto the hair right before heat styling and it provides the best protection against harsh temperatures used to heat-style hair.
8 / 13
Tiny tots & parents this is for you! Style your little one's hair with ease with affordable, gentle line. Products include tear-free conditioner, shampoo, leave-ins, & stylers.
9 / 13
Refresh curls in a pinch with this spray on solution. It helps revive bed-flattened, dry hair and gives your curls a little extra life to take you a couple of more days before wash day.  
10 / 13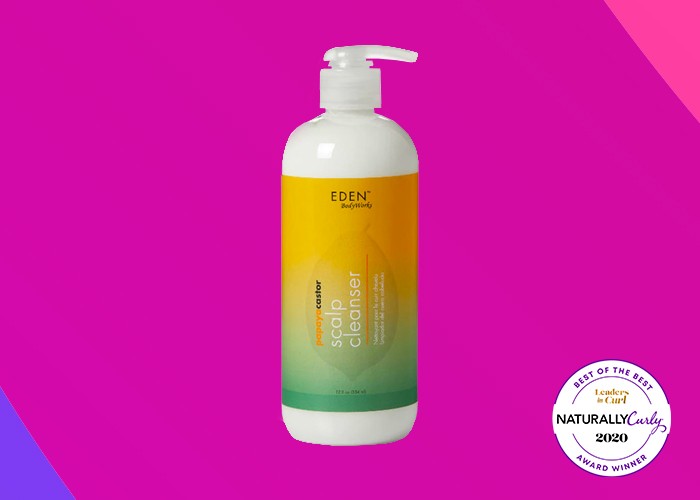 A healthy scalp means growth & length retention, and the EDEN BodyWorks Papaya Castor Scalp Cleanser helps with just that. Papaya provides gentle exfoliation due to its fruit enzymes, while Castor Oil helps with growth.
The Felicia Leatherwood Brush is a master detangling tool that helps define curls & coils and make those 1 hour + detangling sessions a thing of the past.
11 / 13
Touting no singular product over $17 bucks, SheaMoisture has constantly positioned itself as a brand that is a bevy of awesome formulations, easily accessible, but most importantly, extremely affordable. Their rich formulations don't hold a backseat whatsoever to the amazing results you can achieve, with product lines that are exceptional for us budget conscious babes.
12 / 13
Whitney White hasn't' reached 1 million subscribers on YouTube for nothing. Her styling tutorials, product reviews, & beautiful personality have made her a go-to for naturalistas around the world. Plus, she
13 / 13
The Holy Grail title does not come easily, but Camille Rose knew exactly what they were doing with this hero product to warrant the title. Curl Love is made with a mixture of vitamins that will strengthen and stimulate hair growth and boost curls.  
What are your favorite products you always reach for? Let us know in the comments.