So, I'm a pop culture fanatic. Now, I say this with the defense I don't buy every and anything that a celebrity puts on the market, but I'm open to trying new things. My favorite actress, Gabrielle Union recently launched her "Flawless Hair Care" line which she's been promoting for a few months on Instagram. What attracted me to trying out the brand was Union's all textures, all-inclusive mantra that caters to her diverse fan base.
Since it recently hit the Ulta shelves in April, I wanted to be the first to snag my hands on it here in Chicago. I used the online website to help guide my purchases since this line boasts ten different types of products for all hair care users. I used her "get the look" guide to make purchases that best suit my style needs which stated "bold, loose curls." This was shot in the dark given I have 3B curls and I like my hair springy and kinked up, but I went for it anyway.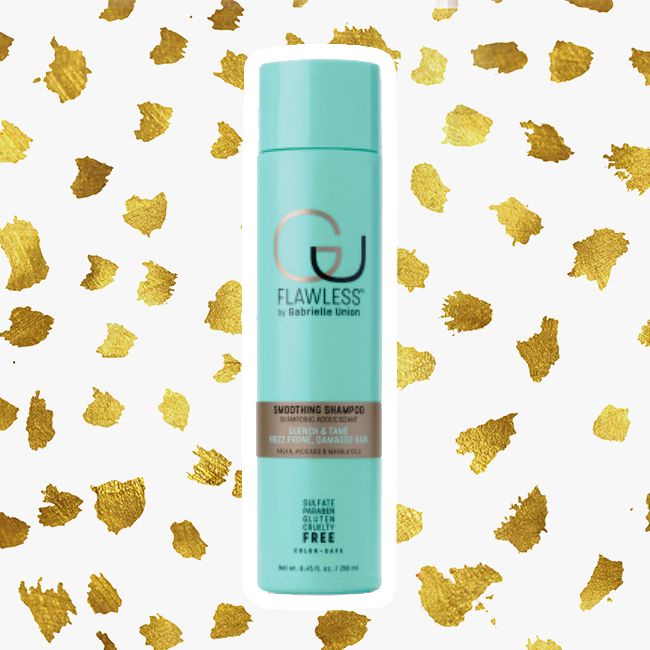 First and foremost, I needed shampoo for my curls, and the site recommends the Smoothing Shampoo, which is "safe for natural and relaxed hair of all textures," can help prevent breakage, provide moisture, and shine. It's beautiful in my palm to say the least. It's got a creamy golden hue with some flakes of sparkle and smells like an earth mix of the Argan and Avocado oils within it. I didn't have to pour a large amount, and the texture did build a rich lather into my hair. It had an even consistency which my curls seemed to appreciate.
When I moved onto the Smoothing Conditioner, I was surprised to find a very thick consistency that mirrored the shampoo with golden, sand tone hues.  It promises to "fortify and tame" frizzy prone and damaged hair. It boasts the same combination of Argan, Avocado, and PeaProtein so the scent is almost identical and was consistent with the branding. I did feel it running through my curls more than I liked when washing it out, but waited to see the overall results. When I finished I was happy with the overall shine of my curls which I attributed to the mixture of oils in both the shampoo and conditioner. It's probably one of the first conditioners I used from the natural hair care market that left my hair shiny without additional product, so I really appreciated that.
I finally finished off my look after letting it air dry with the Oil Treatment which "is a silicone-free 5-oil blend that nourishes, conditions and prevents breakage while delivering intense hydration." This smelled like a tropical island in my palm and once again had the colored hues that made me feel like I had gold in my hand. I think this added touch courtesy of Gabrielle is eye-catching for any user and does differentiate from the standard whites/yellow we often see in products regardless of ingredients. Although I didn't need additional shine, I used the oil's on my ends and scrunched my curls to give it definition.
One of the side effects of the products was that my curls were much looser and not as defined as I'd like and I'm sure it was because the product was meant to tame/smooth frizzy hair versus being curls specific. The conditioner was not as strong in giving my curls bounce, definition or softness so I did have to recondition them with my regular products post-shower and allowing the product to dry in my hair.
Overall, for the price point which totaled to roughly $65 for three products, I wouldn't invest again simply because it's not a curl specific line that caters to my hair in the way that my curls respond to.  At a whopping $20 per product it's an investment and a risk that any haircare user takes in trying new product out on the market. 
Have you tried Flawless by Gabrielle Union? If so, share your experience with us below.
What's Next: Find Out My Checklist for Purchasing Natural Hair Products