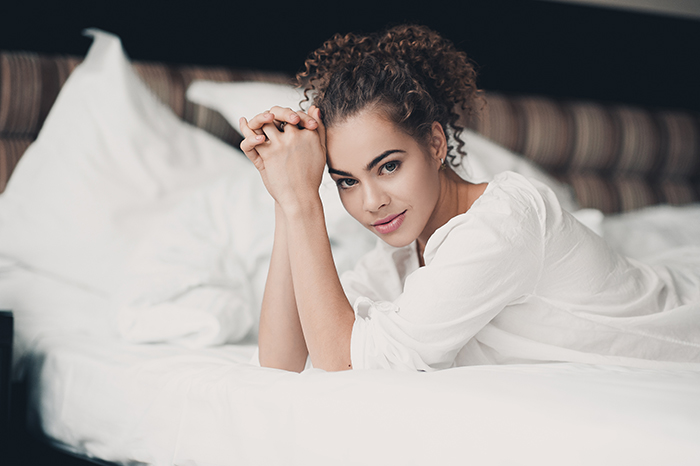 Product junkies usually don't pack light. An unfamiliar climate might turn our beautiful curls into a headful of frizz, or over-excited baggage handlers might cause a bottle of conditioner to crack, leak or explode. We have to be prepared for any possibility, and it's best to have a list of essentials to make your travels worry-free. Here are some of my top tips for must-have travel necessities for curlyheads.
1. A curly hair travel kit
Many of our favorite curly hair brands have created travel hair kits to take the guesswork out of how many ounces you can bring in your carry-on. The majority of them contain a shampoo, conditioner and styler to have your bare necessities covered. Check out these brands:
2. Some plastic wrap
There is nothing worse than arriving at your hotel to find your liquids have exploded in your bag. To avoid this from happening, take the lid off your bottles and add a square of plastic wrap over the opening. Screw the lid back on and rest assured that you have saved your clothing.
If you are really limited on space and don't have the time or money to purchase a curly hair travel kit, you can squirt your shampoos, conditioners, body wash, stylers, and lotion into sandwich bags. Just be sure to purchase bags that zip tight, and don't overfill them. You will be able to fold them and place all of your liquids into a quart-sized bag. When it's time for use, you can unzip or cut a small hole in the corner to dispense.
Traveling with curls can be complicated, especially if you are not prepared.
3. Your free sample from that event
Do you have a collection of sample-size products you received with online orders, from department stores, or from events? Maybe some goodies the cashier offered you at Sephora? Consider those little bits of freeness your new travel companions. Containing at least one use, sometimes more, these small wonders are perfect for travel.
4. Some sample-sized jars
Alas, everything is not free. Sometimes, you may have to invest in the smallest available size of the products you don't need vats of, such as pomades, edge control potions, and thicker creams.
5. A few small glass or plastic dropper bottles
Transferring your liquid oils into a dropper bottle is essential when you need precise measurements. You can purchase either glass or plastic bottles online or at drugstores.
6. An empty spray bottle
Just add water to refresh dry curls and styles or mix up your own leave-in conditioner.
7. The necessary styling tools
A wide-toothed comb, a mini afro pick, and a brush are necessities for detangling curls, adding volume, and creating sleek styles on your trip. Most beauty supply stores have travel-sized versions of your hair tools.
8. An old toothbrush
This creates sleek edges and tames flyaways on sleek styles, especially on the go.
9. A satin scarf, pillowcase, or bonnet
Unfortunately, most hotels do not provide curly guests with a satin pillowcase to protect our curls during our stay. Whether it is a scarf, pillowcase or bonnet, pack one in your suitcase to prevent friction on your curls.
10. A (soft) t-shirt
If you are planning to wash your hair on your trip, don't forget to pack an old t-shirt to dry your curls. The hotel towels can be rough on your curls and cause frizz. T-shirts are also helpful for plopping your curls, an easy way to speed up the drying process.
11. A disposable shower cap
Some hotels provide disposable shower caps but if you are traveling somewhere that does not, take one with you to prevent water from splashing on your styled curls.
12. A portable diffuser
If your hotel already provides a hairdryer, a diffuser attachment is essential to ensure your curls dry intact and frizz-free. Be sure to contact the hotel prior to your trip to find out what size the hairdryer is. Collapsible diffusers work great because they are space savers and stretch to fit most hairdryers. Try Hot Sock Ultralight Diffuser.
13. A mini hair dryer with attachments
If your hotel does not provide a hairdryer, or if you're staying with a curly friend who doesn't have a spare dryer, another option is to invest in a travel hairdryer set that has a diffuser attachment. They're small and sleek and fit comfortably in your carry-on. Consider the Xtava Jet Set Travel Hair Dryer, available at Walmart.
14. Plenty of bobby pins
A change in climate can change your normal wash and go into a bad hair day if you're not prepared. Always keep plenty of bobby pins on you for emergency updos. Bonus tip: Use an old Tic-Tac case to hold your loose pins.
15. Extra duckbill clips, barrettes, hair elastics, scrunchies
These are all necessary to dress up styles and keep your hair out of your face during a long flight or road trip.
16. An empty sunglass holder
Need a place to store all of your smaller items? Use an empty sunglass case to hold bobby pins, clips, barrettes, and more.
Curly girl, do you pack light?
Be honest! Share your travel tips below in the comments. And if you'd like more sleepover tips, read this article: How I Preserve My Hairstyles Overnight