We know SheaMoisture is one of the most popular and beloved brand of products within the natural hair community, in fact it won our community's Overall Favorite Brand award in our annual Best of the Best survey for the last two years. SheaMoisture products are loved because they contain quality ingredients, are accessible on the ground and prices generally come in around the $10 mark. That's the tri-fecta right there. However, the most important thing about SheaMoisture products is that THEY WORK! With an extensive product catalog involving multiple lines of products for different hair concerns, there is something for everyone with SheaMoisture, but the variety can also make it hard to choose. Here's a look at six of the more popular SheaMoisture conditioners and their benefits.
*Editor's note: This post is not sponsored. 
This daily conditioner is lightweight and the curl definition and shine of hair. Hair is smoothed to reduce frizz, tangles and knots and the result is hair that is frizz free and defined. Coconut oil imparts shine and strength and helps smooth the hair while shea butter nourishes the hair and helps fight dryness.
Who should use it? People dealing with dryness, tangles, or frizz.
Price: $10.99
SheaMoisture's Manuka Honey & Mafura Oil Intensive Hydration Conditioner hydrates and softens hair to promote easy detangling. Hair is infused with shine and moisture levels are increased after using this conditioner. The Hydration Intensive conditioner contains certified ingredients such as honey, shea butter, mafura and baobab oils. These ingredients fight dryness and brittleness by nourishing and conditioning the hair to make it more manageable and easier to style.
Who should use it? People suffering from dry, brittle hair.
Price:  $9.99
This conditioner strengthens hair and smooths the cuticles of the hair to reduce frizz and tangles and increase shine. Hair's overall appearance is improved and hair is more resistant to breakage with the use of this conditioner. Certified organic plantain and yucca provides strength to hair and baobab oil promoted shine.
Who should use it? Those who experience frizz, dullness, breakage, and split ends.
Price:  $10.99
The Raw Shea Butter Restorative Conditioner is a dual leave-in or rinse out conditioner that moisturizes, repairs damaged hair and detangles. Argan oil helps to keep hair elastic and adds shine while mineral rich sea kelp provides nourishment for the hair. Shea butter, which is a staple in all SheaMoisture conditioners helps to moisturise and condition the scalp and hair.
Who should use it? Anyone who colors their hair or is experiencing damage and dryness.
Price:  $10.99
The Superfruit Complex conditioner offers ten benefits in one. This conditioner fights aging, keeps color treated hair vibrant, nourishes, hydrates, adds shine, softens, fights stress, strengthens hair, improves manageability and revives body. This conditioner is loaded with anti-oxidants to restore dull, lifeless hair. The superfruit complex provides the scalp with nourishment while biotin and marula oil join forces to keep hair elastic.
Who should use it? People who struggle with dryness, tangles, or those who color their hair. 
Price: $10.99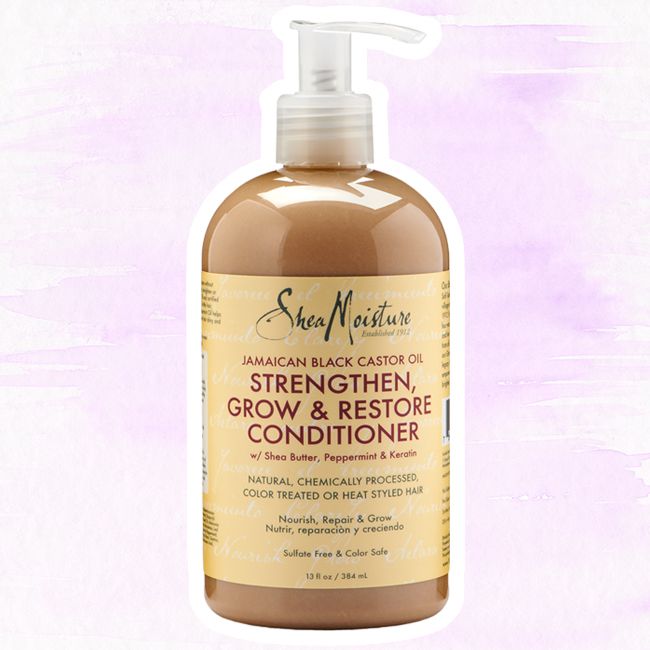 Hair is shiny and vibrant after using the Grow & Restore conditioner. It's lightweight, provides moisture and makes detangling easy. Black castor oil and certified organic shea butter nourish and strengthen brittle, damaged hair and instantly improves its appearance. Peppermint oil helps to stimulate scalp circulation and promote healthy hair growth.
Who should use it? Anyone with who is experiencing  breakage and wants to encourage hair growth, as well as those who color their hair.
Price: $10.99
Which of these SheaMoisture faves have you tried? Share your experiences below.