Whether you are protein-sensitive, have protein overload, or just want to steer clear of proteins, there are options for those wanting to limit their usage. Our hair needs protein, as it is 90% keratin. For healthy hair we need a proper balance of protein and moisture and without it you can cause havoc on the curls, waves, and coils.  
According to Medical News Today, "proteins are large molecules consisting of amino acids which our bodies and the cells in our bodies need to function properly." That includes our bones, muscles, skin, and hair and despite our strong protein is, it can breakdown. With natural weathering and damage from over-manipulation and chemicals (i.e. color treatments), we need protein treatments to fill in the gaps on the hair strands. This is just a temporary fix so it must be done regularly but the problem that many curly girls face is using too much protein. Once a month or less is the most anyone needs, but many hair care products we use daily like leave-in conditioners have protein in them. When you start using protein products daily you can cause havoc on your hair and create protein-overload which creates dry, brittle strands that are susceptible to breakage. It pays to look at the ingredients in your products, so we decided to share nine protein-free leave-in conditions that will leave your hair conditioned and moisturized.
Knot Today is a favorite among curly girls for two major reasons. It keeps the frizz away and it has massive slip! That slippery elm and marshmallow root are not there for nothing. They aid in detangling like a pro without parabens, protein, or drying alcohols. This natural conditioning treatment is safe and perfect for daily use.
A creamy conditioning leave-in that is super popular because it is great for washday as well as waking up your curls daily. Second-day hair is a serious concern for many curlies but adding more products can cause hair to feel overloaded, weighed down, or look a mess. But Oyin's hair dew will refresh the curls even without water because it has water, castor oil, and olive oil along with aloe barbadensis leaf juice.
Coconut oil, amla oil, and water are the first three ingredients in this natural wonder that will leave your hair softer, shinier, and even more manageable. Detangles like a boss, this leave-in will seal the cuticle, add shine, and prepare hair for styling all without parabens, proteins, or silicones.
A good leave-in is usually used daily so it makes sense why Cur Junkie's BeautiCurls Leave-in is lightweight, made with herbal botanicals and butters to enhance and not harm your curls. Gain shine and softness with a superior detangling leave-in that smells heavenly.
This NaturallyCurly Editor's Choice 2015 winner will manage, soften, and pump up your curls moisture levels all while being a barrier to heat. Water, conditioning agents, and coconut oil help make this leave-in give superior nourishment without weighing down your curls. Reduce frizz, UV rays, and bad hair days with this favorite leave-in.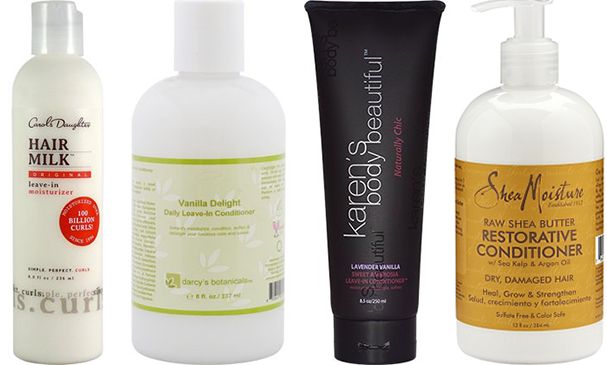 Water, soybean oil, sweet almond oil, and cocoa seed butter make up the top ingredients in this rich moisturizing leave-in from Carol's Daughter. Stave off dryness and frizz while defining and moisturizing your coils, waves, and curls. If your hair is thirsty, then this leave-in will give it what it needs for massive hydration and shine.
Define your curls, waves, and coils with this nourishing, moisturizing, detangling leave-in conditioner. Darcy's Daily Leave-in Conditioner uses water, olive oil, yarrow leave extract, and sage to bring your tresses back to life day after stressful day.
The lavender vanilla scent alone will hook you to this detangling, moisture infusing leave-in by Karen's Body Beautiful. Purified water, jojoba oil, avocado oil, and coconut oil add radiance, softness, and moisture to tired tresses.
A NaturallyCurly Best of the Best winner, Shea Moisture (SM) brings it what is always does with leave-in…excellence. One of my favorites lines by SM, this leave-in will revitalize your curls, waves, and coils. Water, shea butter, argan oil, and coconut oil will restore your hair's moisture, shine, and softness with a scent that is soothing and calm.