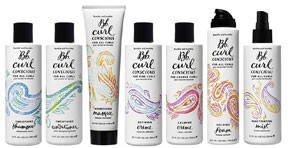 Bumble and Bumble's new Curl Conscious line.
In what is likely to inspire a groundswell of buzz among curlyheads, Bumble and Bumble officially relaunched its Curl Conscious line of haircare products this month, spreading the word through an interactive curl-focused website as well as the virtual pages of MySpace and Facebook.
The revamped collection and marketing campaign has been building momentum for some time. NaturallyCurly.com first reported on Bumble and Bumble's effort to reach out to curlies five years ago, when the haircare company introduced the first generation of its Curl Conscious line. A shift in culture was well underway.
"Instead of clients coming in and asking for blowouts, we wanted them to know that curly hair is sexy and fun and beautiful. It's something to be embraced, to be relished," Dan Langer, director of marketing for Bumble and Bumble, said during the original launch in 2004. "It's not something we're stopping."
Indeed, this fall's relaunch of the line comes only after the company conducted extensive research with curlies across the country — as well as on NaturallyCurly.com. Based on feedback, it reformulated and expanded the product line for a wider array of curl types. The collection now includes a smoothing shampoo and conditioner, nourishing masque, holding foam, two curl cremes (one for fine curls and waves and and another for coarse spirals and kinks), and a reactivating mist. Bumble and Bumble also touts its patent-pending ingredient tansglu-taminase as a "curl-keeping phenom" that resists humidity and encourages curls.
In addition to revamping the actual product, the company created a whole new look with packaging that features colorful paisley swirls.The unique teardrop-shaped imprints are designed to serve as an analogy for the unique qualities of curly hair. Bumble and bumble says it recognizes that no two curls are alike, and it vows to spread the curly mane message to its network of salons with new curl-cutting and styling classes.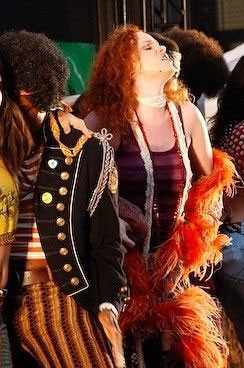 Bumble and Bumble is the exclusive haircare partner for the revival of "Hair."
From the salons, the company has made its move to the stage as well, where it became the exclusive haircare partner for the revival of the musical "Hair" in New York's Central Park. The stage production opened in late July and continues through Sept. 14 (after being extended twice). Bumble and Bumble is utilizing the new Curl Conscious products to style the curly locks of actors in "Hair," who don free-flowing hippie hairstyles with a new millennium twist.
"The musical's celebration of individuality and nonconformity reinforces Bumble's own philosophy towards the craft of hairdressing," Peter Lichtenthal, Bumble and Bumble's president, said in a statement.