For centuries, oil from the Moroccan argan kernel has provided natural nourishing benefits for the hair and scalp.
Now argan oil — or Moroccan oil as it is sometimes called — is gaining attention in the haircare industry for its ability to soften unruly hair while offering protection from the elements.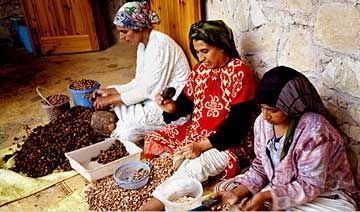 Moroccan women prepare the fruit of the argan tree to make its prized oil.
Travelers have long wandered the road of Marrakesh in search of spiritual and cultural fulfillment. Along their exotic journeys there is the ancient and rare Argan Tree, growing only in the Berber region of Morocco. From the nut of these magical trees comes Moroccan argan oil, known for a thousand years for its incredibly rich benefits for hair and skin.
High in vitamin E and essential fatty acids, it is believed to help all sorts of skin conditions: dry skin, acne, psoriasis, eczema, wrinkles. Moroccans slather it on their skin, hair, nails and even their babies. They eat it, too — drizzling it over salads and couscous, or using it to make amlou, a tahini-like spread of the oil, almonds and honey.
The oil was sold in Moroccan markets even before the Phoenicians arrived, but the hardy argan tree has been slowly disappearing. Overgrazing by goats and a growing, wood-hungry local population have whittled the number of surviving trees down to less than half of what it was 50 years ago.
Argan oil remains one of the rarest oils in the world due the small and very specific growing area.
The argan tree was first reported by the explorer Leo Africanus in 1510. An early specimen was taken to Amsterdam and then cultivated by Lady Beaufort at Badminton around 1711.
The tree is extremely well adapted to drought and other environmentally difficult conditions of southwestern Morocco. The species argania once covered North Africa and is now endangered and under protection of UNESCO. The argan tree grows wild in semi-desert soil, its deep root system helping to protect against soil erosion and the northern advance of the Sahara.
The plum-sized fruits are eaten by goats that climb the trees — women once harvested the fruits from goat droppings. Nowadays, modern technology eliminated this process for the most part. The kernels are stripped off the fruit by machine, and are cold pressed to express the oil. Cold pressing is a preferred "green" method that eliminates the need for chemicals in extraction and produces purer oil.
Unesco declared a 25,900-square-kilometer of land between the Atlantic and the Atlas Mountains and provided money to manage the trees' preservation. Chefs and society matrons took up the cause, praising the culinary qualities of the oil and its anti-aging effect on the skin. There is also a ban against grazing in the trees from May to August, when the fruit ripens to a bright yellow and eventually the goats climb the trees, eat the fruit and expel the pits, which locals continue to collect.
Each smooth pit contains one to three kernels, which look like sliced almonds and are rich in oil. The kernels are then removed and gently roasted. This roasting accounts for part of the oil's distinctive, nutty flavour. It takes several days and about 32 kilograms of fruit — roughly one season's produce from a single tree — to make only one liter of oil. The cosmetic oil, rich in vitamin E and essential fatty acids, is used for massage, facials and as an ingredient in anti-aging cream. The edible oil is extracted from roasted kernels.
The oil, which is alcohol-free, is almost weightless and has the tendency not to build up on the hair. It softens thick, coarse and unruly hair, bringing shine to lifeless dull hair and skin. It is easily absorbed into the hair and promises to eliminate frizziness as well as providing intense conditioning to all hair types. It is known to promote hair growth by strengthening weak hair prone to breaking off, and with its rich vitamins and minerals, it promotes healing to the skin, nails and the hair shaft.
It is recommended for hair that has been damaged by chemical treatments such as colorants and over-styling with heat implements. The oil can be applied directly to the hair after a color treatment, or a few drops can be added to the color treatment. It has a balancing constituency that is useful to the scalp as well. It helps the scalp by relieving itching and dryness. It also protects against UV rays and other rough environmental conditions. The oil also reduces hair's drying time.
While it is oil, it is so easily absorbed into the hair and skin that it will not produce oiliness. It is recommended to massage a few drops of the precious oil into the hair and scalp after shampooing. It can be patted on to a clean, dry face as a moisturizer and rubbed onto the cuticles and nail bed for healthy fingernails.
It also can be used to renew cell structure, as an anti-aging ingredient in harsh desert conditions for centuries and as one of the finer overall hair, nail and skin conditioners available on the market today.
---
Earthly Body has blended argan oil with deep-moisturizing hemp seed oil to create Marrakesh Oil— a unique hair-care elixir offering miraculous results.
Marrakesh Oil's non-greasy formula absorbs quickly to give instant shine, leaving your hair beautiful and in a healthy condition for heat-straightening or styling. This unique haircare elixir which combines the nourishing properties of Argan Oil from Morocco with moisturizing Hemp Seed Extract. Marrakesh Oil provides moisture, shine and conditioning to the hair and protects while heat styling or straightening. The lightweight extract absorbs instantly and leaves no greasy residue.