Are you a curly girl in the Atlanta area? Are you looking for the best natural hair salons around to get your hair styled? We searched for the best salons in Atlanta. Here are some of the top salons in the Atlanta area.
Loop Salon is an Ouidad approved salon that specializes in multi- textural and natural hair styling. This salon is unique because it caters to the hair care needs of the modern-day, chic, working woman, with an emphasis on best practices for care, styling, and maintenance of ALL hair types. Loop Salon located in Atlanta, Georgia, mission is to enrich the community through education of healthy hair in a trendy, environmentally aware atmosphere.
Curltopia specializes in providing curly men and women of all hair textures an unforgettable experience with expert training in coloring, cutting and styling. Clients rave about their "professionalism, welcoming atmosphere and educated stylists who give them the best haircut ever!" Curltopia is located in Smyrna, GA and strives to educate clients on how to care for their hair once they leave the salon and create a healthy hair regimen. 
Exotic Textures Hair Studio specializes in natural hair at all lengths with chemical-free styling techniques. Ayanna is a trusted healthy hair care professional who specializes in textured and sleek hair styles, locks, braids, natural hair and protective styles, such as sew-in weaves. They also offer a hair extensions collection, called  Exotic Textures Virgin Hair Extensions, that has a variety from Natural Straight to Afro Kinky.
Natural Creations is a salon that is known for their positive vibes and creativity! The amazing thing about the stylists at Natural Creations Salon makes outcalls to their clients in the comfort of their own home. Natural Creations salon offers services including twists, braids, locs, coloring and much more.
Too Groovy Salon is a salon that focuses on healthy hair care. The owner, Robin D. Groover, has helped transform the hair of thousands of women from coast to coast. The hair care specialists at Too Groovy Salon use award winning techniques in the arts, sciences, and methodology of advanced hair care to achieve optimal results.
Natural Xpression Salon is Atlanta's hottest salon for curly, kinky, wavy and natural hair textures! The mission if this salon is to ensure that their client's Xperience  Exceeds their Xpectations!  Natural xpression salon offers a comprehensive personal hair consultation where their clients voice their goals for their hair, and they offer guidance on the management of your tresses based on your goals and concerns.  At the conclusion of your service, you will receive a personal hair care regimen designed and recommended especially for you! The atmosphere is comforting, and curly girls love it.
Oh! My Nappy Hair Salon has been serving the natural hair communities for over 28 years. Oh! My nappy hair started in business because they noticed a need in the communities for salons that cater to curly textures. Oh! My Nappy Hair aims to help you get your natural hair to a healthy state. They also help assist with transitioning from relaxed to natural hair. 
Replenish Salon is known for "healthy hair stylists." They have devoted their careers to healthy hair practices above anything else. The mission of Replenish Salon is to provide a unique, relatable, and caring experience to clients who desire one on one services in the midst of their busy lives.  Replenish Salon uses their passion for the industry, and knowledge of the strand, to personally hand pick exclusive products with essential ingredients that will replenish your hair with what it needs internally to be healthy and grow. Replenish Salon uses the science-driven technology of micro misting. At each visit, they guarantee to offer the perfect balance between hydration, replenishment, and love.
The Damn Salon is not your everyday hair salon. They are all about hair, make-up, natural hair and high fashion. The Damn Salon focuses on the styling and maintenance of natural hair. They do not promote chemical or heat processing. The Damn Salon takes pride in providing their clients with an endless number of natural hair styling options and they continue to share guidelines on the care and growth of natural hair.
Southern Curl specializes in curly hair, all textures, and curl patterns. The owner and master stylist, Robin Sjoblom, aims to tame frizz, one curl at a time, and to help educate her Curl friends to care for and embrace their curls for life. The Southern Curl team is known for making every client feel like royalty when they walk in their salon doors, to the minute they walk out! Aside from offering specialty curly cuts and color, they write unique 'hair prescriptions' of product and styling recommendations based on the client's needs and preferences to help maintain a healthy hair regimen once they leave the salon.
Curlie Girlz Rock is a chic and stylish salon located in Smyrna, Georgia. Curlie Girlz Rock serves the Atlanta, Smyrna, Marietta, Buckhead and surrounding areas. They are committed to providing the highest level of service possible for their clients. They offer a relaxing and comfortable environment that is suitable for quality conversation between the client and stylist. At Curlie Girlz Rock Salon 100% of their clients are all Natural. Curlie Girlz Rock offers a variety of services from steam therapy, to color and straight hair styling.
Honee Comb Salon is as sweet as its name! The stylists at Honee Comb are as friendly as they are talented. HoneeComb Natural Hair Salon specializes in Afro blowouts, color and style, deep steam treatment and flat twist to name just a few. HoneeComb Natural Hair Salon is open  Monday to Sunday. Naturals love this salon because of the hours of operation. You can get an appointment any time of the week!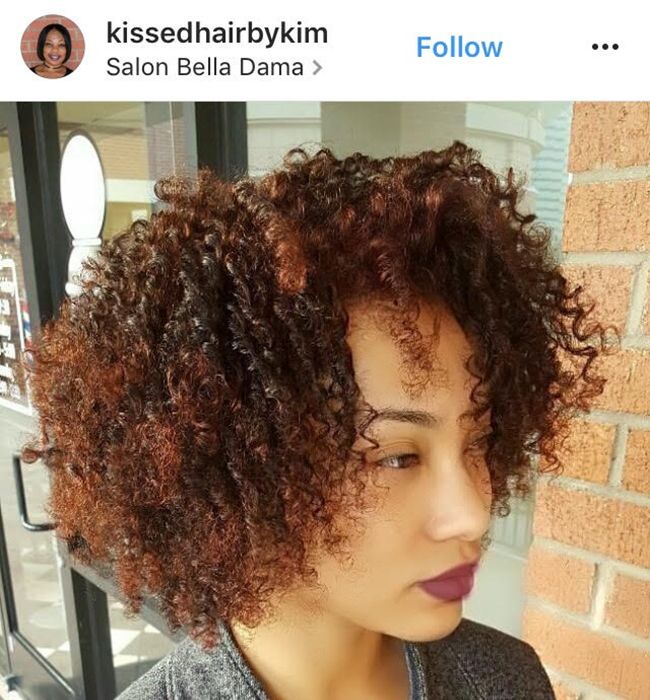 Salon Bella Dama is a diverse salon that specializes in all hair types and textures. Salon Bella Dama is an upscale beauty salon that is unlike any other in the Atlanta area. Salon Bella Dama aims to create an atmosphere to make clients feel like a Hollywood A-Lister. They offer chic and modern décor and very talented salon staff. Bella Dama offers their clients extensive styling options that include rod sets, twist sets, Bantu knots, silk infusion presses, and also haircuts and coloring. Salon Bella Dama uses the finest hair care products available. They aim to restore your hair to its natural luster and sheen.
Healthy hair is a priority, not an option at Texturz Hair Studio. This natural hair salon was opened in 2003 in Duluth, Georgia. The name and meaning of "Texturz" came from the description "Textures, " and it means the shape and physical structure of what hair really is. Texturz Hair Studio offers straw sets, cornrows, locs, twist sets, conditioning and protein treatments much more!
Kinky Peaches is a natural hair salon created by Monique Beoa in Atlanta, GA. Monique Boea created Kinky Peaches to give women in the Metro Atlanta area a one-stop resource for caring for their natural hair. There are no chemicals used at Kinky Peaches. All clients get a 20-minute steam hydration treatment with their service. Kinky Peaches aims to keep their salon heat and chemical free!
Have you checked out any of these salons in Atlanta?