NaturallyCurly: When did you start embracing your curls?
Sarah: Prior to the beginning of high school, my hair was constantly up in a bun or a braid. I was around 14 when I started learning how to style and care for my curly hair. Beyond learning the techniques, I also had to accept my hair for what it was…voluminous, temperamental, and very curly! Learning to wear my curls also helped my adolescent self to gain confidence. When people started complimenting my hair it was unsettling at first because of my introverted and shy nature, but eventually it grew into a source of self-esteem for me.
What's your daily hair routine?
Sarah: I wash and style my hair every two to three days. In the shower, I use a light conditioner to scrub my scalp and then I apply a thicker conditioner before detangling my curls. I rinse most of my conditioner out and then apply my styling products, which include my Curly Hair Solutions Curl Keeper and a gel. I like to smooth and scrunch all of my products on for very clumpy curls, and I avoid combing after the shower.
Lastly, I scrunch some of the water out of my hair with a cotton cloth, finger twirl unruly pieces, and then put my hair up into a t-shirt turban (aka a plop). I leave my plop on for about 15 minutes and air dry afterwards. On the days when I don't have to bother with washing my hair, I spritz my hair with a water/leave in mixture and apply a cream or butter product. I smooth down any frizz, finger twirl some curls, and then walk out the door.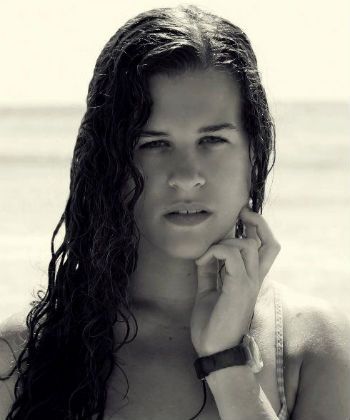 What is your nighttime routine?
Sarah: At night I plop my loose curls into an oversized satin bonnet and go to sleep. Sometimes I do put my hair into two French braids for a different curl pattern in the morning.
Do you still follow the Curly Girl Method?
Sarah: Yes, for the most part. I've been following some form of the Curly Girl Method since I first learned to wear my hair curly, and I still do to this day. For anyone reading this article who might not know, the curly girl method basically involves avoiding shampoo and products with silicones in them.  My hair really loves conditioner washing and products that don't contain silicones. It's a regimen that works for me, although I do tend to try out products that are not Curly Girl approved for my videos. 
We adore your long, gorgeous curls and usually, the longer the hair, the longer the care. How do you reduce the time spent on your hair? 
Sarah: Thank you! Long hair is definitely a lot of maintenance. Here are a few tips for minimizing hair care time: For detangling my hair, I love my Tangle Teezer brush because it's gentle and twice as fast as using my fingers or a wide-toothed comb. I wear my hair in buns and braids a lot during busy school weeks, which bypasses a lot of time I would spend styling. As mentioned before, I try to wear a wash and go or protective style for two to four days before washing and detangling. I would definitely say I don't worry about my hair looking perfect most of the time, and that cuts down on extra primping as well.
What have been the positive and negative affects of using henna on your hair?
Sarah: For those that might not know, I went from my natural, medium brown color to a reddish-brown auburn shade using henna, which is a natural dye derived from a plant called lawsonia inermis. On the plus side, henna gives my hair a rich color and red undertones, especially in the sunlight. The henna preserves my natural lowlights and highlights. Most people think auburn is my natural hair color! Henna is completely non-damaging, and it makes my hair shiny and strong.
However, some downsides are that the color is permanent and time-consuming to maintain. I will have to seek professional help when I want to return to my natural color. However as said, henna gives my hair a beautiful color, and truthfully it hasn't had any negative effects on my hair health.

What are your favorite products?
Sarah: I am a total product junkie so I'll try to keep this somewhat snappy: Suave Naturals Coconut Conditioner (co-wash), Sally's Beauty knock off version of Matrix Biolage Conditioning Balm (detangler), As I Am Leave-in Conditioner (leave-in conditioner), Curly Hair Solutions Curl Keeper (sealer/frizz preventer), LA Looks Sport Extreme Hold Gel (holding gel), Curl Junkie Curl Rehab Moisturizing Treatment (deep conditioner), and Karen's Body Beautiful Super Duper Hydrating Hair Cream (styler and refresher).
What are is your favorite DIY recipe?

 
Sarah: I love mixing conditioner and granulated sugar (brown or white) to make a scalp scrub. This exfoliating mixture always leaves my scalp feeling clean, refreshed, and free of flakes.
What ingredients does your hair love?
Sarah: My hair loves honey, moisturizing alcohols (ex. cetyl alcohol), jojoba oil, and coconut oil. These are great moisturizers for my hair. My hair likes polymers that contribute to super hard hold gels. When I opt for shampoo, my hair's favorite cleanser is definitely cocobetaine because it's gentle.

What ingredients does your hair hate?

 
Sarah: My hair, believe it or not, dislikes shea butter, especially in conditioners or deep treatments. My hair does not absorb any moisture from it. My hair also hates sulfates (or harsh shampoos in general); they leave my hair feeling straw-like and parched.
What inspired you to start vlogging?
Sarah: I was inspired by watching other hair vloggers on YouTube that have much tighter curl patterns than me. I saw that at the time there were no vloggers with looser curl types, so I decided to add my voice to the community. I had also gained a lot of confidence from learning how to style my curly hair. I was inspired to provide curly hair knowledge to others, and in the process help other curlies to gain confidence in their natural hair.

As a veteran vlogger, how do you keep your content fresh?
Sarah:  I think it's important to keep trying new things, whether that's products, hairstyles, or techniques and share that with your audience. Also, I've started doing videos on makeup and skin care topics to add a little variety to my channel.
What do you like most about vlogging?
Sarah: I love interacting with my viewers and geeking out about curly hair with them. The most rewarding thing is to receive a message from a viewer letting me know they've used my videos to learn how to do their hair and feel great about their curls. It's wonderful to know that my hobby can have such a positive impact on other curlies!
Do you have any advice for new curly hair vloggers?
Sarah: Be yourself in your videos and make videos you enjoy watching. Others will enjoy watching them too! 
Any upcoming events/projects you'd like to tell us about?
Sarah:  I'm considering cutting my hair from waist length to shoulder length! That's pretty exciting right? I'll be making a video about the experience when it happens. As far as projects, I am really excited about Waterlily716 videos in Spanish. I am currently working on translating my videos (with subtitles) to Spanish, and love being able to reach out to more curlies that speak a different language.
What is your number one piece of advice for women with curly hair?
Sarah:  Learn to love and embrace your curls. Don't compare your hair to others too much and don't wish for something you don't have. There's something very freeing about accepting your natural hair. Embrace your curls, wear them proudly, and everyone will see how beautiful they are.
You can find Sarah online here: