Over the past two years, CurlTalker LazyKerri has discovered many wonderful curly products—Pantene Curl Scrunching Gel and Aussie Gel + Water, Herbal Essences Humidity Defying Gel and Suave Professionals Firm Hold Gel.
"What do these have in common?" asks the Chicago curly. "They've been discontinued or reformulated! Although I understand they have their reasons, I really wish the companies wouldn't keep doing this to us!"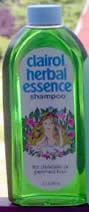 Many of us remember
Clairol Herbal Essence
.
Redken Solid Water will be
relaunched soon with a new name.
LazyKerri's frustration is a common one, especially for curlies who search long and hard for their "Holy Grail" products only to see them disappear from the store shelves.
"I've found replacements that work just as well, if not even better," says CurlTalker Joy4ever of Bowling Green, Ohio. "But it's always a shock to the system when you realize the product you worked so long and hard to find -- after weeks or months of trial and error -- is going to be gone forever."
"Why are you gone?" one woman lamented on a beauty Web site when John Frieda discontinued Frizz-Ease 5-Minute Manager in December 2005. "I miss you more than my husband. Someone must put you back on the market for dandylion heads like me."
In some cases, customers get downright angry when their favorite product is discontinued, as was the case when Clairol discontinued its Clairol Daily Defense Tender Apple Shampoo and Conditioner.
"I'm very upset and disgusted that Clairol decided to discontinue the product line ONLY because it 'wasn't making enough money' for them," one angry poster said on epinions.com. "It's their ONLY product that makes my hair feel clean and soft when I finish. I bought these products faithfully. I tried their other brands they recommended and they did NOT give me the same results. They don't care about what does work for people."
Manufacturers say products aren't discontinued without cause. There are several reasons why a product may disappear from the shelves.
"It takes a lot of effort and time to discontinue a product, so we don't do so lightly," says Dawn Blackstone, executive vice president of Graham Webb International.
The hair-care industry is a 'what's new' business. Companies must continually add new products, and reposition existing lines, to stay on top of fashion trends and technological changes.
"We are in the fashion industry," says Tatiana Jovic, spokeswoman for Canadian haircare company AG Hair Cosmetics. "As such, we are continually watching upcoming trends and developing products to meet the need. The challenge, of course, is to develop products that are meeting the needs of the current trends without being too 'trendy,' as trendy means it will be hot for a while and then the trend will move on, making your products obsolete."
Companies also regularly re-evaluate their product lines to see what's selling, and more importantly, what's not. Jovic said AG continually analyzes sales for all of its products, looking at sales results over the years as well as consulting with its managers out in the field. In its 17-year history, Jovic said AG hasn't discontinued a single product.
"It's pretty simple arithmetic" says Jim Markham, founder and chief executive officer of Pureology, which also owns the Alterna line. "If you continue to add (new products) to your line and keep things that don't sell very well, you're not very smart. If it sells well, you keep it. If it's not doing enough volume to justify its existance, it's discontinued."
Blackstone says her company has thresholds for product revenue, and products that are consistently below the thresholds eventually are targeted for discontinuation.
"We want to make sure we are offering the most in-demand, productive products that warrant us carrying them and tying up inventory space and dollars," Blackstone says.
Graham Webb discontinues roughly 2-3 percent of its products each year, she says. With the company's recent redefinition of its Back to Basics line, it made a deliberate choice to streamline it and to focus on the big sellers and the items that had unique benefits for the hair and body.
Blackstone stressed that the company does take into consideration whether a product fits a unique need that makes it relevant to the customer, and that it is important to the line overall.
Karen Fuss-Zipp, vice president of U.S. marketing for Redken, says one of the main reason her company discontinues a product is because of improved technology.
"New technology allows us to relaunch and redevelop products," Fuss-Zipp says.
For example, last year Redken discontinued its Color Extend line and relaunched and repackaged it with new technology. Redken's discontinued Headstrong for fine hair because of lackluster sales. The development group had new technology and created the Body Full line to replace it.
"Sales quadrupled because it had advanced technology and a better fragrance," Fuss-Zipp says. "It was a good way to bring advancements and a sense of newness to the consumer."
In some cases, a product isn't discontinued but rather repositioned. Redken's Solid Water had become a huge hit among people with curly and kinky hair. It was discontinued, and will be relaunched later this year as as a product specifically for curly hair.
When a favorite product is discontinued, consumers have several options. Usually, the company will have recommendations for other products that have similar qualities. Stylists also are a good resource, providing advice on the best products for a particular hair type. Fuss-Zipp says Redken always tries to provide a good replacement product, or a combination of products that can be used together to create the desired effect.
"People shouldn't give up," Fuss-Zipp says. "Their favorite product is probably still around somewhere in a different form with added benefits.
Some discontinued products find their ways to Web sites like eBay and stores like Big Lots. For example, one CurlTalker found some of her beloved Daily Defense Conditioner at a Florida Big Lots store. The original Herbal Essence Shampoo is available on eBay -- for $59.50 a bottle!
Sometimes, consumers go to desperate measures to get ahold of an old favorite. One fan of the original Clairol Herbal Essence Shampoo last year started a petition to get Clairol to bring back the original, fragrant dark green shampoo. People were asked to call a toll-free number or fill out an e-mail form on the Clairol Web site.
If there is enough outcry from consumers, a product may be brought back by a manufacturer. Fuss-Zipp says Touch Control Texture Whip, which was discontinued four years ago, will begin shipping again this month.
"People missed it," Fuss-Zipp says. "People continued to ask for it. We re-evaluated our line and saw it as an opportunity to bring it back."