We are constantly advising that our readers not compare their curls to others' curls. That what works for your hair type won't necessarily work for someone else's, and vice versa. That you should embrace your curl pattern, and not covet thy neighbors' curls. But I am guilty of breaking all of those rules when I say that I long for @joyjah's hair every time she pops up in my feed. 
I was thrilled to get the chance to ask the Carol's Daughter brand ambassador exactly how she gets that volume, her hair color, and yes, even those freckles. We've been working with Carol's Daughter closely as we prepare for the upcoming Texture on the Runway, our annual fashion show at New York Fashion Week showcasing textured hair, which is powered by Sally Beauty this year. We can't wait to see what inspiring looks they will be sending down the runway.
1. What's your cleansing routine?
"Every 3-4 days I do a new wash and go using Carol's Daughter Almond Milk Restoring Conditioner to detangle my hair in the shower. Once a week I deep condition with Carol's Daughter Almond Milk Ultra-Nourishing Hair Mask for 30 minutes or longer. Then once every 2-3 weeks, I do a hot oil treatment after which I shampoo using Carol's Daughter Almond Milk Sulfate-Free Shampoo followed by the conditioner."
2. How do you keep your long hair detangled?
"I only detangle my hair when it's wet using conditioner, running water and a wide tooth comb. For the duration of my wash and go I always protect my hair to avoid tangles and breakage. I normally wear a pineapple around the house and I always go to bed with a satin bonnet or scarf."
3. What's your moisture routine for maintaining moisture and softness throughout the week?
"Deep conditioning for at least 30 minutes in the sun! You can use a heat cap or blow dryer, but since I live in Belize it's just easier to chill outside. My Holy Grail deep conditioner is the Carol's Daughter Almond Milk Ultra-Nourishing Hair Mask! I swear by the Almond Milk Line, it's everything you need for moisture, slip, plus a little takes you a long way. I also ensure that the base of my wash and gos are moisturized. I'm heavy handed with Carol's Daughter Pracaxi Nectar Wash N'Go Leave In. It's thick, it's rich, smells amazing, and you can slap the product on and distribute throughout your entire head of hair. It's water based so it won't weigh your hair down."
4. What's your advice for everyone who has long hair goals?
"Scalp massages with your favorite natural oils will give you that extra boost! Mix up your own concoction. Mine usually include: Jamaican black castor oil, coconut oil, pimento oil, and essential oils like lavender and rosemary.
Put down the heat tools, they're only hampering your growth, including that diffuser (I'll explain later">. 
Lastly, consistency and dedication hold so much weight in your journey. Don't compare yourself to others, you're doing great and you'll get there. When you feel like giving up, look back at old photos to see how far you've come. You got this."
5. Is your color natural?
"Everyone asks this question and I'm so proud to say the color is in my genes. It's natural."
6. Our editors are dying to know, how do you achieve so much volume?
"My Afro pik is my hair's bestie, I tuck and lift throughout my hair until I get the look I desire. The bigger the better! 
And I always air dry, it shows off my length more, plus my hair's naturally big. I find that when I use a diffuser my hair shrinks up and appears a lot shorter.  I don't like that. Besides, air drying has been part of my hair growth process. From experimenting, I found that when I would diffuse my hair I ended up needing more frequent trims. My ends would be so dry and my hair didn't look or feel as healthy as it does now, since I only air dry.  So I've completely ditched my diffuser and it's helped me retain so much length."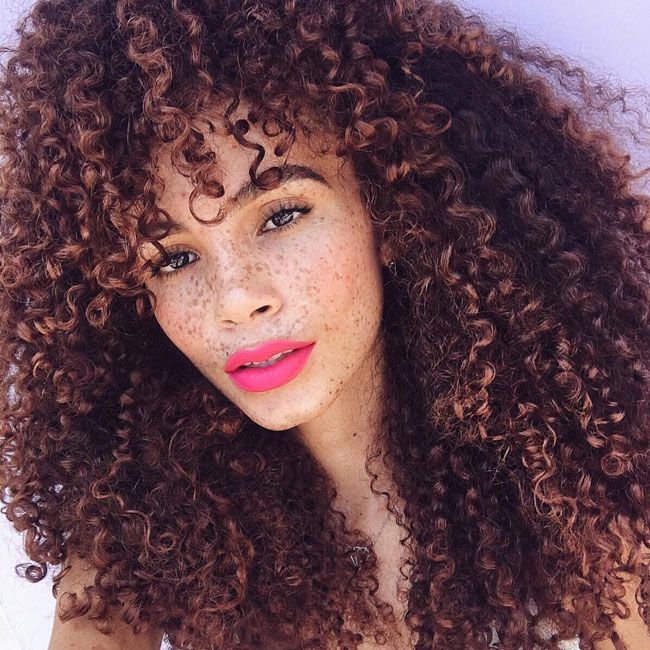 7.  Ok we love your freckles, do you wear a light foundation? How do you wear makeup while letting your freckles show through?
"Awe! Thank you. Sometimes I do a little concealer under my eyes, I blend it with my fingers for a more seamless look. For foundation, I use a little mainly over zits or scars. I gentle dab my brush on the affected areas until it's blended and looks natural. Secret: If I'm going somewhere special I'd turn that zit into a freckle. *Wink wink*"
The only thing better than asking your curl crush what they do with their hair? Finding out that you share products in common. I use the Pracaxi Nectar Wash N'Go Leave In as well, and I know NaturallyCurly contributor ThePolishedCurl likes to cocktail it with the Pracaxi Nectar Style Control Gel. I'm always impressed when a Type 2c wavy and a 3c curly can get amazing results using the same products. It's all in the technique and quantity you use.
The Pracaxi Nectar line and plenty of your Carol's Daughter favorites can be found at Sally Beauty.
This post is sponsored by Carol's Daughter. All photos courtesy of @joyjah.