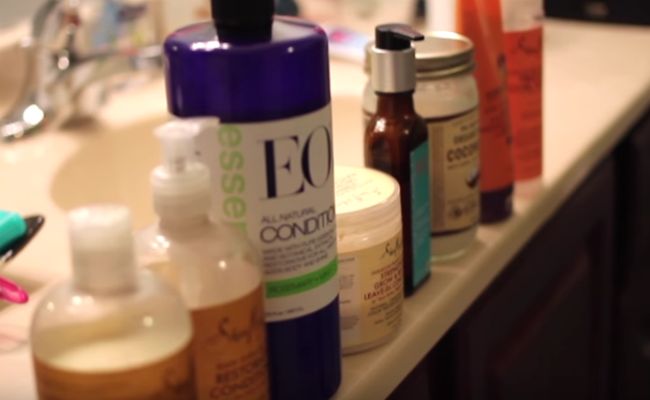 Hello Naturally Curly community! This is Nina Sultan. While my routine has pretty much stayed the same, the products that I use are constantly changing. Now that it is winter, my curls need some extra TLC and moisture. All of the products that I am using this season are specialized for giving my hair the extra moisture that they need to fight the winter dryness. Here are the products that I am into right now.
Shampoo and Conditioner:
Currently, I have been using the SheaMoisture Retention Shampoo and the Restorative Conditioner and I'm really loving this line because they are incredibly moisturizing. They have really helped my curls fight against dryness and damage. Occasionally I switch out the restorative conditioner for my All Natural Conditioner by EO. This conditioner has mint & rosemary essential oils, which not only help to stimulate growth, but also act as a cleansing agent. Therefore, I use this conditioner for my co-washing routine as well. The shampoo and conditioner are inexpensive (under $10), smell great, are gentle, fight dryness, and have great natural ingredients in them such as sea kelp, shea butter, and argan oil. This shampoo and conditioner are my second favorite next to the Coconut & Hibiscus Shampoo and Conditioner. If you are looking for a good winter cleanser and conditioner, give these products a try.
Styling Routine:
LOC Method - leave-in, oil, and styling cream
To keep my curls moisturized, I swear by the LOC method because it consistently keeps my curls soft and moisturized all season long. For my leave-in, I have been using SheaMoisture Jamaican Black Castor Strengthen Grow & Restore Leave-In Conditioner. I have actually been using this product all year round, as it gives my curls excellent moisture that lasts. It has organic shea butter, Jamaican black castor oil, and peppermint in it which is the perfect combination of ingredients. This leave-in is about $14 but lasts for a long time, and a little of this product goes a long way. This would be a great leave-in to try this season simply because it is so incredibly moisturizing.
Oil:
For my oil, I alternate between my Moroccan oil, and my Dr. Bronner's Organic Virgin Coconut Oil. Moroccanoil smells divine and is great for giving my curls enhanced shine. It also leaves them feeling incredibly soft. Although it is a bit expensive ($40), I get great results and the product lasts for a long time. Coconut oil does the exact same thing but is a more natural oil. I tend to use the coconut oil more than the Moroccanoil for the fact that coconut oil is less expensive ($10).
Styling Cream:
I have been alternating between my SheaMoisture Coconut & Hibiscus Frizz-Free Curl Mousse ($10), and my Curl Complete: Taming Butter ($20) by Pureology. Currently, I have been using the taming butter more because it gives my curls more moisture than the mousse. The taming butter is actually a leave-in but I also use it for my styling cream as well. This butter smells incredible and has coconut oil, sunflower seed oil, soybean oil, and shea butter in it. The one thing I do not like about the taming butter is that it is not 100% organic like the mousse is. It is 100% vegan, however, and gives my curls the moisture and definition that I love.
What kinds of products are you into this winter season for your wash-and-go?
Let me know in the comment section!