Having a guest leave the salon happy for the first time in her life is what drives me and fills my soul with happiness. I am blessed every day.
My name is Robin Sjoblom, and I am owner and curly hair specialist at Southern Curl Inc. in West Midtown, Atlanta, Georgia.
It was really an accident that would turn into my biggest passion.
In 2009, I went to work at a salon that was close to my daughter's school, not realizing it was catered to curly hair. I had my own straight hair clientele and it was never mentioned that I would have to learn curly hair when working there. The owners were not stylists, so they assumed I did curls; when they started booking me guests, I admitted I knew nothing about curly hair! They immediately sent me to Anderson, South Carolina, where I went to my first Deva training. The original Curly Girl, Lorraine Massey, and Shari Harbinger taught my class. Never seeing this Curl by Curl Technique before that moment caused something to shift inside me. Then, it made so much sense.
At that moment, I fell in love with curly hair.
Lorraine and I had lunch that day in Anderson. She said to me, "You have the eye for this and you need to stick with it. Come see me in New York next year for the advanced training."
And so, my curl journey began. I am now a 3x Advanced Deva-inspired stylist, which means I have done the advanced training in New York City three times.
In 2013, I hosted and taught a curly hair session at Scott Musgrave's first Curly Hair Artistry Symposium here in Atlanta. Since then, I have continued to travel the United States to attend Deva trainings and teach natural hair cutting for Curly Hair Artistry. Recently, I  have also become a curly hair ambassador for Innersense Organic Beauty, traveling and teaching product application and cuts on curly hair using Innersense Organic Beauty products.
In 2015, I was named one of the Top 10 Best Curly Hair Artists in the world by Refinery29 and NaturallyCurly. I was also named Curly Artist of the Year by Curly Hair Artistry. Our salon platform focuses on education and training; it is a goal for the entire Southern Curl team to be as equally qualified in 2017.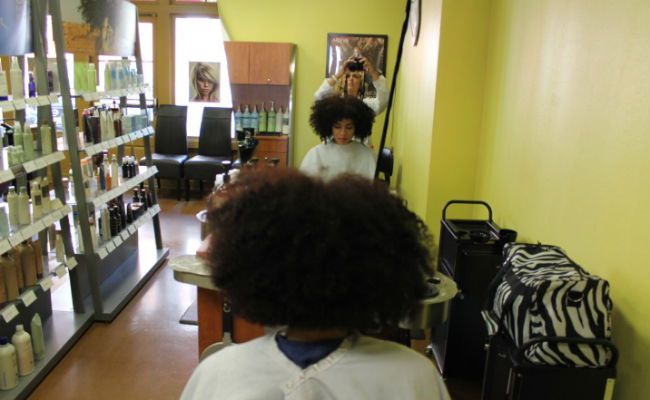 Why curly hair-focused education is so important
As a salon professional, I understand that curly hair needs to be cared for differently than straight hair. One head of curls will most likely have more than one curl pattern, so we need to be able to see what we are cutting. Southern Curl believes curly hair should be cut dry, curl by curl. I suggest a curly haired woman or man should research reviews on Naturally Curly, Deva, and Yelp. They should also look at before and after photos of prospective stylists; Facebook, Instagram, Snapchat, and Twitter are helpful resources. Or, if they see a curly walking down the street with amazing hair, stop and ask them who they see!
A true curly artist will be able to understand what needs to be cut and be confident in the consultation with you.
A good haircut lessens a client's wispy, tangly and frizzy ends. Their curls will stop growing back into the dreaded triangle. Product selection and education is also a must since we won't see you for approximately three to six months at a time. Any curly needs to know how to repeat the product application of what we did in the salon so you can manage day to day styling as well as understand what products are right for your curl type and which ones you need to avoid.
Proper curl education is not yet being taught in schools. We are working with them to hold sessions on proper curly cutting techniques. Training facilities like Devacurl in New York City & Los Angeles, as well as the Curly Hair Artistry are great places to begin a professional curl stylist journey. These classes are broken down into easy-to-understand sessions that explain the 'why' and the 'how'. Continuing education is also a must--you can not learn it all in one session.
Dennis DeSilva from Devacurl once said, "the Deva cut may look simple but it will take years to master." This is because there are so many factors to take into consideration, and it takes time to learn how to put them all together. If you can learn one thing from a class that you have taken 3 times, it is worth it. Sometimes the AHA moment comes when you least expect it but it is helpful to surround yourself around other specialists in your field so you have people to bounce ideas off of and learn from.
Opening Southern Curl has been a dream come true.
I feel so blessed to walk into the salon every morning and know I have a team of wonderful women who are on the same bus I'm on. Blessed is turning the me into we and to have a salon team focused solely on all curl textures. Southern Curl is a space where women and men of curl can come and feel comfortable and leave confident in who they are. We tell each guest to rock their blessing. This simply means to rock your God-given curls and be proud of them!
Having a guest leave the salon happy for the first time in her life is what drives me and fills my soul with happiness. I am blessed every day.