We all know that heat isn't the best for your hair, but there are plenty of good reasons to reach for the blow-dryer or flat iron. Sometimes, you just need to try out a new hairstyle — part of the fun of curly hair is how versatile it is! Also, using a blow dryer can help add volume and definition, not to mention majorly speeding up the drying process.
When you do decide to reach for the heat, you should always apply a heat protectant first. These products are specifically formulated to serve as a barrier between your hair and the heat. This layer of protection can make the difference between fried hair and healthy, happy curls.
Here are 10 of the best heat protectant sprays, serums and creams for protecting your hair from heat damage!
This product provides moisture, frizz control and heat protection all in one bottle. It's formulated with shea butter and silk, and it protects hair from heat up to 425 degrees. Spray it onto your hair while it's damp and then blow dry or flat iron.
2 / 10
A lot of heat protectants contain silicone, which (despite its bad reputation) is useful for smoothing and protecting the hair. But if you're all about that cone-free lifestyle and still want to use heat sometimes, this heat protectant creme from Briogeo is your new BFF. It contains a blend of rosehip, argan, and coconut oils. It protects hair up to 425 degrees.
3 / 10
This Mongongo Oil Thermal & Heat Protectant Spray repairs damage and eliminates frizz while also protecting your hair from heat. It's silky, not drying, and it won't weigh your curls down. Just apply it to clean, wet hair from roots to tips.
4 / 10
You can use this spray on either damp or dry hair. Featuring argan oil and honey, it protects your hair from heat styling, but it also does much more — it seals in moisture, promotes shine, and eliminates frizz. You can even re-apply it to your hair to refresh it and add more shine.


5 / 10
This serum is designed for "fine to normal" hair. A few drops of this serum will protect each strand from heat damage without weighing down the hair. The serum also seals moisture into the hair cuticle, making your hair look healthy and shiny.
6 / 10
This serum features sachi inchi oil, which is rich in omega fatty-acids. It nourishes, imparts shine, controls frizz, and of course, protects your hair from the heat. Smooth it into your damp hair before you use heat, and re-apply it to your dry hair as needed.
7 / 10
Looking for a styling cream and a heat protectant in one product? Look no further. This cream is moisturizing, and it helps to define each strand and keep your hair in place. This product is best for those who aren't heavy-handed with the heat tools, because it's only designed for blow-drying, and Eden BodyWorks recommends waiting until your hair is 60 percent dry before blow-drying.
8 / 10
Before you reach for the flat iron, reach for this straightening serum. It results in super shiny and smooth hair, and it's humidity resistant, so your straight hair won't revert to curls even in the summer heat. No more dry frizzy hair after the flat iron!
9 / 10
Who knew one product could do so much? This multipurpose hair treatment is rich in omegas, vitamins, and amino acids, so it delivers a powerful dose of nutrients to your hair. It protects your hair from heat as well as tangles, humidity and damage; but you can also use it for styling and detangling, as it softens, smoothes and moisturizes the hair.
10 / 10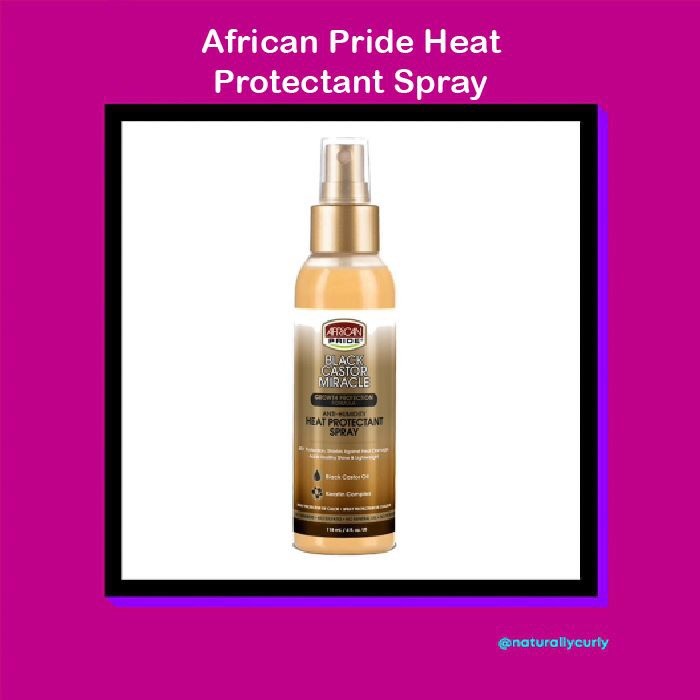 What's your blow-drying routine? Do you use a heat protectant? Tell us in the comments!