If you love the tropical, sweet scent of coconut, these ten products will make your routine extra luxe. They will give you all you need to create shiny, bouncy, humidity-defying curls all summer long. Crack them open any time you need a whiff of coconut bliss.
For maximum curl pop, with moisture for days, this coconut crème custard is bound to be your next favorite. Reviewer Rosemary P. writes:
"Unbelievable!!!!
My hair is SO soft and frizz free. My hairdresser wanted to know my secret. Best thing I've found. I will NEVER use any other product again."
The secret is out, and you can get it here.
2 / 10
If you are looking for a shampoo to help strengthen and fortify your strands while keeping your scalp healthy and flake-free, this coconut milk shampoo must be on your must-have list. Follicle-stimulating nettle is combined with coconut oil and milk, both of which help to make your hair stronger and less prone to breakage and split ends. The fresh, island-inspired scent will fuel your senses and perk up your morning shower.
3 / 10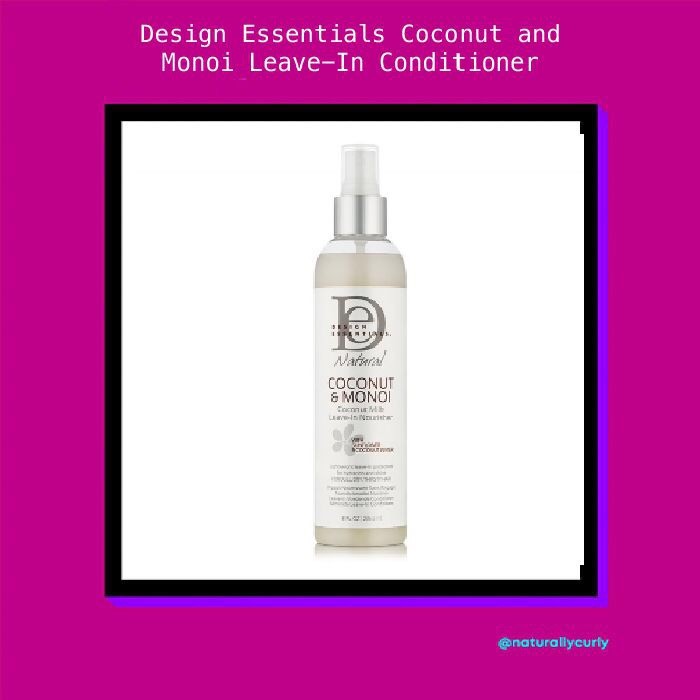 When deep hydration is needed to keep frizz at bay, Design Essentials Coconut & Monoi Coconut Milk Leave-In Nourisher should be a regular staple in your wash routine. This leave-in and curl revitalizer moisturizes your curls and leaves them feeling softer and smoother thanks to coconut and monoi oils, panthenol, and biotin. You can use this product on both damp hair as part of your wash day regimen or on dry hair to help perk up limp curls.
4 / 10
Whether you are new to cream stylers, or want to try something new that is tried and true, Supercream Curl Styler is a perfect pick. It moisturizes, it defines, it provides a light hold, and it stretches and elongates curls. Show your curls a little love with the do-it-all styler that, like all DevaCurl products, smells amazing,
5 / 10
This medium-thick coconut cream conditioner is a great value, as a little goes a long way. It has great slip for easy detangling, and coats and nourishes even the thirstiest most parched strands. It will leave your curls feeling soft and moisturized.
6 / 10
Coconut Water Style Setter contains coconut water, aloe, and a blend of butters and oils to help hydrate your hair and protect it from frizz and dryness, while providing structure to your favorite sets. It can be used as a leave-in as well for a super quick wash and go. It will leave your curls defined and lightly smelling of coconut.
7 / 10
This product contains a blend of coconut and other oils to help strengthen and protect your hair, and reduce breakage. It seals in the shine for moisturized, hydrated curls that look and feel healthy. With its coconut scent, it will make your hair smell as great as it looks.
8 / 10
This light clarifying shampoo will get out the dirt and excess oils from your hair and scalp without leaving them feeling dry or stripped. Your hair will feel and smell clean and fresh with just one wash of this coconut-smelling shampoo.
9 / 10
I am a huge fan of multi-purpose products like this one. As you know, curly routines can require a lot of shelf space, which is a commodity in smaller bathrooms. This one product soothes and moisturizes the skin and scalp, and helps to add shine and definition to curls. This is a great find for those effortless summer routine days.
10 / 10
Coconut Restore has a line of economically-priced, effective products that can give you some of your best hair days yet. Their Coconut Cocktail Mousse provides your curls with moisture while preventing dryness. If you want some tips for making the most of your mousse, check out this article.
What is your favorite coconut scented product? Let us know in the comments. For some DIY coconut product recipes, click here.