As July really sets in, many of us naturals have already geared up for all of the changes that need to be made to our routines. We've got our protective styles in, sun-block products at the ready, and every gel imaginable in our arsenal to keep frizz in check. We've prepared our hair to face the relentless humidity and heat, while feasibly neglecting a key component to keeping it looking it's best—our scalp. Between consistent protective styling, daily moisturizing, edge control residue, and combined product/sweat buildup (gross, but true), be aware that your scalp might need a little extra TLC this season.
I'll admit, adding more steps to an already time-consuming wash day is tedious, but also very necessary in maintaining a healthy environment for curls and coils. Akin to the relationship between soil and plants, hair can only be as healthy as the scalp it grows from. When the buildup is strong, products with exfoliating and antimicrobial properties work overtime to get rid of dead skin cells and prevent the growth of microorganisms—an all-star clean-up crew!
Luckily we're here to help you navigate through all of the options and narrow down which products you should add to your stash. If you've been slacking on scalp-care, it might be time to rotate some of these gems into your routine.
DevaCurl Buildup Buster Micellar Water Cleansing Serum
DevaCurl enthusiasts will want to give this cleanser a go. The micellar water in this serum attracts dirt and buildup without the harsh, drying components of typical cleansers. And just in case, it contains jojoba oil for added moisture.
TXTR by Cantu Apple Cider Vinegar + Tea Tree Shampoo
2 / 15
As suggested on the front of the packing, this shampoo is formulated to "cool, calm, and cleanse." Apple cider vinegar lifts buildup while spearmint oil and oat kernel extract soothe the scalp.
3 / 15
This Allure Best of Beauty winner is a fluffy mousse-like texture and can be used on all hair types before wash day to remove debris and dead skin cells.
SheaMoisture African Black Soap Bamboo Charcoal Scalp Tonic Treatment
4 / 15
Geared towards both flaky and oily scalp, this treatment absorbs excess oils and invigorates the scalp.
5 / 15
A soothing and stimulating blend of olive oil and spearmint, simultaneously moisturizing and invigorating. Perfect for pre-wash use on curlies with dandruff.
Kiehl's Deep Micro-Exfoliating Scalp Treatment
6 / 15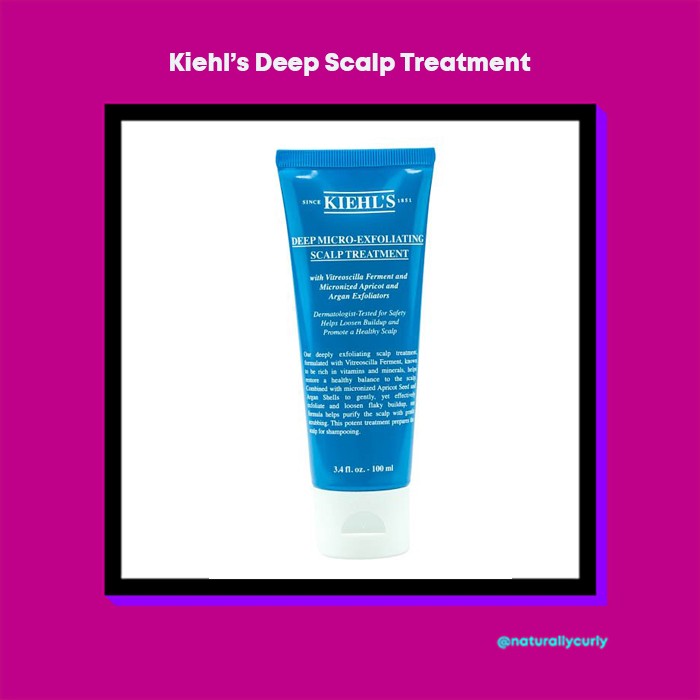 This dermatologist-tested formula, similar to a facial scrub, is made to be massaged directly onto the scalp. Apricot seeds and argan shells loosen any buildup before shampoo.
Carol's Daughter Lisa's Hair Elixir Fortifying Scalp Spray
7 / 15
Spray goodbye to the redness and inflammation! This product utilizes cedar leaf oil to calm the scalp and camphor oil to stimulate circulation.
8 / 15
Aloe vera, avocado oil, and eucalyptus are the star ingredients in this dry-scalp fighting lotion. The formula is made for instant relief on the go.
TGIN Tea Tree + Olive Oil Detoxifying Hair and Body Serum
9 / 15
Keeps away the bacteria that cause dandruff and itchy scalp while providing moisture and promoting hair growth.
Mielle Organics Mongongo Oil Pomade to Oil Treatment
10 / 15
An oil that doubles as a solution for dry scalp a heat protectant, and a anti-humectant for straightened styles.
Marvy Shampoo Brush and Scalp Invigorator
11 / 15
This brush takes the hard work out of scrubbing during wash day. It has soft vinyl bristles dedicated to removing any flakes or buildup.
Head & Shoulders Daily Moisture Scalp Cream
12 / 15
The classic anti-dandruff brand brings us a no-rinse, coconut infused scalp moisturizer from their line for curly and textured hair. A life-saver in between wash days.
SheaMoisture Green Coconut & Activated Charcoal Purifying & Hydrating Exfoliating Hair Mud
13 / 15
This jam packed sugar scrub replenishes and lifts impurities from the scalp as a hard mud that transforms into a lather to cleanse.
Palmer's Anti Dandruff Scalp Scrub Shampoo
14 / 15
A super affordable exfoliating shampoo that gets the job done. Exfoliates and soothes with mint extract for an extra clean feel.
Earth's Nectar Mint Leaves Scalp Oil
15 / 15
This lightweight, all-in-one product carries many beneficial ingredients in a very small bottle. The essential oil mixture contains peppermint oil for circulation, rosemary extract to encourage growth, sweet almond oil to prevent shedding, and other ingredients.
How are you treating your scalp this summer and what are your must-have products? Tell us about it in the comments.