When your big day is fast-approaching, you want everything to be perfect. You've had your dress picked out since the beginning, you've contacted your favorite makeup artist, and the event planning is truly never-ending--the last thing you should worry about is what to do with your gorgeous curls.
Finding the one hairstyle to wear during your special day can be a bit daunting, but the good news is you and your stylist have an abundance of options. Whether you tend to be drawn to the extravagant and over-the-top, or more of an effortless casual chic, staying true to your personal style is almost always a major key to looking your best.
So if you've been sporting your natural curls in your day-to-day, there's no need to make the switch to straightened hair if you don't want to. These 20 natural styles will tempt you to leave your curly 'do in from the beginning to the end of your special day--and long after.
A braided pompadour will keep hair out of your beautiful face and secure it all day while you celebrate--don't forget to sculpt the baby hairs.
2 / 20
Straight-back cornrows are always clean and stylish, even on your wedding day. Add extra hair to your ponytail for a simple, sophisticated look.
3 / 20
A simple curly ponytail with face-framing pieces like Olivia's is so simple you can probably pull it off without a stylist, but it still gives off a fun and refined look.
4 / 20
For curlies who are attached to their faux locs or box braids, protective styles provide a lot styling options. Simply bring hair back and secure it while letting the rest flow free for a bohemian chic wedding look.
5 / 20
The bride is usually the center of attention at every wedding, and with a high puff secured with a gold accessory, it will be hard for your significant other and guests to look away.
6 / 20
Locs and bantu knots look like they were made for eachother. Be sure to watch Keisha's tutorial on how she achieved the look.
7 / 20
This no-fuss curly style will showcase your curls and let them steal the show. Lightly secure your hair in the middle, letting the front come forward like faux bangs.
8 / 20
Love the idea of wearing your curls as they are? Add a little hair accessory to your wash-and-go for some sweetness to an all-natural look.
9 / 20
A well-executed twist out will never disappoint. This side-swept style features flat-twist accents and trendy oversized hair clips.
10 / 20
For something a little more involved, try an elaborate braided updo with pearl accents weaved throughout.
11 / 20
Extensions are a fun way to add fullness and length to your style. La'Vonta used 6 bundles of extensions to get this extremely voluminous afro.
12 / 20
Isi's braided twist on the chignon will bring all the grace and beauty you need to your wedding look.
13 / 20
Embrace your frizz for a high-fashion wedding hairstyle that looks fresh off the runway. Get into Joyjah's braided center part and super slicked edges.
14 / 20
Your trusty top-knot will leave your hair looking silky and put more emphasis on your face--not to mention giving a minor facelift in the process.
15 / 20
The bigger the bun the better? If your hair isn't long enough, add some extra hair to your bun for a little more drama. Don't forget to place a flowery accessory at the base for the perfect accent.
16 / 20
If you can't decide between braids and bantu knots--you don't really have to choose. Angela's braided sides and large bantu knots in the center come together for a looking fitting of a queen like you.
17 / 20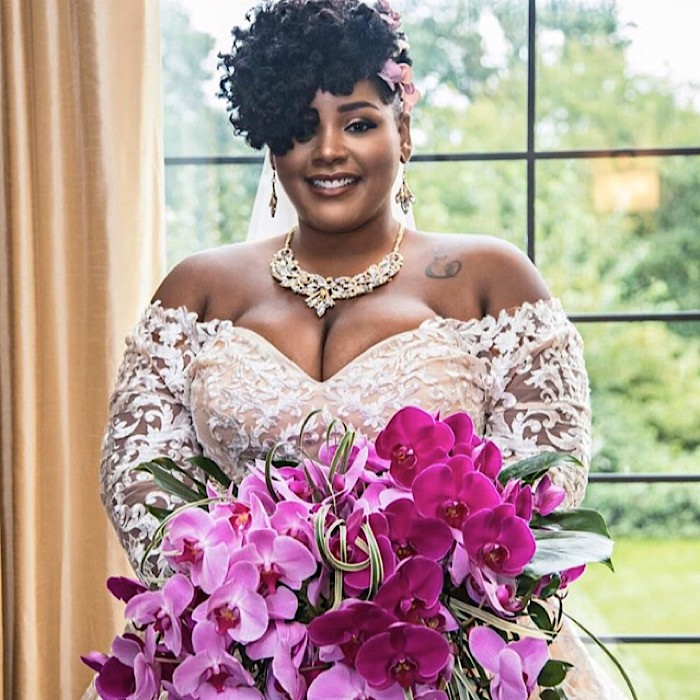 For curlies with a tapered cut, a bantu knot-out and an accessory is all you need to create the perfect bridal look.
18 / 20
Love the way your hair looks in juicy, moisturized twists? Secure them in a twisted bun at the base of your head for super easy natural 'do.
19 / 20
If you're feeling a super polished look, Tyla's glossy, middle-parted look can be achieved by blow-drying your curls and slicking them back tightly.
20 / 20
A wedding seems like the perfect occasion for a high pony. Jade's long feed-in ponytail will have you feeling confident and alluring.
What is your ideal wedding hairstyle--casual or elaborate black-tie affair? Let us know in the comments.