With the progression of the natural hair movement, we've seen quite the variety of natural hairstyles. Throughout different time periods in history, the emphasis on particular hairstyles would change, heavily influenced by prominent Black role models at the time. Natural hairstyles are now praised and uplifted, however this has not always been historically true.
Due to eurocentric beauty standards, there have been moments in Black history where relaxers and perms have been the standard. We often see the trends shift in extremes, but the past few years have differed. Fortunately, communities seem to be more focused on keeping your hair healthy, no matter the state it's in. There is so much versatility and magic in Black hair, let's celebrate some of the icons who turned heads!
1. Black Power Fro - Angela Davis (1969)
Angela Davis and many other women during the Black power moment, used their afro as a way to reclaim Afrocentric beauty standards. The impact Davis had at the time still lingers in our natural hair movement today.
2. Cornrows - Cicely Tyson (1973)
2 / 20
Cicely has always been an icon, and don't you forget it! Her cornrows inspired young girls everywhere to change up their look. Bo Derek could never honey.
3. Grown out Fros - Diana Ross (1975)
3 / 20
This iconic afro made a splash when these photos were published. Miss Ross is one of the many queens of Motown, and people could not get enough of her style!
4. Jheri Curl - Michael Jackson (1983)
4 / 20
People could not get enough of the jheri curl when it made its way to mass production. Jackson's Thriller video had everyone and their friends, picking up products to mimic this definition!
5. Dreadlocks - Whoopi Goldberg (1985)
5 / 20
While dreadlocks have always had cultural and religious significance throughout the diaspora, Whoopi Goldberg was one of the first celebrities to introduce them to the mainstream.
6. Honey Blonde Curls - Whitney Houston (1987)
6 / 20
The queen of pop took ahold of everyone's heart in this iconic video for, I Wanna Dance With Somebody. Whitney always came to serve with her hairstyles, especially with her honey colored tresses!
7. High Top Fade - Kid 'N Play (1990)
7 / 20
Believe it or not, Kid 'N Play had every boy on the playground wanting a similar fade. They may have started the trend in the 90s, but I went to highschool with guys in the 2010s who still chose to rock a high top!
8. Flat Twists - Da Brat (1992)
8 / 20
Da Brat was a style icon the minute she stepped on the scene! These playful and colorful twists are just one example of her many iconic updos.
9. Thick Box Braids - Janet Jackson (1993)
9 / 20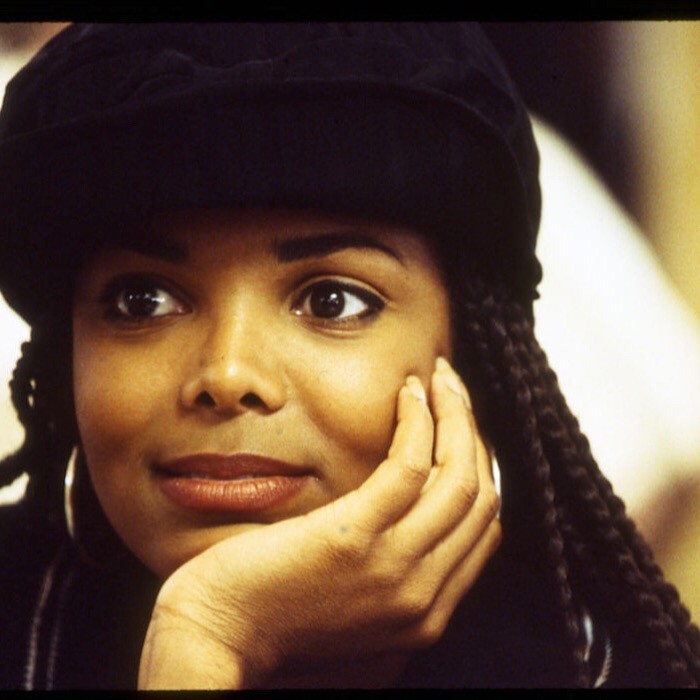 Popularity in box braids rose dramatically when Janet captivated audiences in Poetic Justice. We may be far from the 90s, but 90s babies definitely brought the trend back!
10. Halle Berry - Pixie Cut (1995)
10 / 20
Getty Images
This was everyone's favorite hairdo briefly in the 90s. Stars like Nia Long and Halle Berry served face with these shortcuts!
11. Micro-braids - Brandy (1998)
11 / 20
Brandy turned heads with her voice, but her braids were no different. Personally, I'm forever an admirer of anyone who can commit to the amount of time that micro-braids take to install!
12. Straight Hair & Side Swoop - Aaliyah (2000)
12 / 20
Getty Images
Known for her long hair, one-sided swoop, sunglasses, baggy pants and tight midriff tops, the princess of R&B's style was iconic, to say the least.
13. Braided Beauty - Alicia Keys (2001)
13 / 20
Alicia Keys made her Songs in A Minor debut at the turn of the century and immediately became a style star for her intricately designed cornrows which she often decorated with beads.
14. Big Chop - Solange (2009)
14 / 20
There are too many points in Solange's career where she has heavily influenced the conversations and trends surrounding hair. Here, she took on the big chop and looks as flawless as ever!
15. Modern Pin-up - Janelle Monae (2013)
15 / 20
Janelle Monae could be easily described as a style icon of our generation. Her classic vintage inspired looks keep everyone else on their toes!
16. Bantu Knots - Rihanna (2014)
16 / 20
Bantu knots are nothing new, as they have a long history of significance. But Rihanna brought an entire new level of attention to them with this look!
17. Lemonade Braids- Beyonce (2016)
17 / 20
Beyonce's lemonade braids was a hit by stylist, Hair by Susy. The epic long cornrows braids is still one of the trendiest hairstyles around.
18. TWA - Issa Rae (2017)
18 / 20
Issa Rae first did her big chop when she released her Awkward Black Girl series on YouTube. Now, she always maintains her TWA with the cutest styles!
19. Baby Hairs Galore - Rico Nasty (2018)
19 / 20
Baby hairs are not new! Black girls have been laying their edges for quite some time. However, Rico Nasty came to remind everyone how it's done!
20. Natural Curls- Yara Shahidi (2018)
20 / 20
Yara Shahidi starred in Blackish and slayed every episode with cool and creative natural hairstyles. Whether she's on the red carpet or big screen she is the ultimate curl crush.
Black History Month is a beautiful time to reflect on all the beauty that there is in natural hair. We're playing A Seat at The Table on repeat and spreading the love all month!