Short haircuts are effortlessly attractive, they're easy to take care of, and there are so many different cuts to choose from.
Regardless of whether you're going for a full-on buzzcut or just dutifully trimming your ends, one idea we can all get behind is flaunting healthier, happier hair, am I right?
To help you navigate through the endless options, we picked 20 short curly cuts that just might give you that extra push towards your first big.
Stylist: @greg_gilmore
Short cuts are the perfect way to showcase flawless definition. Mennia's cut displays both shape and extreme definition on bleach blond curls.
2 / 20
Blunt angles and a gravity-defying shape! They'll turn an ordinary haircut into a dynamic sculpture. Incorporating a part into the style can add to the dramatic geometric effect.
3 / 20
We live for a tapered 'fro. Tapered styles really lend themselves to hair that grows out and upwards, like Jade's type 4 coils.
4 / 20
Sometimes a classic buzzcut is the best way to go. If you're looking to do a complete hair overhaul and like to experiment with color, extremely short cuts make coloring your hair easier--especially if you're using bleach.
5 / 20
Loose curls like Mikayla's look great cut into a pixie with face-framing curls.
6 / 20
If you're feeling confident, experiment with some designs like Tiffany on her long tapered cut.
7 / 20
It might have been one of the most cringe-worthy childhood fashion moments of the 90's, but Cyn's curly look has us thinking the bowl-cut might just make a triumphant return in the near future.
8 / 20
Lisa's rosy pixie cut features short sides and longer hair running down the middle of her head, creating a short curly mow-hawk.
9 / 20
Curlies who are planning to start a loc journey can still consider short cuts, like Brittany who started her locs five months ago.
10 / 20
Mwanini's moisturized curls look great cut into a classic pixie, with only a bit of extra length at the crown.
11 / 20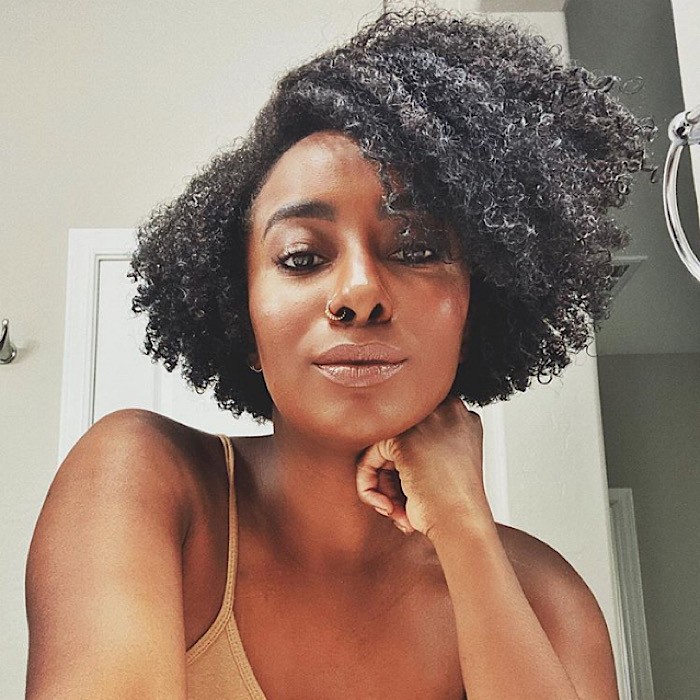 Ambrosia's oval-shaped cut and incredible density is the perfect inspo for curlies who don't want to go short all at once.
12 / 20
Although we love abstract shapes, a round afro never goes out of style, as shown by @styleme.be.
13 / 20
If you're a fan of all things sleek and shiny, you'll fall in love with finger waves similar to Natasha's polished look.
14 / 20
Bri sports an edgy faded cut and design, but keeps it girly with styled edges.
15 / 20
Loose curls and waves like Jomy's look fabulous when cut into a short ear-length, blunt bob to frame the face.
16 / 20
Shauniece's grown-out tapered cut still holds an outstanding shape. The cut features shorter hair on the sides and the back with extreme length on top.
17 / 20
Priscilla's ultra-short curly bangs really set the tone of this heart-shaped cut.
18 / 20
Moira's type 2 curls hold incredible volume with this cropped cut.
19 / 20
Kendra's number one suggestion to those installing locs is to get your hair cut into a shape first to control how they fall--it makes for a much easier transition.
20 / 20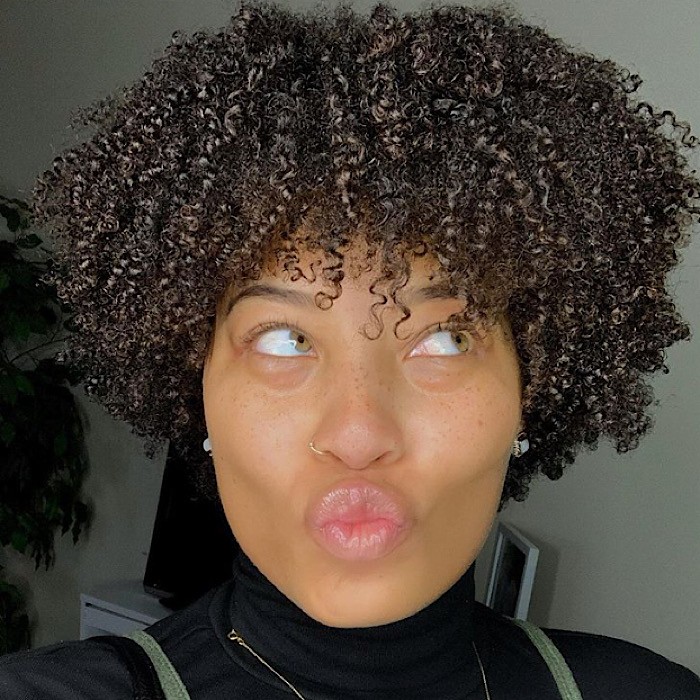 For curlies who don't plan on going too short with their big chop, try an even ear-length cut with bangs like Emani.
Are you planning a big chop this year? Are you focused on achieving healthier hair, or are you just craving a new style? Give us the details on your hair goals in the comments.