December is the month we're super busy buying presents, organizing holiday parties, etc. With all of that going on, it's easy to fall back into our usual hairstyles and miss the opportunity that this holiday season offers to try out some new hairstyles for our curly hair. Whether your hair is short, long, or somewhere in between, if you're looking to get away from your standard hairstyles and try something new for all those gatherings and events this season, then you've definitely got to try these holiday hairstyle ideas for curly hair.
The most crucial part of successfully pulling off a new style is to make sure you start with healthy, hydrated curls. While everyone's hair is unique, there is a prepping strategy you should consider before styling. More than any other hair type, curls must be conditioned during the cold, winter season, especially if you shampoo your hair frequently. With just the simple act of shampooing, your curls can become dehydrated. During the shampooing process, the warm water opens the cuticle, allowing the cleansers to flow into the hair shaft and rinse out many of the nutrients. That is why frequent conditioning should be an automatic part of a curly hair care regimen.
Getting perfect curls can come at a price, and usually, it's in the form of heat damage from overdoing it with a flat iron or curling iron. There are several ways to curl your hair without heat, but most of them are either very time consuming or likely to come out uneven or disappointingly flat.
I saw this gorgeous picture on Instagram of @def_curls and reached out to her for permission to share this photo. According to Bella, this hairstyle can be achieved in a few different ways:
Roller set, followed by brushing your curls once it's completely dry.
Curlformers by Hair Flair. Curlformers are a great way to achieve heat-free, long-lasting curls, without damage. They contain everything you need to get started. These work on all hair types for everything from tight curls to loose brushed out waves.
You can also blow dry your hair then use foam rollers (comes in various sizes) on the ends of your hair.
To finish this look, Bella used Garnier Whole Blends smoothing oil, which is also great for controlling frizz. If you cannot find this smoothing oil, another great option is CURLS Cashmere + Caviar Hair Serum.
2 / 3
Updos have evolved over the years, but we still can't get enough of a hairstyle that looks elegant and feels comfortable. Believe it or not, this hairstyle was achieved from an old twist out. If you've got your hair stretched (a popular method of styling in which you perform certain techniques on your hair to maximize the length and to make hair care easier and more efficient) and would like to change things up, or perhaps you need to cleanse your hair but don't have time to do it, this updo might be for you. To achieve this look, Shommy wet the perimeter of her hair with water and added Ecoco Ecostyler Professional Styling Gel with Olive Oil. To achieve the high bun, her hair was already stretched from the twist out. For added bling, you can use some metal hair cuffs.
3 / 3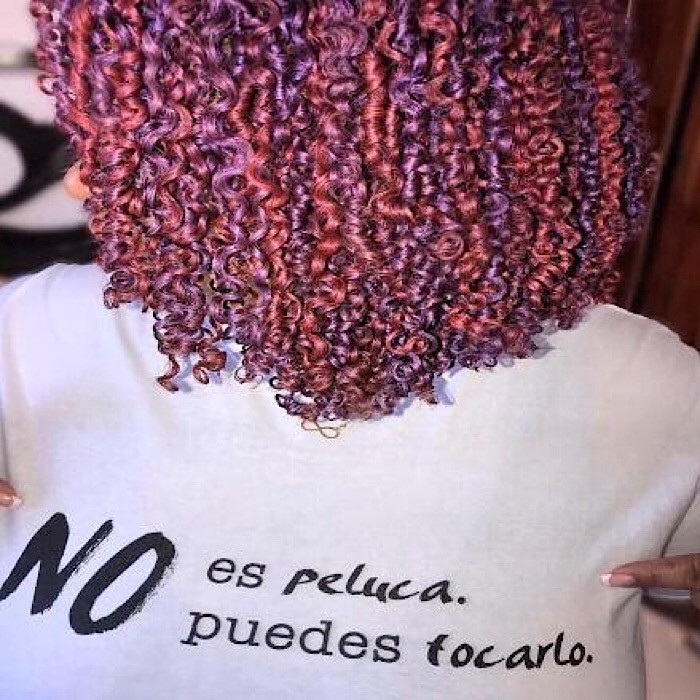 Approximately 65 percent of women alter their natural hair color because we just simply like playing with color. Sometimes it's fun to try unusual, unnatural hair colors. Experimenting is even more fun when you don't have to worry about damaging your hair. If you've always wanted to try a new hair color without damage, one way to achieve it is to use hair paint like Ross did in the picture above. Hair paint is a temporary water-based hair coloring solution for those who want to try a new color. There are many colors to choose from. It is easy to apply, washout, and offers strong hold with no damage to the hair. Please note, color may vary from person to person depending on hair texture and current hair color.
Another way to spruce up a hairstyle in no time is through accessories. Whether you're preventing a bad hair day due to inclement weather or simply need to revamp an old hairstyle, here are a few accessories to think about:
Zazzy bandz. Zazzy Bandz is a patented redesigned headband that fits like sunglasses. Get volume and style without a headache. There are a slew of designs to choose from embellished with fabric, beads, ribbon, lace, etc.
Head wrap. Still not sure if you want to go through all the hassle of doing something special with your hair or feel you lack the skills? Then this silk-lined headwrap is perfect for you. It's the ideal option if you want to look elegant and beautiful, but don't have the time to style your hair.
I hope you enjoy trying out these hairstyles. Keep in mind, you don't only have to use these styles during the holidays!
And don't forget to let us know which look is your favorite!