The Curly Girl Method has revolutionized the way people care for their curly hair and can be credited with amazing transformations. However, some people find that the original rules laid out in the book by Lorraine Massey however, can be quite restrictive; as a result, many have modified the method or follow some parts of it and not others. Usually however, people start by following the rules closely, and then tweak them here and there to suit their curl needs, also known as a "modified Curly Girl Method".
We talked to five women about their experiences with the Curly Girl Method and their advice for anyone considering giving it a go.
Before CGM (LEFT) CGM Modified (RIGHT)
Sarah Mahrenholz
When I first started caring for my curls three years ago, I did follow the Curly Girl Method. I was new to Instagram and the Curly Community as well as the Curly Girl Method. I gained knowledge from curly influencers and took it from there. It really worked for me. It was slow at first but then the rewards came in the form of healthy, defined curls. I went through a challenging phase in the early stages but perseverance paid off!
2 / 13
Before CGM
I followed the Method strictly at first for fear of making a mistake! The first rule to go was co-washing. I still do this from time to time but not frequently. My curls can become over moisturized and my scalp eventually suffers. I mostly stick to the rules of no silicones, sulfates, parabens and drying alcohols.
3 / 13
Two Years CGM Modified
If someone was trying out the Curly Girl Method for the first time, I would advise them to start by eliminating silicones and sulfates and use a couple of affordable curly haircare ranges. Also, ditch the terry cloth towel and use a cotton pillowcase to remove excess water instead. Apply styling products to wet or very damp hair. Try not to let all of the curly jargon distract you. Start small and keep going. Finally, be kind to yourself and your curls along the way! 
4 / 13
Before CGM (LEFT) CGM Modified (RIGHT)
Shauna McGlone
I started the Curly Girl Method in December 2020 and it worked immediately for me. My hair improved immensely within four to five months. The only rule I didn't follow was using my fingers to detangle as I knew that wouldn't work for my thick, coarse hair. My first modification was to use a wide tooth comb to detangle. I then modified again about four months in when I started brush styling. As of recently, I've started using products with silicones and other unapproved ingredients. However, I pay attention to my hair and if I notice a change I'll go back to using only approved products. So far there have been no problems!
5 / 13
My advice to somebody trying out CGM is to keep things simple in the beginning. Just pick a few products to start with, always buy from stores that accept returns (Target, Sally's, Ulta and Walmart for example). Also, take lots of pictures and write down the products/techniques you use so you can look back and remember what works best. There will be plenty of trial and error so have patience. It will get better and it's so worth it! 
6 / 13
Before CGM  
Lisy Lorenzo
I don't follow the Curly Girl Method now, but when I first started my curly journey, I did and it worked great for me. I followed it quite strictly to start with because my hair was so dry and brittle from using heat. I was desperate to grow it back and get my healthy curls back. Once I started seeing changes, I modified it a bit depending on what I felt my hair needed. 
7 / 13
Starting CGM
8 / 13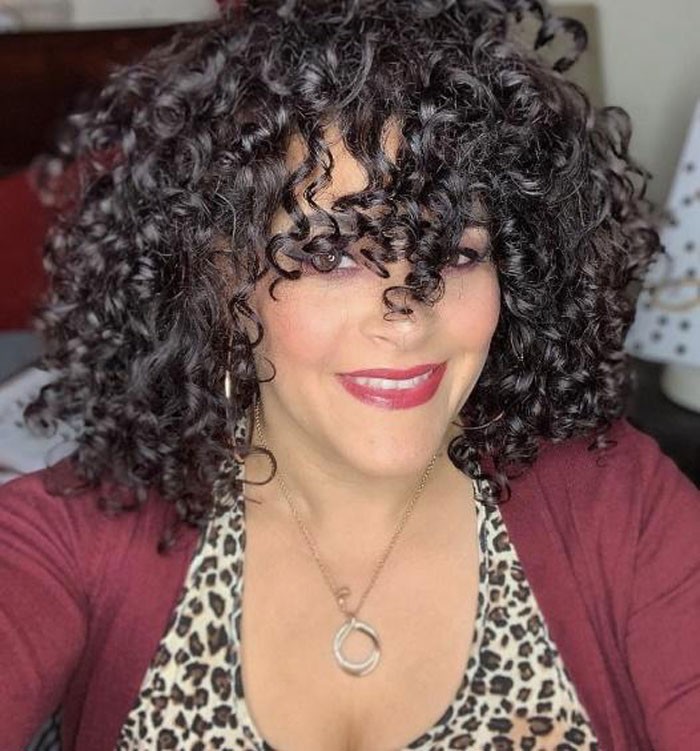 Following CGM
9 / 13
CGM Modified
My main advice to someone trying the Curly Girl Method is, you need to be patient. Do your research and start with affordable products. When you start your journey, avoid heat, sulfates and silicones. Co-washing is best, if your hair likes it, or use low-poos. Make sure you deep condition weekly. One tweak I recommend from the start is to clarify now and again to remove build-up.
10 / 13
Before CGM
Ayse Ata
I started the Curly Girl Method almost one year ago and my curls benefitted a great deal but I can't say I've followed it strictly. There are some rules that simply don't work for my busy lifestyle or my hair needs. My hair is very long and there was no way I could go without blow drying it. I also suffer with my sinuses so air drying is completely out of the question. I diffuse my hair on medium setting instead of cold, as it would take hours to dry fully.
11 / 13
CGM Modified
My advice for those considering trying the Curly Girl Method is to remember that what works for someone else might not necessarily work for you! Experiment with products, techniques, tips you learn along the way and decide what works for you.
12 / 13
Before CGM (LEFT) STARTING CGM (RIGHT)
Courtney Sears
I started following the Curly Girl Method in August of 2019. I lasted about a month before using my brush again and diffusing with heat. I missed my brush badly. And I have no patience for diffusing on cool!

I did avoid sulfates and silicones up until a few months ago. My hair actually really loves co-washing and can't get enough conditioner. I have an allergy to an ingredient in most shampoos, so co-washing has been good for me, but I finally found a shampoo that I'm not allergic to. It's sulfate-free but very cleansing. I then started reintroducing silicones into my routine and my hair has never been happier or bouncier.
13 / 13
Modified CGM
My advice to someone trying out the Curly Girl Method would be to try everything! Give the Curly Girl Method a go if you want, but focus more on getting your hair healthy. I believe it shouldn't be about ingredients unless you have an allergy to something. It's more important to concentrate on deep conditioning and bond repairing if you have damage. Be gentle with your hair, and learn the techniques and products it responds to best. Finally, be patient. Heathy hair takes time!