Travel sets are the easiest, most convenient way to keep up with your regimen when on the road (or in the air). Besides being sealed and less likely to spill all over the place while in transit, they are the perfect size for the limited space available in your luggage and in hotel showers. The smaller-sized bottles also mean that you can take a moisturizing product in your carry-on for touch-ups before and after flights. According to the TSA rules for 2019, bottles should contain 3.4 ounces or less. Try these air travel-compliant sets below for smoother boarding, and shinier, softer curls.
Specially formulated for curl patterns 3C to 4C, these hydrating, luxurious products will keep your curls and coils looking great no matter where your adventures may take you. Everything you need to cleanse, moisturize, and style is in a compact set that contains:
Jessicurl Hair Cleansing Cream (2 oz.). This gentle conditioning wash will get your hair clean without stripping it of beneficial moisture.
Jessicurl Too Shea! Extra Moisturizing Conditioner (2 oz.). If you want a leave-in to provide you with extra hydration for the softest, most manageable hair, this is the perfect product for you.
Jessicurl Deep Conditioning (2 oz.). For deep, restorative moisture and repair, this conditioner may be your next holy grail. The trial-size gives you a chance to sample this five-star favorite.
Jessicurl Confident Coils (2 oz.): This is a styler that creates excellent curl definition and provides strong hold to stand up to even the highest humidity.
2 / 6
Girls with waves, looser curls, or a combination of the two, this is the kit for you. With three products for cleansing and definition, you can hit the beach with bouncy hair that won't be weighed down. These lighter products will leave you with plenty of volume and shine. This kit includes:
Curly Hair Solutions Treatment Shampoo (3.4 oz.). For a deep clean, look no further than this shampoo that gets out all the dirt and oils that would weigh your hair down. This shampoo contains silk amino acids and panthenol for stronger, more resilient strands.
Curl Keeper Original (3.4 oz.). Curl Keeper Original can provide you with frizz-free defined waves and curls that have gorgeous shine and bounce.
Curl Keeper Gel (3.4 oz.): Panthenol provides you with extra hold and support in this non-flaky gel.
Curl Keeper Slip (3.4 oz.): Detangle with ease with Slip. It contains aloe and chamomile to help seal and smooth the hair and prevent flyaways.
3 / 6
If you have several different curl patterns on your head, you know that it can be a challenge to give every curl what it needs, especially when you can't pack all of your products. This lovingly-curated kit can help you out. These moisturizing, gentle products are perfect for all curl types, and can work well in any climate. This sampler includes:
Many Ethnicities Invigorating Shampoo (2 oz.). This curly girl friendly shampoo contains ingredients to keep your hair strong and healthy, and your scalp cleansed, including hydrolyzed pea protein, argan oil, avocado oil, and algae extract.
Many Ethnicities Moisturizing Conditioner (2 oz.). Follow the shampoo with this extra-moisturizing conditioner for frizz-free, defined curls and coils.
Many Ethnicities Leave-In Conditioning Cream (2 oz.). If moisture-retention is a struggle, you will love this rich, creamy leave-in that will not weigh your hair down.
4 / 6
For stunning yet effortless curls that feel and look their healthy best, 
DevaCurl is the travel companion you will want in your life. This travel kit contains all you need to cleanse, condition, and style your hair, including:
DevaCurl No-Poo (3 oz). This gentle yet cleansing creamy co-wash will leave your hair in great condition.
DevaCurl One Condition (3 oz). If you love multi-purpose products, this one 's for you. It can be used as both a leave-in and a light daily conditioner.
DevaCurl Light Defining Gel (Formerly AnGEL 3 oz). With a light hold, and a fresh summer fragrance, your curls will smell as lovely as they look.
DevaCurl Styling Cream (3 oz). For moisture, definition, and curl-elongation, this styling cream is the go-to for curlistas in the know. Plus, if you're a coily they've got just the travel kit for you to keep your hair moisturized on the go.
5 / 6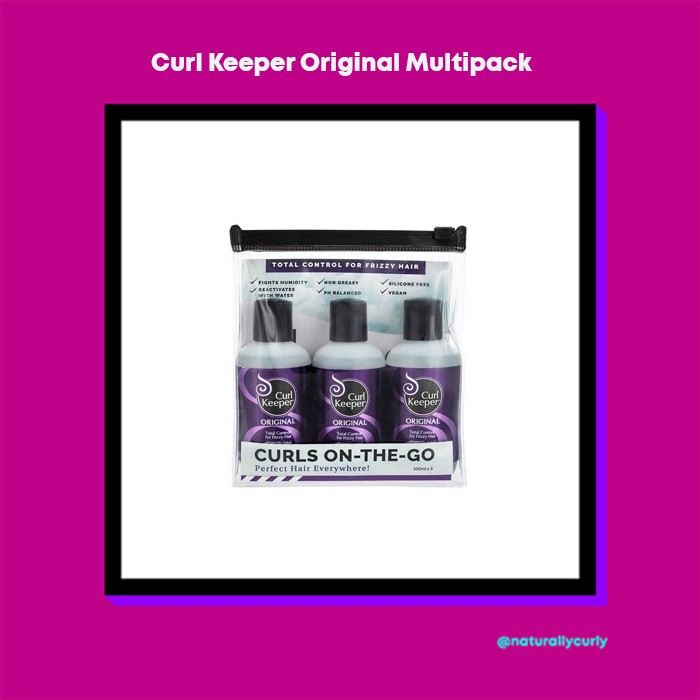 The gel for all-seasons is available in minis in this must-have multipack. It contains three 3.4 oz. bottles that are just perfect for air travel. You can use one for touch-ups in transit, one for your hotel stay, and one for your return.
6 / 6
This citrus and floral scented collection is filled with all your favorite products. It contains:
Hydrating Invigorating Shampoo (2 oz.). This stimulating shampoo will cleanse your scalp of excess sebum and debris while leaving your hair soft and shiny.
Nutrient Replenishing Conditioner (2 oz.) Even the driest, most thirsty tresses are revived with this rich, nourishing conditioner.
Revitalizing Leave-In Conditioner (2 oz.) Bring your curls and coils back to life with a leave-in that will protect your hair from the sun's harsh rays.
Wrap & Roll (2 oz.). Use this setting styler to create gorgeous waves and curls that last.
Nourish & Shine (1 oz). You can use this one product as a pomade to enhance shine and texture, or as a moisturizer that will leave your skin super soft and smelling like lemons, oranges, and honeysuckle.
Curl Defining Cream (1 oz.). For definition and hold without stickiness or flakiness, this curl defining cream is a necessity.
What are your favorite travel products? Let us know in the comments.
For more favorites to take along with you on your next adventure, see below: