This is the season of the big chop. Explore 15 short natural haircuts of all textures from wavy to coily that you can try!
Asymmetrical Wavy Pixie Cut
Get a haircut full of volume. Voluminous haircuts show off lots of shape and texture. Get your hair cut in layers to tailor your areas of additional shape and volume.
Layered Deep Side Part
2 / 13
A haircut with a defined side part and layers gives effortless volumand can be worn by all curlies. Whether you have a wavy, curly, or coily pattern, consider getting a haircut with a defined side part.
Under Cut
3 / 13
If you want to stand out and make a statement, get an undercut with a design. This is a bold style, and can serve you if you want to really switch up your look.
Bald Fade
4 / 13
let go of everything, and completely start over! Imagine not only all the physical, but also all the emotional weight gone! If you're thinking about shaving all of your hair off, just do it. This cut ensures that all the hair that remains and grows back will be 100% healthy.
Triangle Cut with Bangs
5 / 13
Stylist, Mona Baltazar, is known for creating silhouettes and moving shaped with curly hair. This beautiful triangle shape is a great way to show off the various dimensions of your curls.
Tapered Cut
6 / 13
Leave a lil length on top and add dimension to your tapered cut with a deep part. A part adds a unique touch, and will give your look more flair!
Asymmetrical Wavy Lob
7 / 13
Love a clean line and shape? This is a great style for those who want to cut their hair, but still want to hang on to some as well. An angled bob aka lob is such a statement style, and will make your waves or curls pop even more!
Pixie Cut
8 / 13
Natural hair blogger, @mahoganycurls , big chopped recently and is rocking her cute and curly pixie cut with finger coils for maximum definition.
Tapered Side Undercut
9 / 13
If you are interested in a more edgy look a side-tapered fade is just that. Be daring and try it out by adding color and finger coiling the top for extra definition.
Curly Bangs
10 / 13
Bring your hair forward with front bangs. If you've been wanting to do the big chop and have been sick and tired of your current hairstyle, go for the curly bangs.
Haircut: Artistic Mini Afro
11 / 13
If you're fearless and ready to try something totally new, rock a mini afro with artistic designs. This creative style is such a game-changer!
Haircut: Shirley Temple Inspired Cut
12 / 13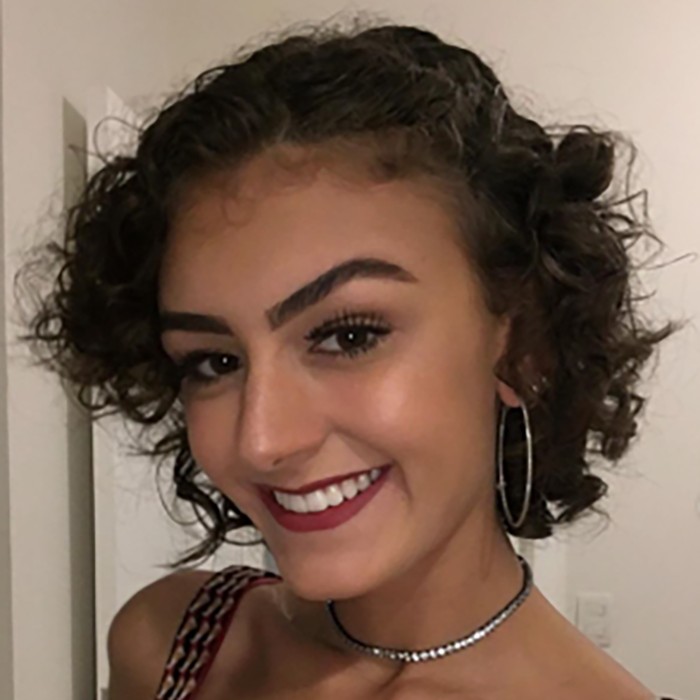 Get a haircut inspired by the iconic Shirley Temple. Her delicate, soft, and big curls fell right at the neckline. With a few bobby pins, you can even place a twist or two in the front like @brenahenn did to experiment with the look.
Haircut: Curly Mohawk
13 / 13
Be fierce with a curly mohawk! This super rock star yet feminine style will make you glad you did the big chop!
Ready for your big chop now? Get your hair cut with confidence knowing that you are not limited to just one look. Use these haircuts to help you get your new do!
What inspires you to do the big chop?
What haircut do you want to try?
Let us know in the comments below!
Read about how to have confidence with your big chop here.
Discover when the right time is to do your big chop here.
Read about how other natural women felt when they did the big chop here.