Reduce the guessing and stressing this holiday season. Give your loved ones (naughty or nice!) a gift they'll appreciate: healthy, beautiful hair. Here's a list of gifts for every hair type — straight, wavy, curly, and coily — that you won't have to check twice.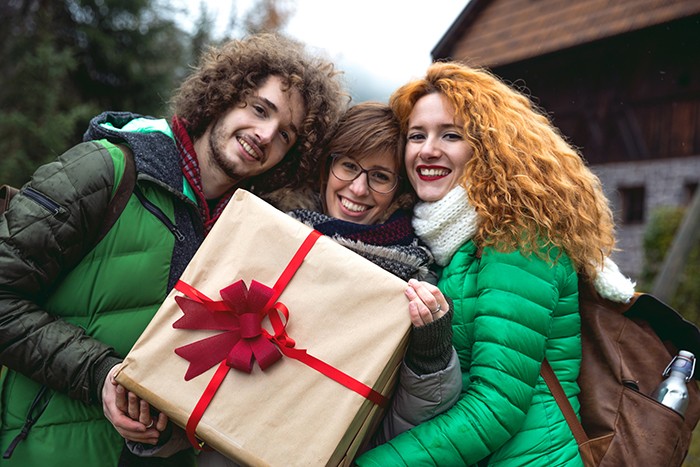 Image by iStock
Straight Hair
Bring dry, dull, brittle, or damaged hair back to life with a deep conditioning treatment made from exotic butters and oils. Result: Soft, shiny, detangled hair without the sulfates, silicones, parabens, animal testing, and more.
"HOLY GRAIL at first try!" — B. Dennis, CurlTalk member
Intensify the effects of a deep conditioner, hair masque, oil, or other hair treatment with this reversible, terry cloth cap filled with flaxseed. For 20-45 minutes, the treatment of your choice will penetrate to the opened hair cuticle, nourishing it from inside out.
"Such a good product. I would get this as a gift to other people serious about their hair care." — Jezelle J., CurlTalk member
Reduce frizz, maintain smoothness, and encourage hair health with this all-natural hair oil inspired by ingredients from India. A little goes a long way, and the longer it's left on the hair, the deeper the conditioning.
"Amazing!!! It smells awesome and really leaves my hair feeling good. Doesn't weigh it down at all." — Kayla W., CurlTalk member
Type 2s
Stimulate curls with this curl cream, touted by users and experts alike. It's made from herbal extracts, proteins, and natural cornstarch, for an optimal hair experience. Whether hair is air dried or diffused, the activator goes to work.
"Love this stuff. It gives great curl definition and clumps hair beautifully!" — mandiie21, CurlTalk member
A creamy, conditioning leave-in with multiple applications: moisturizing second-day hair, making hair pliable for restyling, or refreshing locks before sealing.
"This product could not be more amazing. It smells delicious, has incredible slip, and leaves my hair soft without weighing it down in the least." — Anonymous, CurlTalk member
Not only does this product moisturize and smooth dry hair, it can also condition wet hair. Made with smoothing slippery elm extract, emollient jojoba, apricot kernel, and sunflower seed oils.
"I can't live without this product! It always keeps my frizz tamed, my hair soft to the touch, and my curls poppin'!" — LTex, CurlTalk member
Type 3s
An ultra-hydrating formula that effectively cleanses, conditions, detangles, and nourishes hair, without removing its natural oils. Fortified with hydrating shea, nourishing avocado oil and quinoa extracts, and soothing aloe.
"I love this co-wash! It smells amazing and gives me great bouncy, spiral curls." — Robbie, CurlTalk member
Reduce frizz and breakage of thick, coarse, and porous hair with this towel (or turban). The lightweight material, featuring superior water-wicking capabilities, gently dries hair in shorter time — as much as 50%.
"It changed my life." — Jeanny C., AQUIS.com
Remove frizz and add moisture and shine to thick, curly hair. A blend of coconut oil, silk protein, and neem oil go into this very popular product. No sulfates, parabens, paraffin, mineral oil, animal testing, and more.
"Love, love, love it, and can't get enough of it!" — Anonymous, CurlTalk member
Sample what it's like to ditch the shampoo, typically made with harsh chemicals. Curls are transformed from dry and frizzy to healthy and beautiful.
"I bought this kit just as a sample for my hair, and I ended up totally loving it." — Francisco S., CurlTalk member
Image by iStock
Type 4s
The unique blend of super-hydrating coconut water, aloe vera juice, and tropical butters and oils will deeply penetrate, moisturize and shine, and hold every style in place.
"Bomb twist out!!" — Josephine Paul, CurlTalk member
Keep coil confidence on the road with this travel kit. Also perfect for first-timers that want to try it. Coils are moisturized and defined, without shrinking or feeling greasy.
"My new favorite products! I've used just about everything under the sun. Jessicurl is the BEST!" — leah q., CurlTalk member
Switch up a hairstyle, while protecting it at the same time. The elastic band keeps it securely in place. While it's great for all hair types, it's designed in particular for curly and coily hair.
"Love this headband! It's perfect for curly hair because of the satin lining. I also love the prints that this brand offers. Give me a connection to my African heritage."
Bonus Stocking Stuffer
The second edition of "Curly Girl: The Handbook" by Lorraine Massey with Michele Bender is an expanded celebration of curls. It includes daily routines for different curl types, Lorraine's "No more shampoo!" epiphany, Q & A's, and more.
"Definitely made me feel like I was not alone, and that there was hope for me and my curls again!" — Sarah S., CurlTalk member
There's so much more to see at ShopNaturallyCurly. Browse by brand, product type, and texture type. Don't forget to treat yourself, too. Happy Holidays!
Know of any other goodies that would make great gifts for your curls friends and family this holiday season? Share them with us in the comments below!