I have been seriously neglecting my curls lately. Between work, winter, and general life stress, I recently went a full two weeks without washing my hair (which for my 3b hair type, is a long time!). THE SHAME. At that point, I could either let the Curl Police come lock me up for my sins or fix this mess. So, I tried out the new Eden BodyWorks Almond Marshmallow collection.
The Almond Marshmallow collection consists of three items: the Hydration Serum, the Therapy Leave-In Conditioner, and the Split End Repair Masque. The Hydration Serum is designed to "nourish dry, brittle hair," smooth frayed ends, and protect from damage. The Therapy Leave-In Conditioner is supposed to offer "instant improvement" for split ends. And the Split End Repair Masque is designed to prevent breakage and damage. My poor underappreciated curls needed all of the above.
On my dreaded and much-procrastinated wash day, I tried all three of these Eden BodyWorks products. I also experimented with each one to figure out my favorite way to use it. Here's my take on the collection!
Featured Ingredients
This trio features sweet almond oil and marshmallow extract. Sweet almond oil is a favorite oil for naturally curly hair; it's lightweight, yet deeply moisturizing, and it adds softness and shine. Marshmallow extract, on the other hand, is a slippery detangler that also smoothes each strand.
Other notable ingredients include aloe vera, glycerin, and cocoa butter.
First Impressions
This line of products has a strong, sweet scent. The smell is a little strong and perfumey for my preferences – you can definitely smell it for hours after your wash-and-go – but it's a pleasant smell.
I like the product packaging. The colors and design are elegant and simple, and each product comes in an intuitive package design that makes it easy to dispense without making a mess.
Eden BodyWorks Split Ends Repair Masque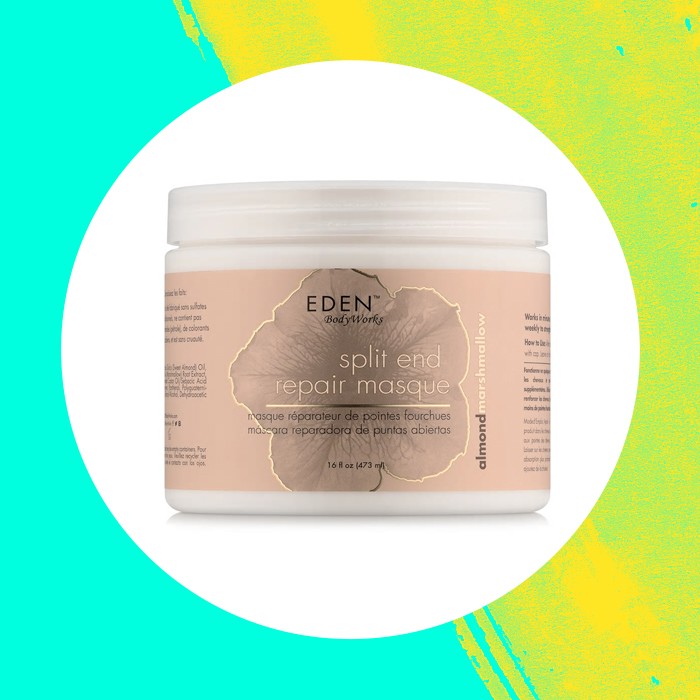 First, let's talk about the Split Ends Repair Masque. This masque is creamy and luscious. It's a great medium texture, not too thick and not too thin. The marshmallow extract makes it incredibly easy to work through my curls, and I don't ever have to worry about applying too much.
The directions say to leave this masque on for 40 minutes and use it weekly. I've been so lazy that I definitely haven't done all that, but even after leaving the masque on for a shorter amount of time, I notice that my curls are softer and smoother and generally healthier-feeling. I love using deep conditioner in place of regular conditioner in the shower sometimes, and this masque works really well for that purpose.
Eden BodyWorks Hydration Serum
2 / 3
Look, I'm no expert on serums. I've rarely, if ever, used one in the past. At first, I wasn't sure how to apply this Hydration Serum. I tried applying it after my leave-in conditioner, and the results were okay. Then I tried applying it to wet hair before any other products, and woo, jackpot! It definitely improves my wash-and-gos. The serum has a soft gel texture that easily slips through my curls and leaves them feeling hydrated and smooth. I love this stuff!
Based on customer reviews, other people prefer to layer this serum on top of leave-in conditioner and then apply gel or styler, so do what works for you.
Eden BodyWorks Almond Marshmallow Therapy Leave-In Conditioner
3 / 3
Lastly, the Therapy Leave-In Conditioner. I was skeptical of this product at first, because it's a spray leave-in, and those almost never work for my curls. The first ingredient is water. My 3b curls prefer a milky or creamy texture – something that provides slip and definition. Nonetheless, I gave this conditioner a shot.
When I tried the Therapy Leave-In Conditioner as my solo leave-in conditioner for a wash-and-go, it was pretty much as effective as I'd expected, which was not much. The watery conditioner seems to just sink into my wet hair and not do much. My hair wasn't very defined after using it. If you generally love spray leave-ins, though, you'd probably like this one!
I also tried using this product as a refreshing spray, and it's useful for that purpose because it's like water and conditioner in one bottle. Sometimes I use it to spritz and revive my front curls and ends. With a bit of gel on top, it's perfect.
Final Thoughts
Here's what my hair looked like after using all three products together (plus some gel to style).
My curls were so soft and fluffy – and WOW, they really needed it. The Almond Marshmallow trio definitely did what I needed it to do, as far as reviving my curls!
I wouldn't use these three products together for a wash-and-go in the future. But, they do each have their own purposes. My favorite product out of the trio is definitely the Hydration Serum.
Have you tried the Eden BodyWorks Almond Marshmallow trio? What are your thoughts? Share with us in the comments!