Yep. It's that time of the year again. The time when you won't be able to open up a magazine or go on a website without seeing a list of things that will be trending in the new year whether it's fashion, make-up or even food. With all of the talking that we do about hair on a daily basis, we couldn't let this season go by without sharing a forecast of what will be popular, strictly as it relates to natural hair trends in 2020.
Whether you're simply curious or next year is the year when you want to totally switch your hair look up, these following styles will definitely make you—pun intended—stand heads above the rest. No doubt about it.
Geometric Curly Cuts
King Solomon once said that there is nothing new underneath the sun, so it's probably not so much that Vanessa was ahead of her time so much as history is repeating itself (because Grace Jones used to blow minds with hers too). Either way, geometric Afros make quite the statement and you'll be seeing a lot more of 'em in the months to come. One stylist who comes to mind who is known for creating silhouettes and moving shapes with textured hair is Mona Baltazar, master stylist in NYC who creates bolds and voluminous curly cuts for all textures.
Textured Bangs
2 / 8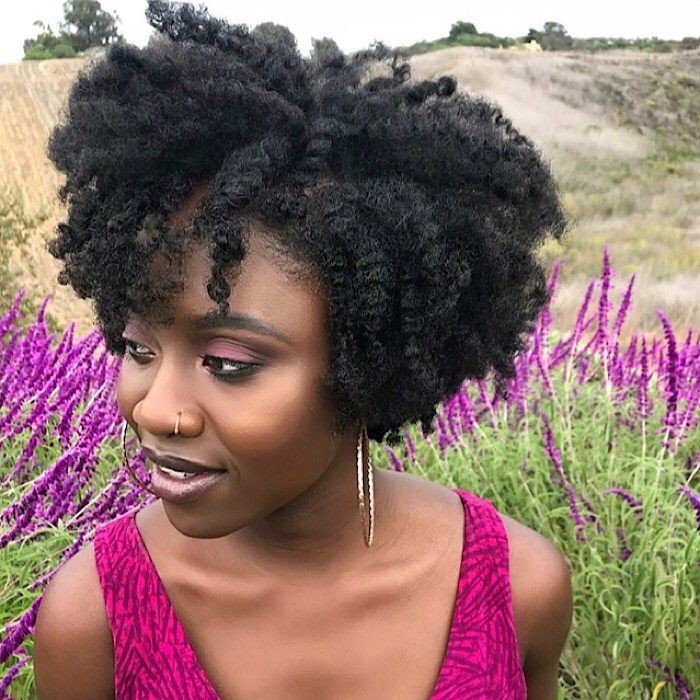 Traditionally, the straighter and sleeker bangs are, the better, right? That is so not the case in 2020. Now, it's all about allowing the natural texture of your curls to shine, right where your bangs are. One look I saw that was particularly cute was a woman who had cornrowed her hair to the front and then let her 4c-type bangs naturally flow. It created a striking touch to her face. Plus, since her hair wasn't straight, something tells me that she didn't have to cut a set of bangs in order to create the look. That is definitely a "plus" if you want to wear bangs for a day without losing length in order to get them.
Micro Locs
3 / 8
Micro locs are smaller versions of normally pencil-sized dreadlocks and can be started using a number of methods, including braids, interlocking, and twists. Most women opt for this option versus traditional dreadlocks because they are neater, more versatile, and even easier to maintain, plus give you volume and definition.
Embellished Braids
4 / 8
Whenever I wear box braids, I don't feel complete unless I've wrapped them with some metallic yarn or put some silver cuffs on them. And that's kind of what "embellished braids" are all about—adding hair jewelry to adorn your already beautiful braids in order to give folks a little more insight into your style and personality. From beads, shells, rings and gold cuffs there's so many ways to accessorize braids to stand out and professional braider, Susan Oludele, who is the mastermind behind Beyonce's iconic lemonade braids, keeps us inspired with her intricate braided designs and creative styles to pay homage to our culture.
Buzz Cut
5 / 8
When I think of buzz cuts, two women who immediately come to mind are R&B singers Tamar Braxton and Keyshia Cole. As someone who's spent many years with a pair of clippers being my hair's BFF, I can totally vouch for how freeing it is to buzz my hair off and not have to give it a second thought until it's time to edge it up again. It—no pun intended—shaves minutes off of my morning routine and going to bed with a scarf? Forget about it! So long as you've got a bold lip color and a big pair of hoops, you're all set when it comes to this particular hair trend.
"Wet" Wash 'n Gos
6 / 8
You might have read this one and thought, "Aren't wash 'n gos already wet?" They are, but they don't remain that way. At some point, the combination of the water and whatever product that you decide to use dries. But with a "wet" wash 'n go, you actually apply a product to your wash 'n go that makes your hair look wet (like maybe Super Wet Gel), even once it completely dries. It might take a little trial and error to find the right gel or silicone to pull this look off, but I've seen a few end results and, I must admit that I personally like it.
Adorned Puffs
7 / 8
Afro puffs are adorable all on their own. But I actually do appreciate the fact that next year, we are being encouraged to "dress them up" a bit. Maybe add some sequins to the actual puffs or tie a brightly colored scarf around each one; just use your creativity in order to make your puffs stand out more and you'll be all good. (By the way, Bantu knots that are turned into little puffs are going to be a big trend as well.)
Dip-Dyed Ends
8 / 8
For the most part, dip-dyed ends are just like they sound—it's all about applying hair dye to the ends of your hair and nowhere else. If you want to experiment with hair color in a more unique way, this is the route that you're gonna wanna take in 2020. The cool thing about this particular hairstyle is you don't have to use permanent hair dye; you can go with some hair wax, hair chalk or semi-permanent hair coloring as well. If you're curious about dip-dyeing but you're wondering how it would actually look, this video and this video can give you a bit of an idea.
Which look is your favorite? Share with us in the comments!