Denisse Mayers: My name is Denisse Mayers and I'm a 23-year-old Masters student in Sweden. I enjoy dancing, movies, crafting and working out.
NC: How and when did you start embracing your curls?
DM: When I was growing up, curly hair was not pretty.
We were not allowed to wear curly styles to school either, so I always brushed my hair or blow dryer it during my high school years.
Then I went to college and started straightening my hair so I would look like most North American girls. It wasn't until 2010 that I decided to step out and wear my hair like God intended.
I discovered that my hair, opposite to what I had been told most of life, was beautiful and full of attitude. I started trying many curly hair products, but I still straightened my hair often…until I came across this wonderful webpage!
I've discover so many methods and routines for curly hair! I've been wearing my hair natural for a year. Sometimes I still get the "When are you going to brush your hair?" look from my family and friends back home, but there's no one else I rather be than my curly self.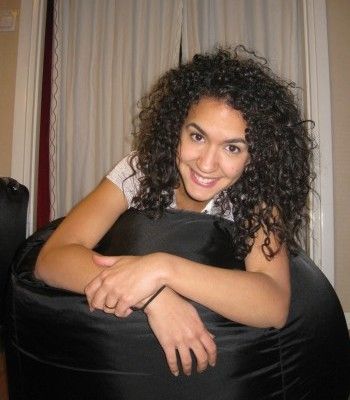 NC: What's your current routine?
DM: 
I like low maintenance things that get the job done…I apply that to most aspects of my life, including my hair routine.
I wash my hair every 2-3 days with either Maria Nila Curl Shampoo or my recent acquisition (that I just love) the Garnier Response Marvellous Nectar Shampoo.
Then I condition with Curly Sexy Hair Conditioner, detangle and apply L'Oréal Curl Contour Masque while I shower.
After that, I use Tigi Catwalk Curlesque Leave-In Conditioner along with the Curlesque Curls Rock Amplifier, scrunch and let my hair air dry.
About twice a month I deep condition my hair with olive oil or coconut oil for about 2 hours before washing.
NC: So from start to finish, on a curly day, what's your process?
DM: If it's a wash day, I do the above. 
If I don't need to wash my hair, I spray water and apply leave-in conditioner and cream gel. This keeps my curls soft.
Then I let my curls air dry or, if I don't have time, I use a diffuser. 
NC: What are your favorite hairstyles to wear with your curls?
DM: My favorite style is a simple "let your curls down." I also like curly buns. 
NC: What are your must-have products and tools?
DM: My must-haves are coconut oil, the Catwalk Curlesque Curls Rock Amplifier, and hair ties. 
NC: What do you do at nighttime for your hair?
DM: 
I pineapple my hair...it works perfectly! 
NC: What reaction did you get when you first decided to go natural? 
DM: I got a lot of compliments! Everyone wanted to touch my hair. 
NC: Did you big chop or transition? For how long?
DM: I never used any chemical treatments on my hair, but I used to straighten it very often, causing heat damage. Now I'm still transitioning. I don't want to cut off a big chunk of hair, but I'm slowly working my way there.
NC: What is the best thing about being curly?
DM: Curly hair is an expression of self. My hair is just like me: full of culture and life, and hard to control. Also, I can have the best of both worlds! I can wear my hair curly or straight, and it looks fabulous both ways! It's easy to give curly hair volume and style when you blow dry, and it retains the volume better and longer!  
NC: How do you think having curly hair impacts your life?
DM: I'm different. Every girl who steps up and wears her curls is encouraging awareness and acceptance.
It's not okay to brush down our girls' curls for school because it's not "proper."
It's not okay to be stared at because you wear your hair curly.
Everyone needs to know that natural hair is just as beautiful as straight hair. Wear your curls, let them get used to it!
NC: What would you tell others to encourage them to embrace their curls?
DM: Imagine all the sleep you could get…if you didn't have to straighten your hair in the mornings!