My name is Ebony, a.k.a EbSweetz.
I live in the DMV area and I am a YouTube beauty vlogger (Ebony's Curly TV), brand ambassador for 2 Curls 1 Mission, co-owner of a celebrity gossip site WhatsTheCelebriTea.com and co-host of online radio show The Rex Stanley Show.
I have been natural for almost 6 years. 
My hair stylist had a lot to do with helping me make the decision to go natural.
She warned me of all the chemicals getting into my body from the relaxers so I thought I'd give it a shot. And to be honest, I was tired of relying on someone else to get my hair to look "good." I was pretty hesitant at first because I knew what my natural hair texture was like--super thick and curly--since I didn't get my first relaxer until I was 14 years old. It took me a minute, but I finally wrapped my head around the idea of embracing my curls. Especially if I would have a healthier body because of it.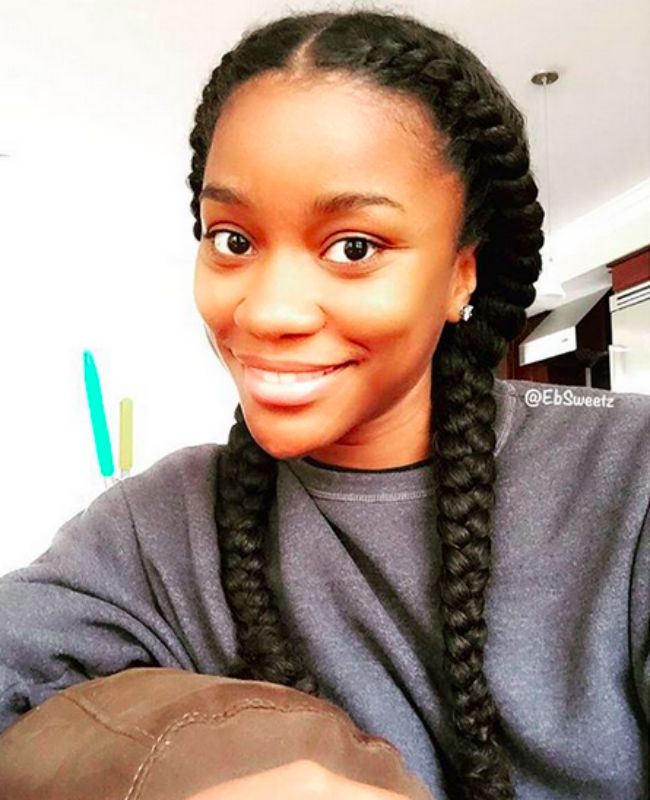 The best hair for me, always starts at night on wash-n-go first day hair.
I do the pineapple before going to sleep, but now that my curls have gotten pretty long, I tuck them underneath themselves in a loose but secure bun. I will then tie a satin scarf along the edges of my hair to keep them from frizzing and then proceed to sleep on a satin pillowcase. Once I wake up in the morning, I coat my hands with coconut oil and scrunch that into my curls to keep them moisturized throughout the day. All of this combined with second-day curls gives me my best hair ever.
I've found that I get better growth results when I wear my hair in its natural state--coconut oil gives me my best hair, ever.
A top bun is always my go to when I'm short on time. It's quick, easy and always looks really neat and put together. But at night time, I like to wear my hair down. Sometimes, I'll even embrace "big hair" just to add a little drama to my look. I also cannot live without my Denman brush. No matter what hair styling product I use, I know I can at least define my curls the way I want since that's my top priority when wearing my curly hair. 
My advice for growing longer natural hair: Stay away from heat!
The next tip--stay away from heat. Oh, and did I mention--stay away from heat? Flat irons and curling irons are your worst enemies when trying to retain your length. Direct heat is so drying that even hair that doesn't feel brittle or weak will get there in no time.
And we all know, dry hair has a very hard time retaining its length. Breakage is always just around the corner. I've found that I get better growth results when I wear my hair in its natural state because I have to deep condition weekly, moisturize every few days, keep it hydrated everyday, etc. My hair has no choice but to retain its length when I give it what it wants.
My YouTube channel is tutorial and hair styling information based.
I want viewers to get a detailed video of how I style my hair. I always get so many questions about my hair when I'm out in public so I'm hopeful that my video answers their questions fully. I've been vlogging since March of this year.
You can find me online, too: I am on YouTube and FaceBook at Ebony's Curly TV and on Instagram and Twitter @EbSweetz.