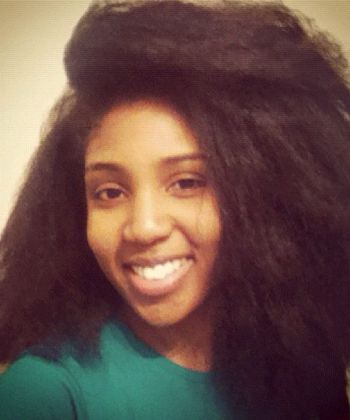 NaturallyCurly: How long have you been natural?
Tamara: I have been natural for about eight years. I started my natural hair journey in 2006. It was kind of on a whim. Out of the blue I just decided that I wanted to go natural. I transitioned for five months before I did the big chop.
When did you start embracing your curls?
Tamara: 
I started embracing my curls almost immediately when I started my transition. I transitioned in the worst time ever (the summer) in hot and humid Houston. My relaxed hair and natural curls were at war with each other and around this time I also got the urge to cut my hair. Five months into my transition, I just cut it off. Not meaning to do the big chop, I just wanted a short and sassy hairstyle. I did not realize that the five months of new growth would curl. That left me with a natural tapered fro. Now that I think about it, it was super cute but I couldn't see that because I was so insecure with short and natural hair. I've been thinking about doing it again, the big chop once I hit a milestone birthday like 30 or 40.
What's your daily routine?
Tamara: 
I try to keep my natural hair routine as simple as possible. I wash my hair about twice a week. Depending on my style, I may mist my hair and scalp with water and vegetable glycerin and then seal in the moisture with a coconut oil or a water-based product.
What's your nighttime routine?
Tamara: 
Again, depending on the hairstyle, I may re-twist my hair after moisturizing and sealing. Then, I will cover my hair with a satin scarf and I sleep like a baby.
What are your favorite products?
Tamara: 
Oh I have so many! Being a natural hair blogger, I have almost every product known to man. I cannot live without my coconut and olive oil blend and a good sulfate-free cleanser like Jessicurl Daily Creamy Cleanser or Mainelement: Love Herbal Shampoo Bar. I'm really in love with Earth's Nectar Coconut Curls as a leave-in and daily moisturizer at the moment. If I'm wearing a set style like a twist out, I apply Eden BodyWorks Coconut Shea Curl Defining Crème from ends to roots.
What is your favorite DIY hair recipe?
Tamara: 
fter my coconut-olive oil blend, it would have to be the whipped shea butter with aloe vera gel (shealoe). It is a very simple recipe that you can literally use from head to toe. The shea butter seals in moisture and its SPF properties protect skin and hair from the harmful UV rays. It is totally a win in my book.
What ingredients does your hair love?
Tamara: 
First and foremost, my hair loves water and then coconut oil and aloe vera juice. Really, my hair needs and loves anything that is hydrating.
What ingredients does your hair hate?
Tamara: I realized very early that my hair has a great dislike for mineral oil. It's ok in my deep conditioner but not in my moisturizing products. It leaves my hair hard and parched. And I don't even want to talk about the tangles.

How do the seasons affect your regimen?
Tamara: 
My hair is very porous. Regardless of the seasons, every step in my natural hair regimen must do one of two things: 1) add moisture or 2) seal in moisture. In all seasons, my hair appreciates hydration.
Being a wife and a mother can call for a hectic schedule. What are your go-to styles?
Tamara: 
You're telling me lol. My go-to styles are two jumbo flat twists or French braids. It's something that takes about five minutes. Both of these styles are casual but can be bedazzled for an after five look. I usually part the hair in a way that creates more of a goddess twist or braided crown. It is a great way to keep my hair and scalp moisturized and protected.

What inspired you to start blogging?
Tamara: When I went natural there was very little information about natural hair care. Many of us were learning our natural hair through the guess and test method. This was true for myself as well as others around me, but I became the resident natural hair guru in my circle. As much as I loved to spend hours in grocery store aisle discussing my hairstyle and products I was using, I needed a place to store all of this information. I also wanted to inspire others with my natural hair journey. They don't call it a journey for nothing. Natural Hair Rules.com is my way of saying, "I did it and you can too." Natural Hair Rules began as my personal hair journal that grew into one of the top natural hair websites. It is all about encouraging others to be who they are naturally.  
What do you like most about blogging?
Tamara: I really like the community building. I have successfully built a community of over a half million. This was not something that happened overnight but it was confirmation that hard work and dedication pay off. Receiving great products is also an added bonus. 

Do you have any advice for new natural hair bloggers?
Tamara: Be consistent! Whatever your goals are as a blogger, consistency is the key. This is one of my top tips for transitioning your blog into your full-time gig. In order to grow your brand or blog, it requires consistently sharing great, original content. The more you do it, the easier it becomes and you will build the readership and the recognition that is due to you.
Any upcoming projects/events you'd like to tell us about?
Tamara: I recently moved from Houston to Las Vegas. I look forward to hosting a meet and greet to get to my new Las Vegas family. Anyone interested in receiving information can sign up for my Las Vegas mailing list for upcoming details.
I also recently published my first eGuide: 10 Step Winter Natural Hair Care Guide. This 12-page step-by-step guide instructs you on how to create a moisturizing hair regimen in the winter while outlining product recommendation and additional tips for retaining length and preventing breakage.
What is your number one piece of advice for women with curly hair?
Tamara: You can never have enough patience! Patience is vital to the health of your hair. You won't learn how to effectively care, style, and manage your hair overnight.  It will take time, patience, resources, and practice. You can do it!
You can find Tamara online here:
Natural Hair Rules & Instagram