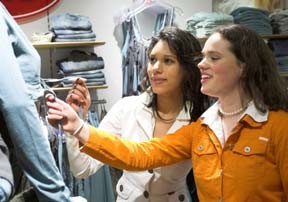 There's nothing like the thrill of finding the perfect dress. You see it in the window, race in the store and hurriedly step into the dressing room. Now, the moment of truth. Yes! It fits every curve like it was designed just for you. It's a keeper, or so you think. When it's time to slip on that sensational dress for a soiree, you find yourself second-guessing your choice. Your curls are styled, the dress is dramatic, but the overall look doesn't seem to work-- and you're not sure why.
Fashion-centric stylists say you may be unwittingly clashing your hairstyle with your fashion style. What to do? Take back the dress? Not on your life! Experts say the solution is to follow these four simple rules to finding the perfect fashion fit.
Rule #1: Consider the occasion
Are you headed to an elegant dinner or the ballet? Or, will you be hitting the dance floor at a wedding or birthday bash? Nathaniel Hawkins, lead stylist for hit show "Project Runway," says where you go –- and what you do when you get there –- should be considered when you style your textured tresses.
For elegant events, the celebrity stylist suggests creating a more controlled hairstyle by using functional hair accessories. "I love a decorative hair stick, something precious and special. You can easily create a French twist and just slip it in," says Hawkins, also a spokesperson for TRESemmé. "You can even play up a ponytail by curling the length of it and running your fingers through it."
He also suggests taking that same ponytail and maneuvering it into an enchanting knot. "This is easily done by wrapping the hair around itself to create a loop, pulling the ends through, and then folding the curly ends into a bun," Hawkins says. "Simply pin it into place and you've created a sophisticated and elegant 'do."
For more carefree occasions, Hawkins says, go ahead and rock your curls! You can even add a fun twist to the style by using a curling iron to create a larger curl texture than you normally have. "You take a section that encompasses a couple of your natural curls, that forces them together. The curling iron will smooth the hair shaft," Hawkins says. "Don't be afraid to use a curling iron on curly hair. It's so much easier than picking up a round brush and trying to blow dry your hair straight."
Rule #2: Color counts
Vibrant colors, shimmery fabric, and even a simple, crisp white blouse will shower your face in light, reflecting beautifully on your curls, according to Hawkins. But if you're big on black, beware of big hair –- especially if you're a brunette.
"That's a lot of darkness surrounding you," Hawkins warns. "Curly hair naturally absorbs light because there's air space between the curls. When you wear a cashmere turtleneck or maybe a dark shirt with a collar, those items absorb light and sometimes you can get lost. You can still wear them but bring light to your face by pulling the hair back in some manner and use a topical shine spray." (Hawkins recommends Aveda's Pure-fume Brilliance, Wella's Flashlight, Rusk's Aerosol Shine Spray and Tresemme's No Frizz shine spray.)
If that new, outrageous outfit of yours has a lot of texture or multiple colors, a full head of curls can sometimes turn your attention-grabbing fashion into a faux paus. Experts remind curlies the key is to draw attention, without creating a distraction.
"For example, curly hair with stripes or a flowery print doesn't work because you look too busy. If you have curly hair, you'll want to wear a solid color," says curl expert Christo, a Fashion Week stylist and owner of New York's Christo Fifth Avenue Salon. "But if you have a beautiful flowery shirt and you love it, maybe you blow dry your hair straight or pull it back."
"The most important thing is how your face looks," Hawkins adds. "People look at your eyes -- that's what makes a woman look radiant."
Rule #3: Size matters
Aside from color considerations, experts say it's crucial to balance the shape of your stylish wardrobe with your do.
So, if you've fallen in love with a new dress that has tons of texture, you may want to tone down your hair's naturally curly texture, but still keep some movement.
"If you have a huge gown and you're hair is in a little bun, you may look like a pinhead," warns Rodney Cutler, Fashion Week stylist and owner of New York's Cutler Salon.
"You also don't want a straight-line outfit with big hair, it won't match and will look ridiculous. You may want to pull it back in a chignon," adds Christo. "You can add volume to your hair as you go bigger with your clothes."
Bottom line? You don't have to create an elaborate or tricky style. Just remember: size matters. "It's really about the silhouette or shape of your hair and finding the right proportion in relationship to your clothes," Cutler says.
Rule #4: Easy does it
Finally, one of the most common mistakes women make, experts say, is to overdo it.
"I think people try to hard and their hair ends up looking like a bad prom do," Cutler says. "Evening styles now are much simpler than they used to be. It's about how you want to be perceived."
And there's no need to match everything (hair, dress, earrings, oh my!), according to Christo.
"You have to blend, but you don't necessarily have to match," Christo explains. "Stay away from trying to match the colors; you don't want to look like one piece. It can become a disaster. You want to be an individual who has a sense of fashion that works together."