Yes, being blonde is fun, but the investment and commitment needed to maintain the color is what many blondes forget to mention. Being blonde requires a lot of work and upkeep to ensure that your color stays vibrant and your hair is as healthy as possible.
I like to think of myself as a successful blonde, having maintained my length and my curls, which can unfortunately loosen during the color transformation if not done properly. Needless to say, I'm happy to share my tips about how I care for my hair now that it's blonde.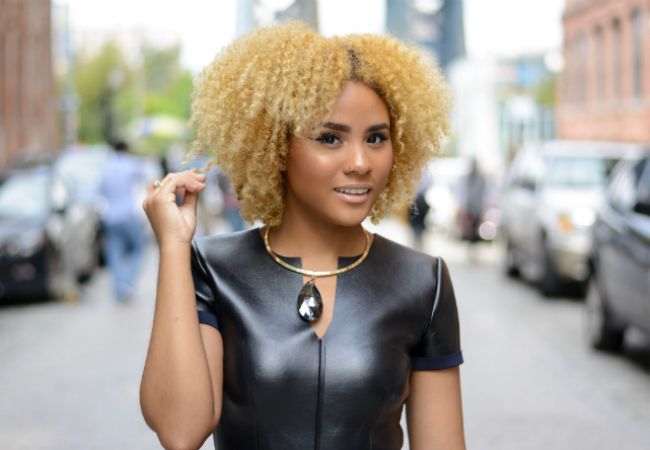 Adjust Your Trim Schedule
I normally maintain a trim schedule of trimming once every 2.5 to 3 months. I notice that it's time to trim when I try to detangle my hair and can't successfully run my fingers through the ends of my hair without getting caught. Now, since my hair has been lightened, I noticed my need to trim my hair more often at every 2 to 2.5 months. Two to two and a half months may seem like a short window, but I can assure you that I maintain all of my length. My stylist is getting rid of those troublesome ends, which come in at 1/8th of an inch or less.
Lightening your hair is a drying process, and the ends of the hair are the oldest and tend to get drier than the rest of the hair at a faster rate. Trimming may seem counterproductive to maintaining length, but the more often you trim your hair, the less length you lose in the end. 
Trimming may seem counterproductive to maintaining length, but the more often you trim your hair, the less length you lose in the end.
Tone Down the Brassiness
Blonde shades tend to get brassy when they aren't maintained properly. This is why it is important to tone your hair while in the salon, to not only achieve your desired shade, but to tone down the yellow tones.
It isn't feasible, or easy, to see your stylist every time your hair needs toning, which can be every couple of weeks or on a monthly basis. This is where toning shampoos and conditioners come into play. I currently use the Pravana Pure Light Sulfate-Free Brightening Shampoo and Brightening Conditioner, which work immediately after touching the hair. There is no sitting required to see results! I have also used the Clairol Shimmer Lights Shampoo and Conditioner in the past, which is a less-expensive option, but it requires a bit of shampoo time to see results.
Moisturizing Treatments
Lightening processes tend to make the hair dry, so restoring the moisture in the form of a moisturizing treatment is the best way to ensure that it's properly hydrated. I like to deep treat my hair weekly to ensure that my hair is getting the moisture it needs. I like to use a moisturizing mask of some sort with a heat source like a hair dryer or steamer. I like steaming with moisturizing treatments more because it helps to open the hair cuticle and let fresh water in. Fresh water is key for moisture! My favorite moisturizing treatment is  Mizani True Textures Intense Moisture Replenish Treatment and my favorite daily moisturizer is the TGIN Butter Cream Daily Moisturizer. 
Strengthen Your Strands
Now that my hair is lightened, it's important to use a protein or strengthening treatment more often to prevent breakage, which can be a result of lightening the hair. I currently use the ApHogee Two-Step Protein Treatment, which works wonders. After the treatment, I notice that I have less breakage and my hair looks, and feels, much better! When I visit my stylist to have my hair toned, trimmed, or straightened, she uses the Mizani Strength Fusion System, which immediately softens and strengthens the hair. You have to try it and feel it for yourself. 
Moisturize it... Again
Blonde hair requires a TON of moisture, so it's important to keep a daily moisturizer on hand. These moisturizers help keep the ends of the hair, the oldest and driest part, moisturized longer. I moisturize my hair daily by scrunching the daily moisturizer into my hair. Scrunching the product into my hair ensures that it will actually get into my hair, not just sit on top, and it prevents frizz, which can be caused by trying to rub the product into the hair. Thus, my hair stays moisturized and my style lasts longer!
I hope you learned something from my blonde maintenance tips. If you are considering lightening your hair, keep these things in mind, while also consulting with a professional. Then, prepare yourself for more fun!
Want to learn more?
Before you bleach, read the 5 Steps to Prep Your Hair For Bleaching.
On the flip side of the coin, if you're suffering from bleach damage, read this guide on how to recover.
For more information on conditioning, read The Dos and Don'ts of Deep Conditioning.
Like what you see? For more articles like this, sign up for our newsletter!