You are never too young or old to switch up your hairstyle and that is why we at NaturallyCurly are all about celebrating natural hair that extends beyond gender or age. While anti-aging treatments can be one source to tap the fountain of youth, changing up your hair with a new style or color can also bring that youthful glow you desire. We're here to bring you a variety of styles that can not only highlight your curls but give you ideas for a few simple adjustments to your styling routine that can make you look younger with minimal effort. A few of these may feel like throwbacks to styles we wore in our younger years that are trending now, and some are classics that never go out of style.
Double Puff Mohawk
When it's too hot to deal and you're not ready for wash day, try this easy double bun mohawk style.
Side Twists
When you want to pull some hair out of your face, but still flaunt your curls - try this! This style is low maintainence and can be acheived in less than 5 min.
Short Cut
Nothing is better than a fresh start and getting a haircut really has that effect. Whether you decide to go short like this pixie style, taking a few inches off really enhances your youthful glow.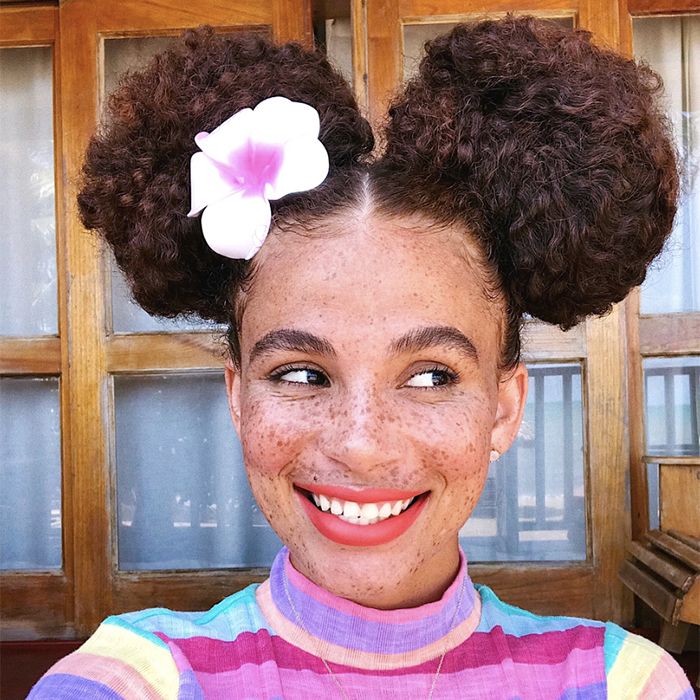 Space Buns
This is so fun and easy! Space buns are such a timeless style and great way to refresh day 4 curls.
Highlights + Bangs
The biggest secret to anti-aging actually has everything to do with hair color. For brunettes, adding blonde highlights softens your facial features, plus the lighter color adds dimension.
Big Braid w/Texture
A simple braided style not only shows your bone structure, but keeps your hair out of your face. Not matter your hair texture, this style is easy and effortless.
Half up half down top knot
Spice up your half-up, half-down style with a few twists and pull it up into a top knot. If you're feeling extra glamorous, add some accessories and step out in style.
Classic Ponytail
No matter how old we get the ponytail will never go out of style. To prevent tangles or tears, use a satin scrunchie and make a statement.
Which style is your favorite? Let us know in the comments below.