Being asked to participate in your friend's wedding as a bridesmaid is a wonderful honor. But oftentimes, this also means wearing the same dress and a similar hairstyle to the other bridesmaids. While it is fun playing dress up for your friend's big day, this may also get to be challenging if you find yourself to be the only curly haired bridesmaid and you have a dress code to still adhere to.
To help answer this question, I put together three different hairstyles (each comes with a tutorial) that allow you to wear your hair in its natural state while looking elegant at the same time. Each of those three hairstyles is quite simple and you'll be able to style your curls this way yourself – there's no need to see a hairstylist and spending money on getting an appropriate bridesmaid hairstyle!
1. The elegant half-updo
Wearing your curls in a half-updo is the simplest form of a hairstyle. If you're going for a half-updo, I recommend using a crystal hair clip to make this hairstyle look even more elegant.
You'll need:
1. Twist a little section of curls from the front, right next to your parting line. To prevent frizz, only grab whole clumps of curls. Repeat this on the other side of your parting line.
2. Bring both twisted sections to your back.
3. Finally, secure them with your crystal hair clip.
2. The one-sided floral hairstyle
Doing a half-updo on a hot summer day might not be a very appealing idea. To still be able to wear most of your curls down, I suggest you to do a one-sided hairstyle (this way you won't have any curls lying on your neck causing you additional heat).
You'll need:
5-6 bobby pins

1 floral or crystal hair clip
Again, depending on the wedding style, wear a crystal hair clip to make it look more appropriate for the occasion.
1. Bring all of your curls to one side.
2. To make sure your curls stay to one side, twist your curls like shown in the above picture and fix it with some bobby pins.
3. To fix your curls to one side, I recommend using several bobby pins. Put them in from the top to the bottom, this way they will best stay in your hairstyle.
4. Once you've fixed your curls to one side, grab a small section from right next to your parting line. To prevent frizz, make sure you only take whole clumps of curls.
5. Bring this section back to where you've fixed the twisted section and also secure it with some bobby pins.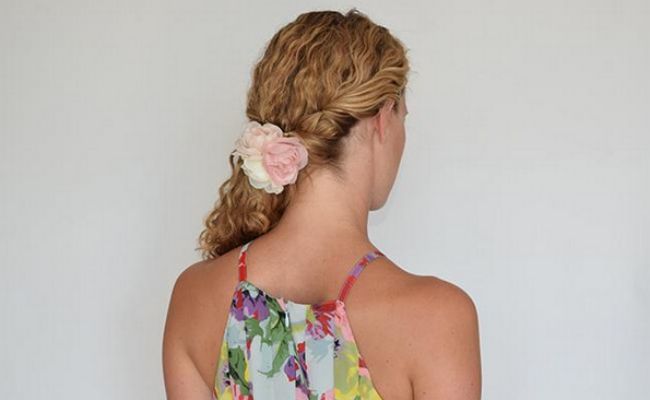 6. Add a floral or a crystal clip to turn it into a perfect bridesmaid hairstyle!
3
. The styled-up ponytail
Do you love wearing your curls in a ponytail? If so, this hairstyle is an easy way to style up your usual ponytail and make it wedding-ready by adding a cute head band and by covering your hair tie.
You'll need:
1 head band

1 hair tie

1 bobby pin
1. Take an elegant headband and place it in your curls like an Alice band with your parting line still being visible.
2. To hide the sides of the head band, take out some curls from both sides of your parting line, but be careful not to pull out too many curls as this could cause your headband to move backwards.
3. Pull your curls back and put them into a ponytail.
4. To hide the hair tie, use a small hair tie for the ponytail. Then take a small section of curls from the lower part of your ponytail.
5. Twist it around your hair tie and then fix the end with a bobby pin. If you're having troubles fixing it, read this great tutorial on it.
How did you wear your curly hair to your friend's wedding?