We all love a good soirée but spreading all of this holiday cheer night after night can really do a number on your curls, especially if you've been heat styling. Whether you're a heat junkie in need of curl rehab, or a staunch no-heat kind of girl, this textured pompadour will give you edgy, old school charm while providing your curls with some welcome relief this party season.
In addition to being heat-free, this protective style has the added benefit of keeping the ends of your hair tucked up and away, preventing unwanted wear and tear on the oldest and most fragile part of your strands: the ends. Protective styles are important in the winter because they prevent split ends, breakage and exposure to the elements like cold, dry wind. Click through for a step-by-step guide to getting the hairstyle.
What You'll Need:
A spray bottle full of water

Bobby pins

Your favorite moisturizer or refresher 

Your favorite pomade 

Directions:
This hairstyle works on either a wash and go or stretched hair. We started on a second day twist out, but third or fourth day hair would work just as well.
1. Create a 'bang' section at the top front of your head and section that off with a hairband to get it out of your way.
2. Spray the remaining loose hair with your moisturizer product, we like Obia's Curl Hydration Spray.
3. Starting at the right ear, create one loose flat twist along the nape of your neck, continuing to twist from right to left until you reach the left ear
4. Secure the twist with bobby pins.
5. Now take the bang section and twist it from right to left until it meets the first flat twist, creating a loose, textured pompadour.
6. Secure the ends with bobby pins.
7. Spray a small amount of water into your pomade to make it more malleable and easier to apply; we used Kinky-Curly Gloss Pomade.
8. Smooth your edges using a small amount of pomade.
9. Use bobby pins to secure any flyaways or errant pieces of hair.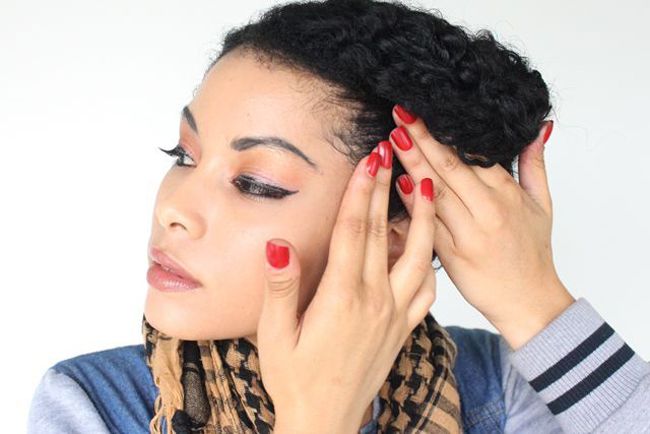 It may seem like there are a lot of steps, but fortunately, none of them are too involved. Once you get the hang of styling your hair without reaching for the heating tools, you'll wonder why you waited so long.
Watch the Video