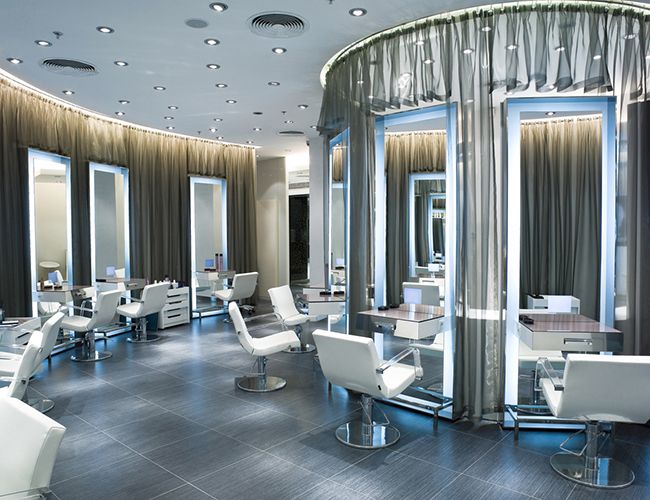 Are you a curly girl in New York city looking for the best natural hair salons to help you care for your curls? We searched for the best salons in the New York area. Here are the top 15 salons in New York for natural hair, scroll through and find your new salon!
Bohemian Soul Natural Hair Salon specializes in natural and protective styling. Bohemian Soul offers an eclectic and bohemian feel to its salon. Bohemian Soul Natural Hair Salon is open seven days a week to cater to their clients and their busy schedules. They offer the services of corkscrew braids, crochet curls, trims, natural hair styling, steam treatments, loc maintenance, big chops and more.
Natural Sisters Hair Salon is located in the heart of Harlem, New York.  Natural Sisters Hair Salon provides a variety of services including natural hair styling, transitioning, and relaxed hair services. Natural Sisters Hair Salon specializes in in healthy natural hair. They also offer coloring services, silk presses, protective styling, and more. They're known for creating an atmosphere that is comforting, where their prices are reasonable, and the staff is talented and fabulous.
Created by two fierce women who revolutionized the Brazilian beauty market more than 20 years ago. Curl expert, Zica Assis, who created innovative formulas to cater to her own kinky hair, teamed up with young entrepenuer Leila Veleza. Together, they created a company creating treatments for natural hair. Beleza Natural caters to men and women who want to keep their kinky, curly and wavy hair beautiful and healthy. The beauty institute chain offers a full range of beauty services and more than 50 different take home products. New York City will have the first international branch in 2017. It will be the first of many in the US!
Healthy Hair is their passion at Harlem Natural Hair. They are committed to creating beautiful styles while maintaining the health of your hair. At Harlem Natural hair they only use the finest products that are designed for gentle cleansing and grooming of your hair. They have highly skilled and seasoned stylists will create a style that complements you.  They offer great customer service, on-time appointments and a convenient location. Some of the services they offer includes, loc maintenance, extensions, braids, and straight hair styling.
At Khamit Kinks they believe that healthy hair is the best hair to maximize your styling options. Their number one priority is to encourage and maintain healthy hair. They offer the services of, one-on-one consultations in a safe and loving environment. Khamit Kinks provides services for brides, curly hair, weaves, locs, and braids.
Wellington Hair Spa was founded by Patrick Wellington. Wellington has been styling celebrity in the industry for over 20 years. The services offered by Wellington Hair Spa includes locs, twists, braids, conditioning treatments, curl sets, afro maintenance and more.
The first opening of the Devachan salon was in 1994 New York City. Devachan was founded upon a movement which sought to change lives through curl love and self-acceptance. Devachan remains at the center of the curl conversation more than two decades later. Devachan now has three flagship locations and an innovative product line dedicated to curls known as DevaCurl. Devachan salon serves a curly clientele. They offer services of the DevaCut, which is their acclaimed proprietary dry-cutting method. Pintura, a highlighting technique designed specifically to enhance curly hair and they also only use DevaCurl products in their salons, which are 100% sulfate, silicone, and paraben-free. Each stylist at Devachan is a curl expert and specialist, with a deep understanding of curly hair characteristics and behavior, with on-going salon training.
Mane Advocates is a collective of dedicated independent hair stylists with one goal in mind. That goal is to provide each client with an inspired and individualized experience. At Mane Advocated they are dedicated to enlightening and empowering clients through education on technique and product usage. At Mane Advocates, they offer a wide array of services that ranges from beautiful cuts and styles to long flowing extensions and treatments, and everything in-between. Their services are custom tailored to your specific needs.
Ouidad has been empowering the curly community for over 30 years. Ouidad flagship salon has been long established and perfected since 1984. It is located in New York City on prestigious 57th Street. Ouidad is a great hair salon for all textures and hair types. The stylists of Ouidad are equipped to care for all types of curls Ouidad's offers the services of curly styling, blowouts, and deep conditioning treatments. You can book an appointment by calling.
De Lux Gallery is a Natural Hair Salon in New York City that specializes in natural hairstyles that channels your inner goddess. De Lux Natural Hair Gallery is located in Brooklyn's idyllic Fort Greene community. This salon offers services that include locs, twists, haircuts, braids, weaves, color and so much more. De Lux is known for love and ability to care for Natural Hair and the locticians at De Lux Gallery have earned a reputation for promoting faster and healthier growth of locs.
Victoria J Hair Salon is known for affordable natural hair care services specializing in locs. The owner Victoria offers more than 25 years experience in natural hair care. Victoria J Natural Hair Salon offers services from locs to natural curls and afros. Victoria J Natural Hair Salon has the expertise and the know-how to take care of all your natural hair care needs.
Natural Roots Hair care offers services such as two-strand twists to deadlocked up-dos, braids, weaves and much more. Natural Roots Hair Care strives to be a unique expression of elegance in all of hairstyles. Natural Roots Hair Care is located in Western Suffolk County on Long Island.
New Beginnings is a hair care salon owned and operated by CEO and Master Stylist, Pauline, alongside her daughter Togia. At New Beginnings Natural Hair Salon onlythe best products are used on their clients. Their main focus is healthy hair care. New Beginnings aims to educate their clients while demonstrating simple ways to maintain healthy hair. They offer one-on-one consultations and checkups. New Beginnings offers services of cuts, color, weaves, braids and much more.
Locks 'n Chops main priority is providing superior customer service in the natural hair and beauty industry. They are committed to creating, owning and marketing positive and innovative techniques through images, products, and ideas that express African traditions, culture and heritage. Locs 'n Chops offers hair braiding, loc services, natural hair styling, weaves, loc extensions and much more.
Honey Salon NYC has over twenty years experience in the haircare industry. This salon offers skilled stylists that are dedicated to providing their clients with the highest level of service. Each treatment and package offered at Honey Salon NYC are fully customized and tailored to your hair's personal needs. Honey Salon offers natural hair styling, color, cuts, extensions and much more.
Have you visited any of these salons? What are some of your favorite salons in NYC?
This article was published in 2017 and has been updated.