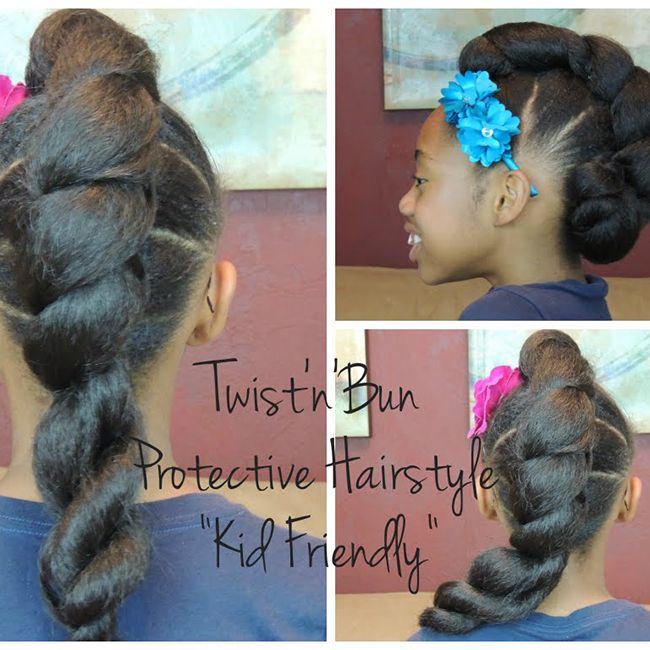 Parents don't always have a lot of time to style their children's hair on a daily basis. Protective styling is a great option and offers the benefits of being low maintenance, helping with length retention and saving time. For some parents, protective styles require extensions to be added to the hair. This can be because the child's hair is not long enough or thick enough for the desired look the parent wants to create. As a parent looking to explore more styling options that are gentle for your child and easy on your schedule, consider these five kid-friendly protective styles.
Twist and bun
This is a very cute protective style option for your child's hair. It is easy to create and does not take a lot of time. For this style you will use Kanekalon braiding hair. You can also add to the style with a cute headband or bow.
Cornrows and twisted style
For this style, Marley braiding hair is used. The hair is braided to the side with extensions added. If you want the hair to look curlier you can add the perm rods, but perm rods are optional.
Crochet braid French twist ponytail
Crochet braids are a very cute style on both kids and adults. This style showcases French braids that are braided into a bun with twists crocheted around the bun to create a ponytail. This is a very cute and kid-friendly protective hairstyle option for kids.
Crochet braid layered curls
This cute style is ideal for younger children. For this style you will use soft dread hair and cut it in half and then crochet it in, leaving space in between, so that it is not too full and heavy. Don't forget to separate the curls for added volume.
Havana mambo twists
Havana mambo twists are another style option for your little one. For this style the hair is French braided all over. The twists are then crocheted into the back half of the hair only, leaving some French braids at the top and twists in the back.
Caring for Your Child's Protective Style
Remember that low-maintenance hairstyles still require some maintenance. Be sure to keep the scalp moisturized by spritzing it with a leave-in conditioner or braid spray. Also remember to protect the hair at night with a satin scarf, bonnet, or pillowcase, so that the style lasts and also to prevent breakage.
Check out 4 Things I never use on my child's hair.
With different styling options available will you try out extensions on your child's hair?