Did you know

that bentonite clay

is beneficial to those suffering from acne, dry skin, and even damaged, stressed curls?
This clay alleviates common hair and skin concerns such as dryness by providing a layer of moisture and removing toxins.
As stated by Mountain Rose Herbs, "Bentonite clay has been traditionally used to assist in mineral deficiencies and to help bind toxins making them more soluble. Bentonite also referred to as Montmorillonite, is one of the most effective and powerful healing clays."
Excited to try this amazing clay, yet? Great! The following steps will have you well on your way to moisturized hair and detoxed skin:
The first step to this ultimate beauty hack is to prepare the mask with Beauty Hack Bentonite Clay Base. The base is a 2-in-1 hair clarifier and soothing, toxin-removing mask for your skin. To thoroughly mix the bentonite clay, use warm water. The thickness of the base depends on how much water you use and is at your discretion.
Next, blend the bentonite clay base with Beauty Hack 100% Pure Avocado Oil. The fruit-derived oil revitalizes skin and hair thanks to its fatty acid and Vitamin E contents.
The last and final step is the most pleasant: blend Beauty Hack Rose Fragrance Oil into the bentonite clay and avocado oil concoction. The aroma of rose oil has been touted as a key to relaxation and mind-calming ease.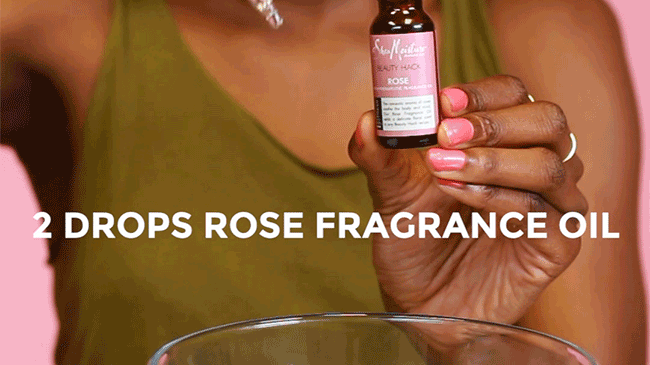 The proof is in the blend!
We partnered with SheaMoisture to show you the effectiveness this beauty hack in the video below (click GIF to see the video on Instagram">:
Take note, curlfriend: Although you may be over the moon for this remarkable hair and skin mask, it is recommended that you blend it on a per-use basis and in small quantities – a little goes a long way!
Your customizable Beauty Hack by SheaMoisture collection is available exclusively at ULTA.
NaturallyCurly created this post and video in partnership with SheaMositure!
As ever, stay curly!