It's time for another look, coily!
If you wear the same ol' hairstyle, you may be stuck in a natural hair rut… DUN DUN DUN!
Please believe me. I feel you. I wear the same hairstyle day in, day out. To switch it up, I wrap a scarf around my head from time to time. Ugh! My looks can be so, well… blah!
That's why I'm here to tell you that there's another way, my friend. You can get the magically delicious, well defined coils you've been eager to wear and look super cool at the same time. All you need is 10 minutes, a cool looking hat, your favorite hair oil, and a tube of Eden BodyWorks Coconut Shea Natural Curling Jelly.
Yassss, Queen – I've got a method for you. Want to hear it? Here it goes!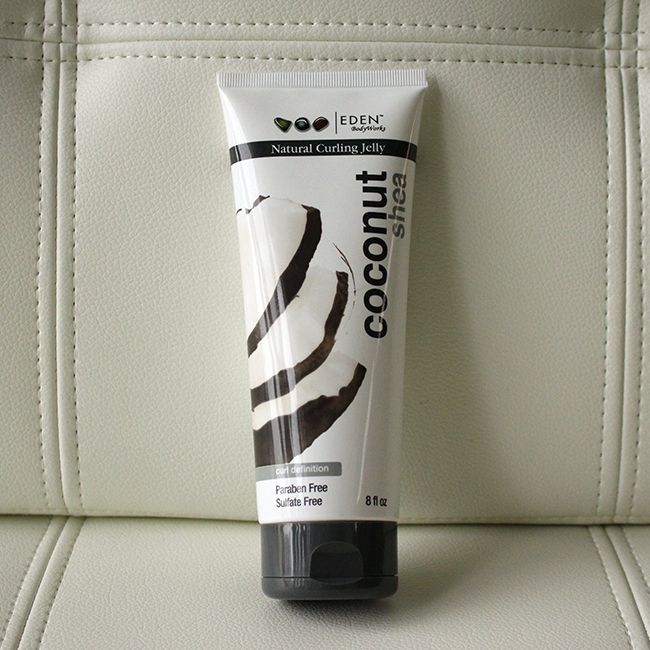 Clean Curls
For starters, you're going to need clean curls. Then you'll need a curling jelly designed to slip into your coils and give them some serious definition. Understanding that different coily looks require the right styling tool, my friends at Eden BodyWorks sent me a tube of curling jelly (pictured above"> and I'm so happy they did. I was pretty excited to see that this jelly was going to give my coils a moisture boost. It's also free of parabens, silicones, and sulfates!
ADDED BONUS: Eden BodyWorks Coconut Shea Natural Curling Jelly is cruelty free!
I highly recommend using your favorite hair oil on your curls. The oil can act as a non-traditional primer for your coils that prepares them for styling.
Get Ready For This Jelly
Once you're done rubbing done those curls, it's jelly time (minus the peanut butter">! In the above picture you can see about how much curling jelly I used for this wash-and-go style. When I pour, it's a heavy pour and this jelly was not excluded from my overzealousness. I wasn't apprehensive about this amount because the jelly's consistency implied a lightweight hold that would wash out easily if need be. Now, to get those defined curls you want: SCRUNCH the curling jelly into your wash-and-go. I'm telling you, it works.
Now you're ready to add the ultimate accessory: a sexy black hat.
First, you'll need to section out your scrunched wash-and-go.
Section those Coils
To get the right amount of fluff out in front of your hat brim, hold your index fingers against the edges of your eyebrow and move them up to your hairline. From there you can begin gently sectioning out your curls until you reach the crown of your head. From there, apply as much or as little jelly as you like to the sectioned curls to give them even more definition. If you like how finger curls look, feel free to rock them using this easy method.
Now it's time for a hat trick!
Pin Up or Plop Down
Depending on the length of your curls, you can either pin them up with booby pins to hold the sides in or your can just plop down your hat on your head. Guess which one I did. You can also wear a protective style underneath your hat.
I know, I know: but what about those edges?
Hey, I don't have time for that.
If you do, definitely lay them down with the curling jelly. It will hold them in place and won't flake on you.
Styling and Profilin'
What I love the absolute most about this look is that it's so easy to wear. I mean really… a wash-and-go with a hat is all you need to step your curl game up a notch? I'm in!
One thing I'd recommend is that you try temporary or semi-permanent color, too! Imagine how delicious your coils will look with a pop of passion pink or scintillating scarlet red. I'm thinking about a blueberry streak, but I don't want to get ahead of myself. If/when I do it, you will be the first know, coilies of world!

Rockin' these coils has me feeling a little more adventurous with my hair, which I guess comes with stepping outside of that same ol' hairstyle. That's why I'm so pumped to share my newfound use for this coconut shea curling jelly by Eden BodyWorks. How are you going to rock it? Share your hair goals with me in the comments section.
 As ever, stay curly!
[prodmod]