Scott Musgrave and is a hairstylist who specializes in curly hair with 100% curly clientele. He has a private studio in Cary, North Carolina that is set up for a Service Experience with art and products for People of Curl, "No flat irons, chemicals or thinning scissors allowed in my studio." He is also the founder of Curly Hair Artistry which is a non-brand based platform with a membership of stylists that have a passion for curly hair all over the globe that focuses on developing the Personal Vision of each Artist. And we think he's a #CURLboss!
No flat irons, chemicals or thinning scissors allowed in my studio.
1. How did you get started in the curly hair salon industry?
After high school I went into the USMC and after my 4 years I was working in the construction industry and was dating a hair stylist that inspired me to attend Cosmetology School in the city of Raleigh NC and I quickly went through the course and I have been a stylist since 1986.
Having curly hair myself, I have a natural 'sensitivity' to working with curly hair...
In 2000 I found Lorraine Massey's Curly Girl Handbook and it ignited a spark inside of me to focus more on curly hair as a Full Service Experience for my clients and I developed some ways of achieving new results without any training in how to do so. I love to think outside the box and create new ways through interpreting what I read and learn to develop new results from what inspires me. I drive 'in box' people crazy with always thinking 'outside the box' and progressing with Modern Approaches to Classic ways. 
2. Are there any challenges that you face when it comes to educating clients about their curly hair?
My whole business is catering to people who have been mistreated and misinformed from the Traditional Salon Industry. My motto is: "Your hair doesn't need to be fixed - it needs to be embraced!"
About everyone is frustrated with dry hair, a triangle shape and products and tools that are designed to FIX your hair and yet the traditional service in the industry is keeping the client in a cycle of constant frustration with products that dry out the hair and traditional layering methods that create clumps, bulky sections that fall into a triangle shape when it is not flat ironed or blown out.
This makes for misinformed and mistreated people that are searching for an authentic service experience catering to their God-given hair pattern, that informs them correctly and also treats them with respect to embracing their hair and the best cut and product application that caters to their hair porosity.
3. What is the biggest reward that comes with this industry?
Seeing the look on the clients face when it all falls into place and my service is designed to allow the client to do the application process and I guide them through it and if you see my before and after photos the 'after' picture was achieved by the client doing the work.
Once they leave the salon, they know how to work with their hair, have a great cut that works with their specific pattern of wave, curl or coil and get positive reinforcement based on authentic compliments from all that wonder how their curls look so great.
When a client returns and I see that their hair has gotten in better condition and their product application is wonderful. This gives me confidence in knowing I am doing the right thing and I love everyday of my work.
4. You have a blog on your website, Magicurl. What is the focus of that blog?
I was a Sleight of Hand Magician for 30 years and I kept hearing from my clients that the process they were experiencing in my studio with the words, "This is magical" or "Your a magician" so - I took the word 'magical' and twisted the letters to form "MagiCurl" and it teaches my readers how to become sleight of hand experts with working with their hair.
You can over handle your hair way more than you think you can - and that is out of the box - when you know how to - and learn application techniques similar to sleight of hand but designed for your hair to achieve wonderful MagiCurl results. It has worked for years for me and my clients.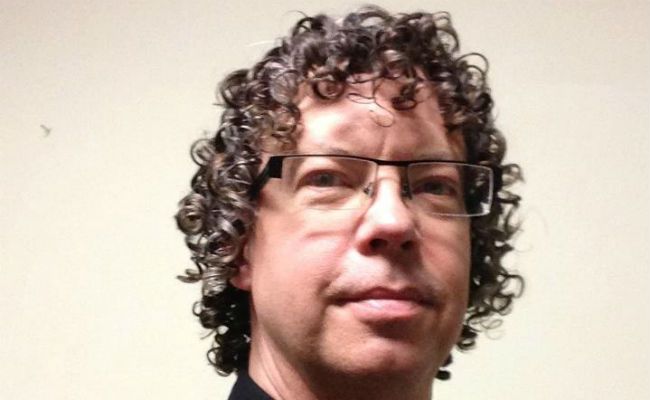 5. You offer a curl "Boot Camp". What is this?
When you go to the eye doctor for contacts, you must learn to remove the contacts before you leave their office; I take on that same approach with you must know how to work with your curls before you leave my studio.
Traditional stylists do the work for the client - you leave and STILL wonder how to work with your hair. One day I took a risk and guided the client through the process and it made a total difference. I no longer was getting emails and phone calls wondering what I did to make their hair look so nice - as it was working for them. From this I receive over 300 new clients every year on top of my current clients based on people seeing wonderful curls out in the world and people approach them as to why their hair is doing so well in the rain or humidity. Word of mouth based on my Boot Camp session is creating a new way for stylists to have their clients look their best every day and not just from leaving the salon.
6. Which useful resources do you point your clients in for learning more about hair care?
With so many people going online to research and get help. I ask my clients what is helping them as it is getting overwhelming and confusing, so I am developing a course to help with this. Many people read Lorraine's book or Curly Nikki's wonderful book. But people forget what they read or are unclear as to how it all falls into place for their hair. I know my blog has helped many readers and yet I do not put in all of what I can into a blog--so a course will be more helpful. 
7. What is the Magicurl Application Process?
As mentioned, The MAP is about developing a personal routine that caters to your hair pattern, porosity and the season of year or environmental factors to inform and treat well their own hair that also makes you aware of the lifestyle that is required to maintain the integrity of your hair.
So many people were continually frustrated with the brand based videos that still did not help out with frizz and the pesky halo hairs that pop out and about and hover all day long above your head.
The MAP was created to address Halo and Frizz more so than the other methods. If you do not have frizz or halo then the other methods will work well, but if you are still frustrated with frizz and halo then The MAP helps with this along with achieving better day 2-4 hair as well. 
8. Tell us about the Curly Hair Artistry Symposium that you also have created.
I formed Curly Hair Artistry (CHA) based on the demand for Advanced Education. Many stylists go to YouTube or read blogs or attend some academies over and over to find out more information but it was Brand Based or Consumer or Client driven and it was missing elements of a Professional Stylist Perspective. While many stylists stay with one method of cutting and working with curls that works for them, many other stylists are interested in what more is possible and CHA is designed to take stylists out of their comfort zones and work on all types of hair and create new application products with whatever products we want to create our form of art from in an environment that supports creative freedom with no restrictions. 
After years of developing friendships and trust with some of the best curly hair specialists in the world and creating a new vocabulary of working with curly hair on my blog and learning tips from the experiences of my clients--we can learn a lot from listening to our clients. I decided to create CHA with a Facebook page and soon a website that we can discuss the techniques we come up with, ask questions on how to color curly hair and the business side of it as well. This has helped stylists to achieve many wonderful results that was missing a few years ago. I am very proud of all the members that shape the vision of what we are doing. We are small and focused on quality with a membership of over 100 from Australia, Brazil, Canada, Newfoundland, Italy, UK and all over the USA as of now. 
9. How can clients in your area schedule an appointment or inquire about services?
www.scottmusgravehair.com has all the information required as to setting up a first time service with me. I ask for back and side photos to make sure the service will benefit you as I have many that show up overly layered from previous traditional services and need to wait to grow more for me to be able to shape it properly with a dry curl by curl cut that I call a Cubist Curl Cut that is based on Cubist Art Principles that take a 2D hair cut into a 3 Dimensional shaping. It is a 2 hour session with Boot Camp, The MAP guidance and Cubist Cut.
Follow me online! Instagram - Scott Musgrave Hair, Facebook- Curly Hair Artistry, Blog- CurlyHairArtistry.com