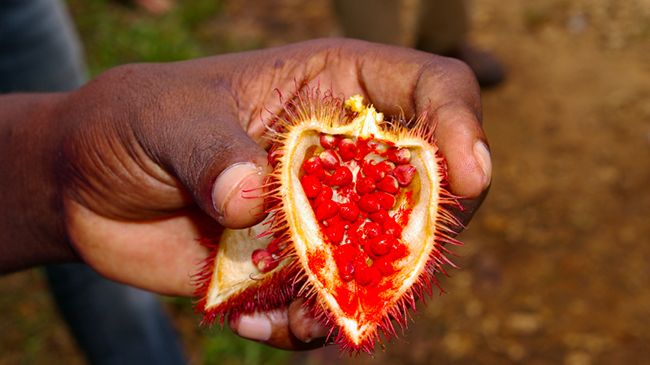 Learning about new ingredients for hair products or DIY techniques is always a post away and as we are just as intrigued at learning about the latest and the greatest, the need to be up to date will always be our main motivation. Sometimes these new items are not new, they are just new to us. So what is up for discussion today? Annatto, and it is more than just a pretty seed. 
Annatto or Bixa orellana is a shrub native to South and Central America along with the Caribbean. Annatto has other names like lipstick plant and it is derived from the seeds of the achiote tree. Annatto is widely cultivated for its fruit seeds where a natural colorant is derived. The achiote tree grows branches and prickly, reddish-orange heart-shaped pods that contain around 50 seeds. The seeds are said to have a slightly peppery smell with a hint of nutmeg along with a peppery, nutty, and sweet taste.
The seeds of the annatto are covered in a thin layer of the reddish-orange pulp. Annatto is used as a colorant and dye for food, textiles, and body paint. Annatto has carotenoids or organic pigments naturally occurring in plants and photosynthetic organisms. It is used in Latin American and Caribbean cuisine as a coloring and flavoring agent while in Central and South America it is used as a body paint and lipstick. Although not an edible fruit, the pulp covering the seeds are using as a food coloring. Called Achiote dye, it is created by grinding the seeds or simmering them in water or oil.
Hair Benefits
Despite being used for food coloring annatto actually has been used for centuries to condition hair and skin. It is because of the vitamins A, D, and beta-carotene. It has been used for the skin as an emollient and with its anti-inflammatory, antiseptic, and astringent abilities. It can be a seed paste or seed oil and often added to shampoo and conditioners because it can give the hair a natural sunny glow. It can even be found in hair dye because of this feature as well. Interested in trying a quick hair color rinse for a funky and spunky color combination of orange-red? Here's the simplest way to do it with Annatto powder.
Recipe
Mix three tablespoons annatto seed and 1 cup boiling water. 
Allow the mixture to cool slightly before straining. 
Applying to your head and massage into clean, dry strands until fully saturated and leave on for an hour. 
Rinse and style as usual but do not shampoo, as this is just a temporary rinse. If you are more interested in trying a product that already has annatto in it? 
Check out a few that may be worth giving a try.