As a product junkie and blogger, I've been very aware of Jane Carter Solution products - especially since they are available at places I frequent like Target and Vitamin Shoppe. I never made the leap to try out any of the Jane Carter Solution products, primarily because I wasn't entirely convinced that they would work for my 3b/c hair.
Imagine my surprise when my boyfriend's mom told me that Incredible Curls was her new staple, and I had to try it. So I caved in. We took advantage of the Jane Carter Solution online sale, and while I waited for mine to arrive, I went ahead to Target and purchased a tube.
I told you I was a product junkie. Was my "while I wait" purchase justified? Keep reading to find out.
Ingredient List
Water (Aqua), Butyrospermum Parkii (Shea) Butter, Glycerin, Glycerly Stearate, Hydroxypropy Trimonium Chloride (Guar Gum), Ceteareth 20, Simmondsia Chinesis (Jojoba) Seed Oil, Persea Gratissim (Avocado) Oil, Behentrimonium Methosulfate, Cetyl Alcohol, Citric Acid, Caprylyl Glycol, Sorbic Acid, Phenoxyethanol, Anthemis Noblis Flower (Chamomile) Extract, Symphytum Officinal (Comfrey) Leaf Extract, Equisetum Arvense (Horsetail) Extract, Urtica Dioica (Nettle) Extract, Rosmarinus Officinalis (Rosemary) Leaf Extract, Humulus Lupulus (Hops) Extract, Hydroxyethylcellulose, Tocopherol (Vitamin E).
Ingredient Analysis
Shea Butter: Emollient fat from the nut of the East or West African shea nut tree used to moisturize and soften hair.

Glycerin: Vegetable-based humectant, absorbs water from the air to help maintain and retain moisture in hair and prevent dryness and breakage.

Glyceryl Stearate: Glycerol ester of stearic acid (coconut derived) that is an emulsifying agent and surfactant.

Guar Gum: Legume-based thickener and conditioner that does not build up on the hair.

Ceteareth 20: Emulsifier derived from fatty alcohols, used primarily to mix oil/water/alcohols, and help evenly disperse ingredients in a product.

Jojoba Seed Oil: Emollient that coats the hair shaft (its molecular structure prevents it from penetrating the cuticle) and aids in providing slip and protection. Jojoba oil is also the closest in composition to the sebum that our scalp naturally produces.
Availability
I've seen Incredible Curls on CurlMart and on shelves at Target, but I purchased my particular tube at www.janecartersolution.com during one of her recent sales.
Affordability
On CurlMart Incredible Curls is currently available for $15.00 for an 8oz tube, while the same size product on the Jane Carter Solution website is $20. Considering my innate heavy-handedness, I'd feel a little better about a 12oz tube of product for the $20 price tag.
Product Claim/Description
"Curly wash & wear styling cream for fine to medium curly hair. Incredible Curls is the perfect curl definer for finer curly, wavy, and coily hair. It gives your hair great hold, drying soft and shiny with great curl definition. It is a great product for curly hair that gets weighed down easy. It's the perfect creamy consistency, making the application process quick and simple. Shea butter and Avocado oil seal moisture into the cuticle giving you bouncy, shiny, manageable curls. This product never flakes or builds up."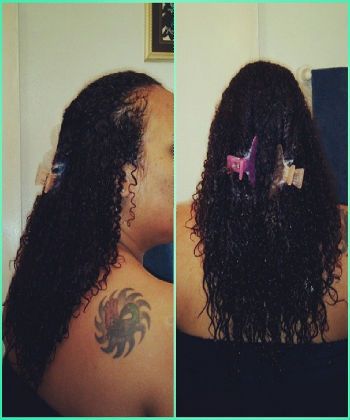 Performance/Delivery
Although I do not have fine hair, I was hopeful that Incredible Curls would provide some sort of definition and hold. Because it is creamy in consistency, I did not expect tons of hold on my hair. I followed the instructions and applied the product liberally (and I mean liberally) to my freshly detangled and cowashed hair while it was dripping wet. The product did go on easily, but it does have a slightly tacky quality to it. Not quite sticky, not thick and goopy, but an ever so slight stick. If you rub a little between your fingers and pull them apart, you'll see what I mean. After my hair dried, it was definitely soft and defined, although not as defined as I would like for it to be. This product is definitely for fine textures of hair. I had to use half the tube to get through all of my hair, for a moderate hold as the end result. I didn't particularly mind though - all it meant is that I would have day 3 or 4 wash and go hair on day 1.
Drawbacks
I'm not wild about the fragrance. I'm not sure if it is the chosen essential oil blend, or the extracts themselves that result in the earthy, herbal cologne-esque fragrance. The scent isn't overbearing, just not what I expected. Luckily, it doesn't linger in the hair.
Bonuses
I do like the fact that if I am seeking a more defined curl and more hold, Incredible Curls plays nicely with other products. I can layer it with tgin Twist and Define Cream, or Soultanicals Curl Blaze Hair Glaze without issue (no flakes or balls of white goop), and get a wash and go that lasts 4 days or more.
Bottom Line
Incredible Curls is probably one of those products I will revisit when my hair is longer, and has more weight to it. As it stands, I can't quite fit it into my regimen, but it is by no means a bad product. I will definitely finish out the tube, and there is always the possibility that I will buy more if it goes on sale. It is truly a product for fine curly hair, or those who seek big hair on day 1. It won't give you multi-day hold, but it will definitely define your curls.
Best Practices
If you're going to try Incredible Curls, I definitely recommend applying the product to soaking wet hair. It will not clump curls together the same way on dry hair that it will on wet. Also, be sure your hair is detangled thoroughly, as the product does not have a lot of slip.
Happy curl defining!
For more product reviews and curly hair tips, visit ManeObjective.com.