Alba, better known as SunKissAlba online, is a curly-haired vlogger who started transitioning in 2010. With the help of a webcam, a flawless face, and a yearning for reaching out to the curly community, Alba comes with the gift of Type 3 expertise in both English & Spanish.
NaturallyCurly: 

Please introduce yourself!
Alba: My name is Alba. I am a Bi-lingual Beauty Vlogger on YouTube under the name "SunKissAlba,"  and for spanish speakers "SunKissAlbaParaTi".
My channels are all about beauty, style and natur
al hair. Basically a little bit of everything!
NC: 

How long have you been natural?
Alba: I have been natural for about 3 years or so. Oct 2010 is when I decided to no longer use heat on my hair, or hair dyes, or chemical based products because I noticed a huge change in my curls after experimenting with a red dye and new straighteners.
As soon as I saw my 3b curls turn wavy on the bottom, I freaked and that was the end of it for me!
I realized I had heat damage
. Unfortunately it took me seeing the damage to realize what I was doing but I definitely learned from it!
Having healthy curls was far more important to me than having straight hair for a few days so I cut of my damage gradually and I have not used heat, hair dyes, or any chemical based products since then! 
NC: 

What's your current routine?
Alba: I only cleanse and style my hair once or twice a week (average).
I either co-wash with my
DevaCurl One Condition
or use
DevaCurl No Poo
cleansing cream and follow up with conditioners like DevaCurl One Condition or
Giovanni Eco Chic Conditioner
. To style right now I'm loving the
L.O.C. Method for winter
but I usually just apply my
SheaMoisture Curl Enhancing Smoothie
and seal with aloe vera or jojoba oil on my tips only.
I always air dry and my hair stays in perfect frizz free style for about 4-5 days if I want it to. To restyle I simply refresh with spritzing water or a Lavender hair spritzer and air dry. 
NC: 

What are your favorite products?
Alba:  I absolutely LOVE SheaMoisture, DevaCurl and Giovanni Eco Chic hair care lines. Some of my usual favorites are Shea Moisture's Curl Enhancing smoothie, Deva Curl One Condition, and Giovanni Eco Chic Conditioners!  
NC: 

What is your nighttime routine?
Alba: For night-time I am all about the Pineapple!
I Pineapple my hair and sleep on a satin pillow case to prevent breakage and frizz. This has worked for me for years! That's all I do. 
NC: 

Do you ever get tired of your curly hair?
Alba: I never get tired of curly hair, however I do get tired of my basic routine so I like to play around with updos, half up do's, twist and curl rod sets, big buns etc. Extra big buns are my absolute favorite!
NC: 

On your blog you feature so many different styles. How do you keep your hairstyles fresh and fashion forward?
Alba: I stick with clean and classic hair styles so I allow my outfits to compliment them.
Because my hair is so classic looking, my outfits can be as loud as I like or as simple as I like.
NC: 

When did you start vlogging?
A: I started Vlogging in 2010 just as a hobby. I uploaded hauls and tags and simple videos once in a while that were filmed on my webcam or Canon PowerShot camera until about 2011-2012.
Then I began to take it a bit more serious after becoming a bit more experienced with the filming side of it and editing. I took it upon myself to learn to edit and invested in an HD professional camera. I'm still learning and working towards making my videos even better.
NC: 

What do you like most about vlogging?
Alba: I became a successful beauty blogger by investing much more time into vlogging.
I began to pay attention to my numbers and my audience. Once I understood my audience and my viewership, I then understood what works for me and what doesn't based on what I know others want to see.
How do I know what my audience wants to see? After a video goes up I pay attention to my views. What's my highest… what is my lowest etc… My highest viewed videos are the ones that include a combination of hairstyles and beauty in one or simple curly routines.
I focused on giving my viewers what they showed me they want to see and from there I grew and they grew like a happy family.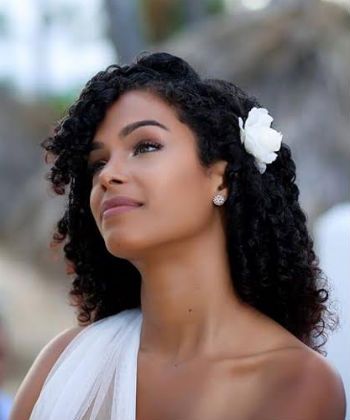 NC: 

What do you want to do beyond YouTube?
Alba: Beyond YouTube I would love to create my own hair care and cosmetics line that is 100% chemical free, toxic free, and made with organic/plant derived ingredients.
I am extremely passionate about being natural from the inside out and in 2013 my new passion became chemical free makeup with organic ingredients. I already was natural with my hair and the foods I eat so my last step is to convert the cosmetics I use to be as natural as possible as well.
NC: 

Do you have any advice for new bloggers and vloggers?
 Alba: Don't try to fit in because not fitting in is what will set you apart from the rest and make you noticable in the big sea of YouTubers. There are so many vloggers on YouTube so it's difficult for newcomers to be noticed.
The best way to set yourself apart is:
1. Be yourself
2. Don't be afraid to show your personality and a little of your personal life
3. Your personality is what will keep your viewers coming back to watch another video.
Remember that without personality your viewers can't get to know you and be relatable. Just be you.
You can find SunKissAlba online here: