If you're ever in a styling rut, it's never a bad idea to look for some inspiration elsewhere and try a new look, maybe even something completely out of your comfort zone. Faithful and reliable as our daily routines are, there's only so many times you can rock a simple twist-out, braid-out, or wash-and-go before the whole process becomes monotonous—and, dare we say it, boring.
But if there's one good thing about feeling stuck in routine, it's that there's an opportunity to reinvent your personal style and overall look. We've perused through the vast world of IG natural hairstyles and found everything from reverse-cornrows, to faux bangs, to an ultra-cool loc'd beehive.
Ahead are 15 fresh styles that you may want to consider the next time you're in need of that creative spark.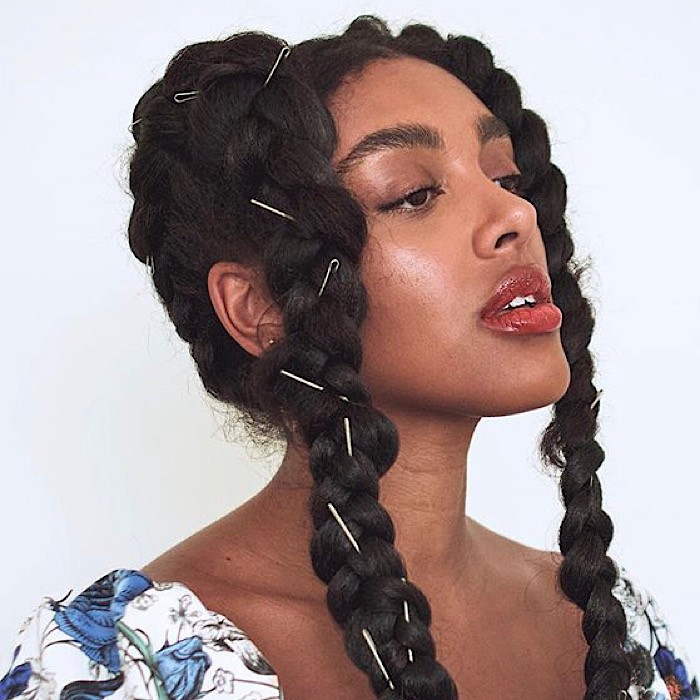 Most of us have incorporated cornrows into our styling process at some point in our natural journey . But have you thought about cornrowing in the opposite direction? Angela added braiding hair and cornrowed from back to front, pulling the braid for a more "imperfect" look and added bobby pins to accessorize. Take a look at a detailed tutorial here.
2 / 15
Laila-Jean's "half-and-half" wash-day style is a quick (depending on your braiding skill level) and very versatile style to try after hopping out of the shower. Don't forget the beads at the end. View the full tutorial here.
3 / 15
Tucked bangs give the same feeling as the real deal without the cut. It also adds a little bit of a vintage 40's vibe. Simply roll your hair under in the front and secure it with a bobby pin or two.
4. Image Source: @ashlydanielaa.Styled by: @monaeartistry
4 / 15
No need to strive for perfection, messy curls are definitely in. Ashly's curly braided updo embraces frizz and is runway-ready with "pierced" braids and colored string weaved throughout.
5 / 15
Ever want to rock an afro and cornrows at the same time? This summery look ensures you don't have to choose between the two—half cornrows and half 'fro is a whole look.
6 / 15
Form your box braids into a look fit for a queen. Create a crown of hair by creating large knots across the top of your head and letting the rest of the hair flow free.
7 / 15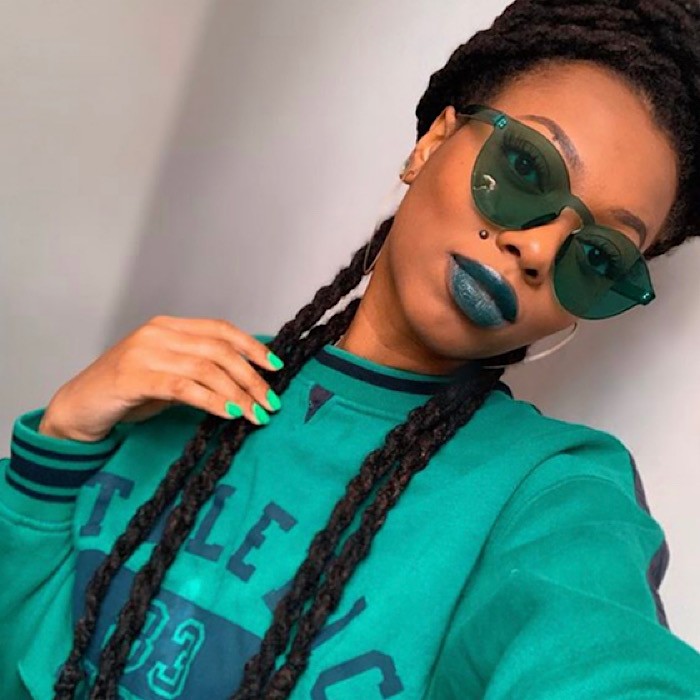 We don't know about you, but we're loving Keisha's loc'd beehive situation. Wrap your locs into a secure pile on your head, using bobby pins when needed. Leave a few locs down for that effortless look.
8 / 15
If you have particularly dense or thick hair, try this look on stretched hair. Twist very loosely at the front and secure with hair pins, twist smaller sections of hair at the sides, and let the back flow freely. Pull on the twists to create that gravity-defying volume.
9 / 15
Why do two space buns when you can do three? Destiny created 3 space buns with a curly bang in the front.
10. Image Source: @joyjah
10 / 15
Whether you call them "bo-bo's," "ballies," or plain old "barrettes," Joyjah shows us how to rock these nostalgic accessories well into adulthood.
11 / 15
Mold your twists into whatever shape you'd like. Teresa formed her two-strand twists into a cute bob using hair pins to hold everything in place.
12 / 15
Remember when your mom used to style your hair in a few braided ponytails? This is the bold and classy version of that. Ebonee's extra-large braids evoke the childhood classic look with a sultry and grown-up flair.
13 / 15
This bubble ponytail/mohawk is simple and super stylish and has a great shape to it. Get your hair ties ready.
14 / 15
There are hundreds of ways to style a ponytail. Jaynelle spiced up her lengthy pony by creating three jumbo braided buns to go along with it. Try a drawstring ponytail to make this style easier.
15 / 15
Looking for a style to showcase your flawless twist-out? Try this half-up look featuring a super-high ponytail. Use some accessories (Zenita actually used a bangle bracelet) or even some decorative string around the ponytail to exaggerate the height. Be sure to check out her detailed tutorial on YouTube.
Have you been in a style rut lately? Let us know how where find the best inspiration in the comments below.