As a curly girl, we all know finding a cut that frames and flatters our face at the right angles can be a challenge. Sometimes it can be a hit or miss depending how many layers we have, how blunt the chop is, and how much volume our hair acquires post-cut. Finding the haircut that flatters your face shape can also be trial and error as each of us all made beautiful and unique in our own special way. The great thing about our curls is that there have been revolutionary ways to cut and texturize a cut so it's tailor made just for you. Below you will find 5 of the most flattering haircuts for various hair types and lengths. Take notes and screen shot them for your next salon visit.
Side Swept Bang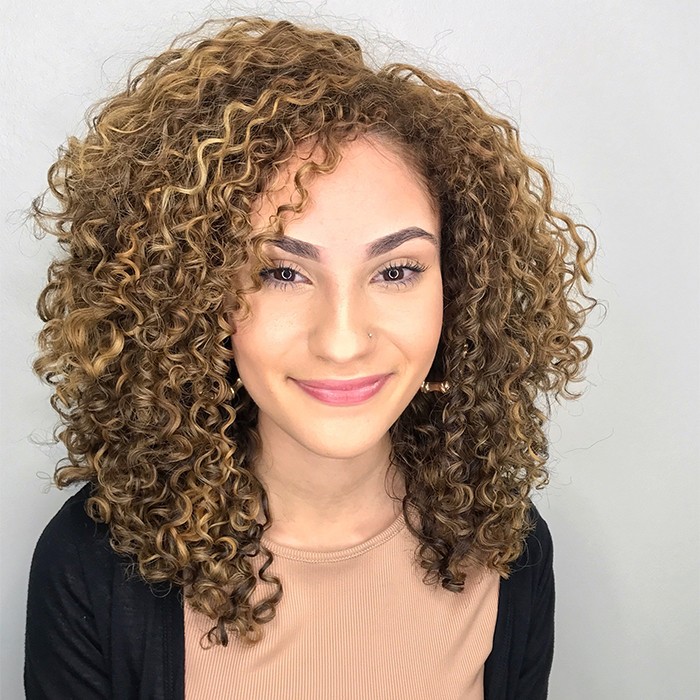 Image: @faithincurls
"In my opinion any curly girl can rock any look with CONFIDENCE! I do believe there is a more flattering look that works for anyone and it's as shows of my client @nataliaenyse! This look has a fabulous side swept bang and crisp shape which makes the hair look fuller. I used Devacurl Supercream and Arc Angel Defining Gel to style her."
Triangular Cut
Image: @_thehairsaint
"Face shapes are extremely important in both color placement and cutting the proper shape/technique that best suits the client. My beautiful client Melissa has an oval face shape which means I have the option of going with a round, square or triangular approach. In her case I choose a triangular shape and graduation for technique since her hair is fine."
RëZOcut
Image: @utopia_salon_nj
"RëZOcut is perfect symmetry for every curl type. RëZOcut is the name of a new curly cut that's defines confidence and pride for all curl textures. RëZOcut is a very unique technique to cut every texture curl with precision with the symmetry of the face, but creating body, balance and shape created by Nubia Suarez for the Curly community of today! Full confidence and pride."
Tapered Cut
Image: @theloftmedlord
Tapered Fro Cuts are taking over the Curly Hair scenes! Angles and shapes help to give my clients that fierce look! Not necessarily your TWA (Teeny Weeny Afro), but it's a cut that gives you a tapered look while giving you volume in the top/ bang area. It's a win/win cut...by helping to frame the face and give you a flattering shape!
Round Layers
Image: @hairmajestiii
"I love cutting curls dry at its natural state because every curly girl has 3-4 different curl patterns if not more naturally. If you were to cut curls wet or straight the hair appears to be longer but when it shrinks up every curl bounces up differently giving it an uneven shape. I cut my clients hair depending on the density and desired look and length. When I have clients with fine curly hair I tend to cut long round layers to keep their hair full, vs. someone with thick 4A 4B hair I can cut shorter layers for more volume and the density of the hair will hold a beautiful shape."
No matter your face shape, embracing your curls and loving yourself are key to making any style work regardless of the cut. These stylists provide great insight into ways you can be informed by getting a cut that helps flatter your face at all angles which is key for those of us with curls. Here's to more curly slayage this summer and rockin these fabulous styles.
Which of these cuts were your favorite? Let us know in the comments below.