Since shampooing and cleansing your hair takes away a lot of the hydrogen ions that are in our cuticles, a daily conditioner is a must in a curly girl's regimen.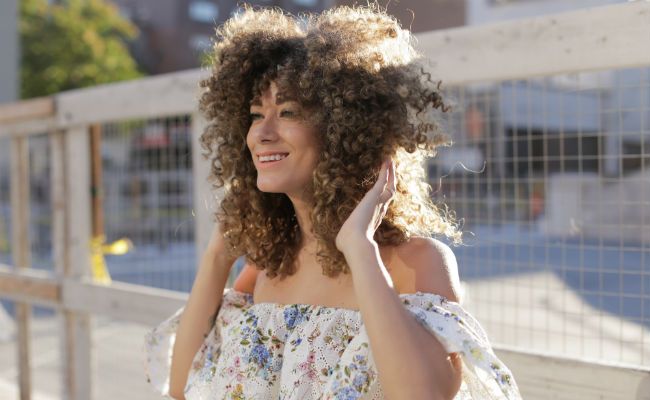 The right one will restore the necessary amount of moisture and oils that stripped your hair while cleansing.
As you look at the ingredients in your own daily conditioner, keep in mind that they are listed in order of quantity, so the first five are going to be what your product is mostly made up of. These 5 ingredients are what I look for while shopping for the next potential Holy Grail conditioner addition to my shelf. (Is Product Junkie Anonymous a thing?)
1. Water
This might actually be the best natural moisturizer for naturally dry, curly hair. Our hair is always in need of hydration--what better ingredient to quench your curls' thirst than H20?
2. Oils
There are loads of benefiting factors when certain natural oils are in our daily conditioner. By helping to seal in moisture and close the cuticle, the right carrier oil can penetrate the hair via the cuticle, improving softness of curly hair.
3. Fatty alcohols
Fatty alcohols stemming from plants, oils, or animals are the "good" kinds of alcohols. These types of alcohols are known to soften your hair and provide great slip to make detangling a breeze. Fatty alcohols like Myristyl, Behenate, Cetyl, Stearyl are effective in a daily conditioning routine.
4. Humectants
They draw in moisture from the air and into the hair shaft. Depending on the season, using a daily conditioner with a humectant could be either good or bad. If the air is dry, it can work against our curls because a humectant may remove moisture from the cortex of the hair into the air. Otherwise, it can be beneficial for drawing in moisture.
5. Protein
Gasp Yes, protein has a bad rap because too much of it can cause more harm than good for our curls. For low porosity hair that feels stringy or limp, however, a protein-packed conditioner can help for moisture balance. While it cannot moisturize curly hair alone, it does strengthen our strands to better retain moisture during the next wash.
For a proper curly hair care regimen, it is all about doing things in moderation. This includes moisturizing.
Every head of curls is different. This combination of ingredients work for mine, but I recommend figuring out exactly what yours could be lacking, then try your best to replenish and nurture it that way.
What's next?
Check out our complete guide to finding the right protein treatment for your hair. 
Want to know how StyleFeen gets these amazing curls? Here are her favorite products. 
Have you seen my latest curl-defining trick on IG? Follow me @StyleFeen
Are you on Facebook? Like NaturallyCurly for more curly crush inspo.
Read about the 5 products YOUR hair doesn't need here.