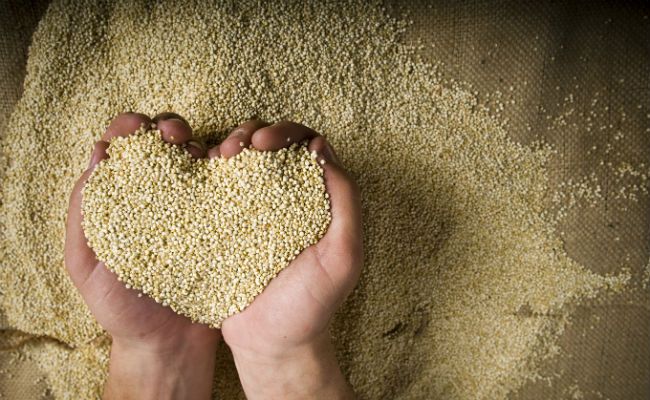 Image via seanfboggs/Getty Images
Commonly found and cultivated in South America, quinoa is a highly sought-after grain that's infused with high amounts of proteins and amino acids. It may be on your holiday table, as we speak! It's packed with essential vitamins and minerals including:
Vitamin A
Calcium
Manganese
Zinc
It's no wonder that companies are starting to feature this superfood in more and more hair and cosmetic products—it is naturally derived and contains several hair and skin benefits. If you have naturally curly hair, here's why you should incorporate quinoa extract into your care routine.
A brief history of Quinoa Extract
According to the Food and Agriculture Organization, quinoa is an Andean plant that originated in the area surrounding Lake Titicaca in Peru and Bolivia. This grain later was cultivated and became the main source of food for civilizations such as the Inca. Since the domestication of quinoa, it has expanded to several regions throughout North and South America.
It can build and maintain your hair's elasticity.
Quinoa extract is packed with essential vitamins, including high levels of riboflavin, which are key ingredients to improving and maintaining your hair's elasticity. Remember, greater the hair's elasticity, the less chance of breakage and heat damage.
It can protect the hair follicles and shaft from breakage.
The daily stress that you put on your hair causes it to become weakened and susceptible to breakage. Quinoa extract contains more than 10% of amino acids and hydrolyzed protein that naturally strengthens and protects your hair follicles and shaft.
Quinoa is said to reduce tangles and split ends.
Because quinoa extract contains vitamin E and hydrolyzed protein, it has moisturizing properties that can coat and penetrate the hair shaft. This protects your hair from tangling while keeping spilt ends away.
It can actively stimulate hair growth follicles.
It's been proven that adding quinoa to your hair care routine can actively stimulate hair growth. Quinoa extract is filled with highly nourishing nutrients and acts as a natural sealant that hydrates and moisturizes the hair cortex and scalp, which produces hair growth.
What it can do for your skin:
Reduces the appearance of dark spots and hyperpigmentation

Controls acne and acne scarring

Fights signs of anti-ageing and reduces the look of fine lines and wrinkles  

Rejuvenates the skin and provide a healthy glow
These products include quinoa extract:
Do you consume or use quinoa extract in your recipes, hair or otherwise? Share in the comments section below!
This article was originally published in 2016 and has been updated.