Twists or twist outs are quite common with naturals. Twists, twist outs, flat twist, and flat-twist outs are usually created on wet or dry hair. You take two equal sections of your hair, wrap one section around the other until you reach the ends, and twirl the end around their finger to ensure closure and less frizz. The twist out is merely untwisting the hair and fluffing to a desired look.
Whether your hair creates a defined curl or not, wearing your hair in twists or twist outs allow many to have stretched second, third, or even all-week hair without washing. They are cute, sexy, and even great prep style for other styles, and with the right twisting cream can make your hair shine and look amazing.
There are no perfect products, but there are some holy grails that many use for twists our twist-outs that give stellar definition in your twists and will allow the style to make it to that second or third day. Everyone has their perfect way to create twists or twist-outs, but all will say the right product is necessary so check out the top 10 we have found that most naturals swear by for amazing results.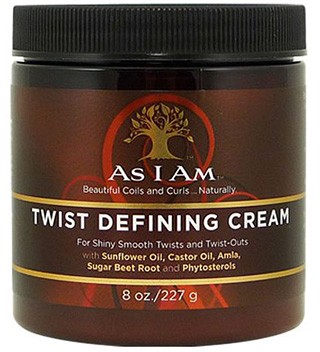 Water, coconut, amla, tangerine and beet root make up the uber popular holy grail product for creating highly defined and shiny twists and twist outs. Gain ultimate hydration from the organic blend that work to block buildup and stimulate healthy hair growth.