"
You look like a mushroom," were the words that echoed sharply through the swim team locker room. And echo, sometimes still, in my head. It was 1994. The end of the first week of my freshman year of high school. As an impressionable 14 year-old girl, all I could really do was look at my half-wavy, totally frizzed-up, poofy hair in the steamy mirror, and feign amusement as I agreed with her. While she laughed at me, I couldn't help but consider the wasted time I had spent, early that morning (I could have slept in!), straightening the life out of my wavy hair, just to avoid discouraging moments like this. Well, here it was, unavoidable. That voice in my head thought maybe she was right. Did I really look like a little 5-foot-tall mushroom, every hair on my head doing its part to salute the Texas humidity?
My skin, then, was indeed thin.
Today, however, I regularly tell that voice to take a hike. Successfully, most of the time. But I'm certainly not the only one who's ever encountered an uncomfortable, let alone downright discriminatory, comment about their hair. Many, many others have endured much, much worse. My point? We're all in this together: this journey of self-acceptance, self-appreciation, self-love. Each of us desires to take pride in our appearance, and I believe our own opinion about our hair consumes at least a whopping 50 percent of that. It. Matters.
And wavy girls: You matter here. You count here.
Yes, you get to count yourself among the members of this curly community. Yes, your type 2 curl pattern is enough. Yes, your hair is wavy enough to benefit from a Deva cut, if that's what you want. Yes, you can wear your hair wavy if ever/whenever you want to, even if your daughter rolls her eyes, your husband hasn't gushed over it, and your father-in-law asks if you plan to ever brush your hair again. Please, let go of the mentality that you "might as well straighten it," if that is something you no longer want to do. Your hair is not some in-between. It IS wavy. And it IS all you and all wonderful, just as it IS. If it's helpful AT ALL, my 10 Commandments for Being a Wavy video might help you gain some curl-power, especially as we're heading straight into this holiday season.
So, what to do now that you've decided to embrace your waves? Allow me to step off my soapbox and share with you my top 5 tips to embracing, improving, and appreciating your wavy hair. In my 18 months of exclusively being a wavy girl, I've found these to be the most important keys to getting started and sticking with it.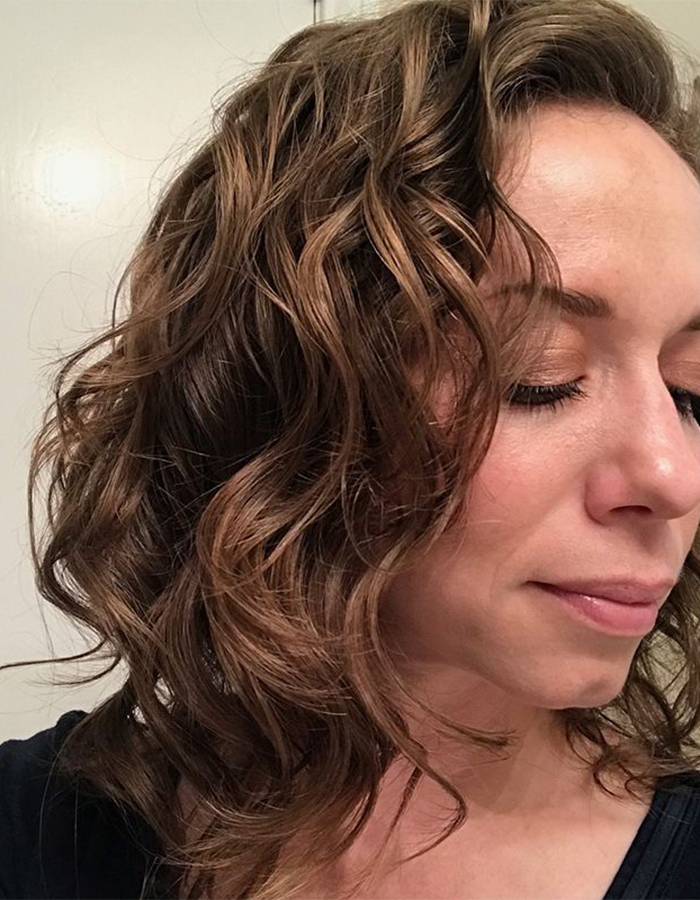 1. Read The Curly Girl Handbook, by Lorraine Massey. In a nutshell, it's about giving up ingredients that aren't good for your hair (daily use of sulfates and silicones) in favor of botanical ingredients to nourish your strands and increase hydration/moisture content over time. But there are lots of other great tips, tricks and DIY recipes you might really like.
2 Accept that there will be a transition period. During this period, both your wavy hair AND your mind are adjusting to this change. We're so used to the face and hair we see in the mirror, it can be a bit jarring, mentally, when you start wearing your hair's natural texture. It's bigger, and may look a bit unkempt/wilder to you at first. As you and your hair get used to this change, my advice is to compensate with extra makeup and jewelry! Who doesn't love sparkle? Updos are always an option, as well.
3. Hydration is key. Achieved with the right conditioner(s), regular deep conditioning treatments, implementing the 'squish to condish' technique, and using a cream under your gel when styling can all help boost moisture in your hair, which is key for achieving definition in your waves.
4. Keep a hair journal. There are at least a dozen ways to do it, but my personal favorite is the Evernote app. Record the products you used, from washing to styling, and any styling techniques, then snap a couple selfies to go along with the details. I also like to include the date, so I can track my progress and figure out which products work consistently well, and those that don't, during different seasons of the year.
5. Don't forget to clarify! This is probably the number one mistake I see wavy girls make when they start embracing their natural texture. Hydration is definitely important, but sulfates are NOT the bad guy. We need them—just not as often as Suave Daily Clarifying shampoo's name would imply. Once every 3-4 weeks, followed by a 30-45-min deep conditioning session, should do the trick for most.
it can be a bit jarring, mentally, when you start wearing your hair's natural texture. It's bigger, and may look a bit unkempt/wilder to you at first.
In closing, I'll leave you with one last bit of advice: Look online for wavy hair inspiration. We wavies are a little harder to find than our curly kin out there, but our little online community is growing, supportive, and full of actionable ideas to help you start embracing your waves. You are not alone in this journey, friends! Some wavy ladies you might appreciate:
Okay—so back to 1994—maybe I did look like a mushroom that day. But today, thank goodness, natural texture and volume are more on-trend than ever, so it's become that much easier to embrace my 'shroom' look, with pride. Appreciating my wavy texture for what it is, good hair day or not, and getting on with enjoying my day, has become a daily exercise in self-acceptance and self-love.
And that's really why we're all here, is it not?
Follow Alyson, Real Life + Curly Girl on Instagram for more on her hair journey!