Ann Kelso Salon + CitySpa
Austin, Texas
Come as you are; leave as you want to be!
In Austin, Texas, a terrific kind of energy swells over the bridge connecting downtown to South Congress Avenue. Here you'll find diverse, yet like-minded, individuals interested in living their best lives. With so many wonderful offerings in dining, shopping, lodging, music, art and cultural events, South Congress feels alive with energy. From espresso to vintage boots, fine dining to live music, you can find and ''do anything here and you just want to be a part of it all. It feels good.
It is in this spirit that Ann Kelso Salon + CitySpa enters their new space in the 04 center on South Congress. An expansion of their acclaimed salon and spa offers more services in sublimely simple styling and treatment spaces. Two Moons, their sister boutique below the salon and spa, offers everything to help you create your own system of care for your body, skin, hair and nails at home.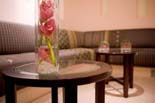 Jason Israel Kirkpatrick
Jason Kirkpatrick has been doing hair for more than 10 years, and boasts a lot of lovely curls on his own crown. He has also studied extensively in the healing arts, and offers shiatsu massage therapy services in the spa department in addition to his wonderful hair services in the salon. This unique combination of inner and outer care is an integral part of Jason's approach to any type of hair. With the focus on health, Jason's philosophy on curly hair is that it is like a garment, and you must make the most of both sides of the fabric to make the finished product truly beautiful.
First, Jason has a consultation with his client about their wants, expectations, hair health, and possibilities. He asks about their regimen, including products and styling techniques. Jason explains that every curl pattern is different. The key to getting the most out of your hair is a great haircut and the right product. It is so important that I work with the curl and not against it,? says Jason. He also feels there is more freedom? in curly hair.
Michelle Chard
One of Ann Kelso's other curly hair stylists, Michelle Chard, understands first-hand the apprehension many curly clients have when it's time for a haircut. She, too, has beautiful curls gracing her head.
Michelle's approach to curly hair is to keep the hair as natural as possible.She first analyzes the hair to see how it falls and what the curl pattern looks like. She uses a stepping effect to remove bulk or thickness without distressing the hair. Also, shaking the client's hair to see where hair needs to be removed or to be shortened is critical. It's really all about keeping an eye on how the curls are falling, says Michelle.
Michelle also stresses the importance of caring not only for the structure of the hair, but the condition of the scalp and skin. ?In addition to getting haircuts regularly to maintain the health and beauty of your curls, she also advocates getting regular facials and developing a skin-care regime. The right products can make a huge difference in the look and feel of your skin and hair, she says.
Brian Rowland
One of the most experienced and most renowned colorists, Brian Rowland approaches curly hair differently than straight hair when highlighting or tinting. Since curly hair tends to be a bit drier than other hair types, Brian recommends that highlights be no more than two to three shades lighter than the natural base level of a client's hair. Lightening hair more than this can make it look brittle and dry - the last thing curly hair needs. He also advises against fine highlights, as they tend to get lost in the curl, and make hair look stringy. When approaching fine curly hair, Rowland typically likes to richen the base color to add a sense of depth. On most curls, in fact, light reflects better off richer tones, making hair appear shinier and healthier.
Brian, like Jason and Michelle, believes that healthy hair is only one aspect of care, and that skin and body care are just as important. By nourishing your body and skin, will look and feel better, both now and in the long run.? Brian recommends facials and massage. These services are not so much a frivolity, but more a necessity for the integrity of your skin and body.
Sharamey Sandige
Always a down-to-earth yet very focused person, stylist Sharamey Sandige enjoys helping clients who want to restructure their hair and curl pattern. "A good consultation is essential to ensure that tjere are clear and realistic expectations about what is best for their hair," says Sharamey. She then analyzes the structure and integrity of the hair, and, depending on how much of the curl the client wants to loosen, she chooses either a chemical relaxer or the Chi thermal straightening system.
A relaxer will change the texture of unruly, coarse, or gray hair and make it a lot more manageable. The Chi Thermal straightening System is ideal for a client who wants a significant amount of curl to be gone.
These two services are so great because they can help aid in relaxing the curl so the hair avoids every day damage through flat irons and heavy blow drying. To that effect, Sharamey believes that if life is made easier by altering curls, and all precautions are taken to preserve the condition of the hair. That way, she has done her job to help her clients be happier with or without their curls.
Brooke Michie
With a background in design and experience in photo styling and makeup, curly stylist Brooke Michie can work magic with any type of curl for any occasion. She styles models, brides, partygoers, and anyone else looking for a unique way to wear her curls. Regardless of your type of curl, she feels that the most important part of making your curls happy — aside from a great haircut — is your cleansing and conditioning routine.
Call Ann Kelso for further details on any of these featured stylists.
---
Services we provide:
– Cuts
– Color
– Blowouts
– Perms
– Extensions
– Relaxers
– Manicures
– Pedicures
– Massages
– Facials
– Makeup Application
– Accupuncture and Other Healing Arts
---
Contact Us
Ann Kelso Salon + CitySpa
1400 South Congress, Suite A170
Austin, Texas 78705
T: 512-467-2663
---
Product Lines:
– American Crew
– Bumble and Bumble
– Chi System
– Davines
– DevaCurl and DevaCare
– Dikson
– Sebastian Evokativ
– Eminence Organic Skincare of Hungary
– Murad
– SkinCeuticals